https://mediumhappy.com/?p=5795
Starting Five*
Now with five actual items…
1. He Was Just Josh-in'
USC cornerback Josh Shaw will definitely not be showering with his teammates this week.
The Josh Shaw Playlist, available for perusal to the Stanford Band for the Trojans' game in the Alto of Palo on September 6:
"Holding Out For A Hero"……Bonnie Tyler (thanks to Jamie Reidy)
"Rescue Me"………Aretha Franklin
"Hero"…..Mariah Carey
"Free Fallin'" …..Tom Petty
"Hero Takes a Fall"….The Bangles
"Jump"…..Van Halen
"Reason I'm Alive"….Drowning Pool
"Would I Lie to You?" Eurhythmics
"The Man Who Fell to Earth"….David Bowie
"Unbelievable"…..EMF
"Jumper"….Third Eye Blind
Shaw's alibi –I was rescuing my seven year-old nephew from drowning– may seem far-fetched now, but his original story was worse: Raymond Burr and I got in a scuffle over a camera strobe.
Interesting coincidences with USC's sexiest rival, Notre Dame:
1) The man who originated the Lennay Kekua catfishing scheme actually lives in Palmdale, where Shaw first said he was on Saturday night (it's his hometown).
2) Cody Riggs, a grad student with a final year of eligibility remaining, just transferred to  Notre Dame and from Florida and will start at cornerback Saturday. He and Shaw were teammates and position mates in Gainesville for two seasons.
By the way, an on-air reporter for ESPN described Shaw as "articulate" this week.
2. The Red Grange Award
As you know, tonight college football season actually begins (Did you notice that they rolled out a red carpet as a pre-show earlier this week?), which means this is our final chance to post a Red Grange Award prediction without compromise.
As you also may know, the Red Grange honors the most spectacularly awesome football player of that season. It's named after a player who fits that description, as opposed to a coach who runs up 222-0 scores on people. Anyway, last year's deserving winner was Myles Jack of UCLA.
Some of my favorites to consider this season: Marcus Mariota (Oregon), Jameis Winston (FSU), Jack, Everett Golson (Notre Dame), Nick Marshall (Auburn), Melvin Gordon (Wiscy) and Leonard Fournette (LSU). But my predicted winner is a guy I've been very high on for two seasons now, the Gurley Man, a.k.a. Todd Gurley of Georgia.
3. "The Sea Was Angry That Day…"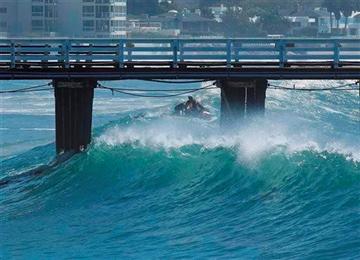 Rough surf on both coasts yesterday due to offshore hurricanes. For us mortals, it meant be careful with the boogie boards, while for Laird Hamilton it meant One More Chance to be Awesome. The surfing legend shot the pier at Malibu, which is highly dangerous (in fact, just a day earlier a surfer died here), but if you've read The Wave by Susan Casey, you realize Laird is half-god. Maybe more.
4. Team of Rivals (Not Really)
The last two women to hold the American steeplechase record happen to be close friends and former college teammates: Jenny Simpson, 28, had her five year-old American record eclipsed by Emma Coburn, 23, last month. Simpson is now one of the world's premier 1500 runners –she was the world champion in 2011 and won a meet in Stockholm last week.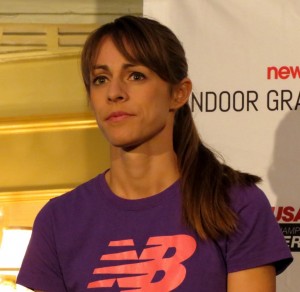 Both Coburn and Simpson, Colorado alums, run today in a meet in Zurich. Both the American records in the 3,000-meter steeple and the 1500 could fall. It's the last time they'll run in the same meet for awhile, as Coburn has to book home to Crested Butte, Colorado, for her older sister's wedding on Saturday. Every second really does count.
5. The Ice Bucket Challenge Curse
It's bad enough that Corey Griffin, a co-founder of the Ice Bucket Challenge for ALS, died a week ago. Griffin, 27, drowned after jumping off a building into the surf on the island of Nantucket. At 2 a.m. Alcohol may have been involved?
And then a Scottish teen died in an Ice Bucket Challenge-related stunt.
And then there's this woman.
And this man, who is unidentified, but you may know him. How did he survive this?