https://mediumhappy.com/?p=5886
Starting Five
1. Spear Review
"New York's hottest new nightclub is…Tallahassee-hee-hee-hee! This place has EVERYTHING: pregnant baby mamas, six-day loaner scooters, drug deals gone bad, an ex-Marine named 'Shooter,'  a Jimbo Fisher denial, possible domestic abuse, MTV's Dane Cortese, pilfered prawns (or at least their cousins), vulgar internet memes, a drug dealer named 'Gutta,' half-game suspensions, half-assed detective work, a Heisman Trophy and the nation's longest winning streak…"
Nice reportage by Greg Schlabach and Brett McMurphy, by the way (though I suspect Brett's precociously gifted daughter did most of the heavy lifting).
And now, a poem by Not-William Karlos Williams:
So much depends
upon
The Tallahassee 
po po
Remaining
indifferent
In the midst of
an undefeated season
2. Non-Indianapolis Colt
Everyone's favorite reincarnated version of Ricky Schroeder, Colt McCoy, finally showed traces of his long lost Longhorn self last night in Washington's overtime upset of  the Dallas Cowboys. Can a Major Applewhite return be far behind?
McCoy, nominally the Redskins' 3rd-string QB, played a poised game–even if his pa occasionally became frustrated with his clock management– completing 25 of 30 passes for 299 yards. Although the Redskins' MVP may have been the Dallas play-caller who suspiciously avoided using DeMarco Murray (19 carries, 141 yards) at the two most critical moments of the game for the Cowboys.
Still, if I were Jerry Jones, now that Tony Romo has taken yet another shot to the back (and then took a cortisone shot to the back), I would've sworn in Lone Star native McCoy (could there be a better name for a Dallas Cowboy than Colt McCoy?) as the new Cowboy QB before he even boarded the plane out of Dallas.
3. Who Needs a Man When U Have Manhattan?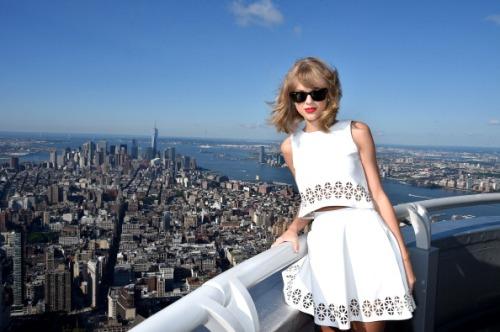 Don't know if you'd heard, but Taylor Swift is now dating New York City (until NYC cheats on her with Kiesza). Five things Miss 1989 must do before New Yorkers can even begin to think accepting her as one of us:
1) Switch trains (and I mean relocating to another platform) in the Times Square subway station between either 8-10 a.m. or 5-7 p.m. on a weekday.
2) Survive New Year's Day to April Fool's Day with no more than two weeks away to the Caribbean.
3) Wait patiently in your apartment for the cable guy, who will be there between the hours of 8 a.m. and 4 p.m. (which means 3:51 p.m.)
4) Fly out of LaGuardia. Commercial.
5) Order either two slices (and don't smudge off the grease with a napkin) or two Gray's Papaya hot dogs between midnight and 6 a.m. Alcohol should've been previously involved.
4. Death in Johannesburg
Earlier this week, Senzo Meyiwa, the goalkeeper and team captain of South Africa's national soccer team, was shot to death during an in-home robbery attempt in the home of his girlfriend. Seven people were inside the home when two gunmen brazenly entered and demanded cellphones and wallets. When Meyiwa went to defend his girlfriend, who had a gun pointed at her head, he was shot dead in cold blood.
How bad is it in South Africa? Between April 2013 and March 2014 more than 17,000 people were killed. That's 46 people per day.
5. NBA-Watch
The NBA season officially tips off tonight. Here's a nice Buzzfeed-style NBA Preview from SI.com plus an overwhelming one from Grantland.com that'll take you longer to pore over than if you were to read every story Richard Deitsch linked on Media Circus. Some predictions for you…
MVP: LeBron
Leading Scorer: Stephen Curry
Most Improved Player: Anthony Davis
Rookie of the Year: Doug McDermott (hey, why not?)
Most Dragics: Phoenix, which will have both Goran and Zoran (plus the Morris twins)
NBA Finals: Cavaliers-Spurs
Remote Patrol
Game 6, World Series
FOX 8 p.m.
Every time you hear the name "Don Denkinger" this evening, drink.