https://mediumhappy.com/?p=5910
STARTING FIVE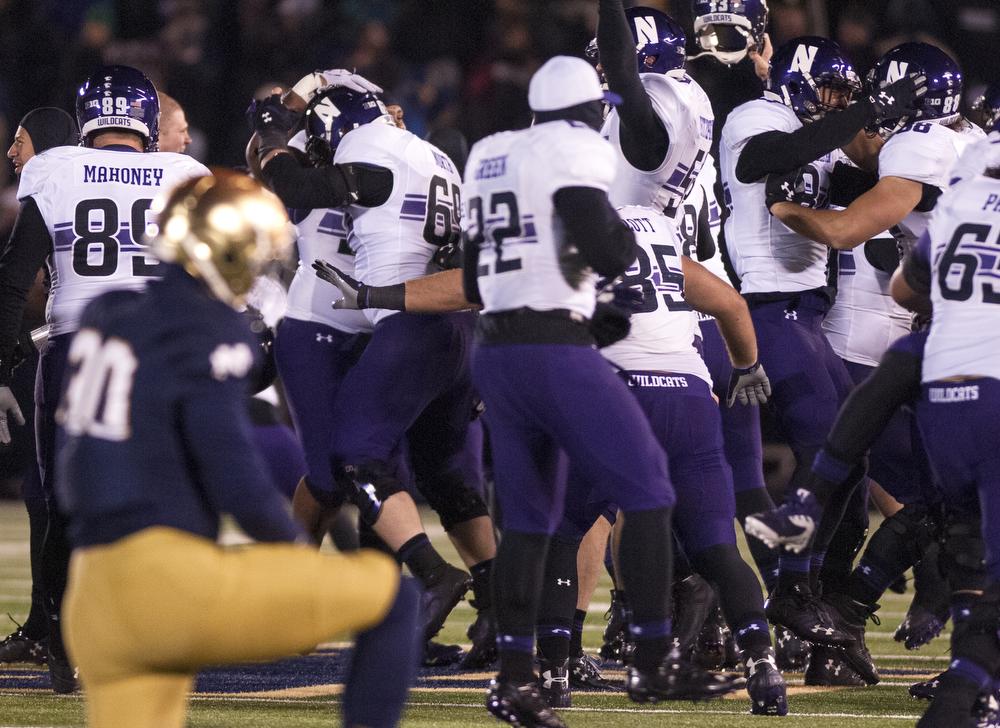 1. Horrible Losses, 2
Not sure the last time Notre Dame was a 17-point home favorite and lost…
Within a span of eight days the Irish trailed by 31 and wound up surrendering 55, the most points allowed since the Miami debacle in 1985, and then projectile-vomited away an 11-point (should've been 12-point) fourth-quarter lead at home to a 3-6 Northwestern team. I'm not sure if the Irish miss Joe Schmidt's play more than they miss Joe Schmidt's brain, but they sure as heck miss Joe Schmidt.
(Forgive my saltiness, people; just emerged from a 90-minute subway ride that ordinarily takes 20 minutes; I'm in homicidal mode at the moment).
Since 2007 the Fighting Irish are 16-15 in games in November and 1-4 in overtime games, all of which took place in South Bend. They'd be 0-5 in those OT contests if refers had spotted both Bennett Jackson and Chris Brown wearing the identical number, 2, during Pitt's field goal attempt in 2012.
The horrible losses include but are not limited to…the first loss to Navy in 43 years (though the Middies did have the better team), a 2008 quadruple OT loss to a 5-2 Pitt team in which the Irish allowed the tying TD with 2:22 left…a 2008 loss to a 2-8 Syracuse team in which the Irish blew a 10-point fourth-quarter lead…and a 2009 OT loss to a 4-5 UConn team in which the Irish allowed the tying field goal with 1:10 to play.
To be fair to Brian Kelly, the above were all Charlie Weis losses. In Kelly's tenure the Irish were 13-4 in November before Saturday, with all four losses coming on the road and two of them to solid Stanford teams. Only last year's loss at Pitt was somewhat grating, and that was the game in which Stephon Tuitt was ejected early.
Saturday's loss to the Wildcats, in which the Irish committed four turnovers, two of them within 7 yards of the goal line…in which they basically gave away a four-point swing on extra points…on which Matthias Farley made a great INT in the end zone that most DBs would've turned into a pick-six, but in which the Irish came out of with no points, in which Notre Dame let a 3-6 team Lazarus itself out of an 11-point fourth-quarter deficit, was haunted by the Ghost of Charlie.
The most inexplicable defeat of the Brian Kelly era, and also the most unforgivable.
Meanwhile, is it too soon to get started on those "An Oral History of Northwestern's 2014 Win at Notre Dame" pieces?
2. Melvin and Todd
Wisconsin's Melvin Gordon rushes for an FBS-record 408 yards in just three quarters against a Nebraska team that entered the game having allowed just two 100-yard rushing games (111 to Michigan State's Jeremy Langford and 128 to Northwestern's Justin Jackson) this season. I like that Gordon had the time to set a new record, versus a legit D, and still partake in "Jump Around." He is now a legitimate contender, if not frontrunner, for the Heisman…
…meanwhile in Athens, erstwhile Heisman/Grange favorite Todd Gurley tears his ACL in his first game back since his signature suspension. The Dawgs crushed the Fighting Malzahns, but tough moment for the Gurley Man, whose college career is likely over. Coming not even a week after Marcus Lattimore retired at age 23, it makes us all wonder yet again how come the NFL blocks players –particularly running backs–from entering the league earlier.
Finally, I think the only way to beat Florida State is to either 1) let them get an early lead or 2) mind-control them into believing the second half is the first. The Seminoles rebounded from a 16-0 deficit at Miami to win. They've trailed on the road in ACC games this season by 16 (Canes), 17 (NC State) and 21 (Louisville) in the first half, and of course have won all three. They're the really smart kid who starts studying on the morning of the test and still does better than you do (except they also commit felonies while doing so). We hate that kid.
Also, yes, Duke, you beat Georgia Tech, but the entire world outside of Durham and Tallahassee wants to see Paul Johnson's team take on the Noles for the ACC title. So, please, Duke, lose one of your remaining two games.
The Medium Happy 8: Florida State, Alabama, Oregon, Miss. St., Ohio State, TCU, Baylor, Ole Miss.
3. NEAL RUN
Last night's The Newsroom was an Ethics lesson, as Maggie chose to do right, Neal chose to do what he believed was right (What is the greater good?), Reese argued that it's okay to be a douchebag if you're on the side of the angels, and Don and Sloan outright lied to one another (who knew they'd have such terrific chemistry?).
There was some A-plus banter between Will, Neal and Rebecca, and the "Get me a Dr. Pepper, please," line, though you saw it coming, was worth a chuckle. I wanted Will to go into a rant and yell, "You don't tell me what to do, Sampat, my movie opened No. 1 at the box office this weekend!"
Also, I love that Kat Dennings goes from 2 Broke Girls to 2 Annoying, Bratty, Billionaire Twins.
4. The Jonas Brother
New New England running back Jonas Gray goes for 199 yards and 4 TDs as the Pats take out the Colts. I'm still trying to get my head around Jonas and Sergio Brown getting multiple mentions by Al Michaels on a prime-time NFL game…am told that the last time an NFL RB went from no career rushing TDs to four in one game was in 1921 when Herb Henderson of the Evansville Crimson Giants did so (and you too are now searching for their throwback jersey).
Also, as Scott Van Pelt tweeted, it was fun to watch Rob Gronkowski go "full meathead."
5. "I Can't Believe the News Today…"
U2 lead singer Bono falls off his bicycle (he needed one more than a fish does?) in Central Park, where the streets do have names (West Drive and East Drive), and had to undergo arm surgery. So one way or another (wait, wrong band) it was a Sunday, Bloody Sunday and he'll just have to walk on. This probably happened in the southern section of the park, since I imagine the Angel of Harlem would've protected him above 96th Street.
Reserves
A 51 year-old Canadian male, Lawrence Warriner, won the Brooklyn Marathon yesterday. Warriner ran a 2:43.
****
I caught Showboat on TCM last night. It was one of the first great musicals, Ava Gardner is one of the most beautiful women ever to appear onscreen (she married Sinatra the year this film was made, 1951; also, see if you notice any resemblance to Jessica Biel), and you really cannot top "Ol' Man River." , sung here by William Warfield. The reprise, at film's end, is more accessible.
By the way, Gardner had previously been married to both Mickey Rooney and Artie Shaw. The latter was a bandleader who also married Lana Turner. You marry Ava Gardner and Lana Turner, you've got to have some incredible game.
Remote Patrol
No. 1 UConn at No. 6 Stanford
ESPN2 9 p.m.
Breanna Stewart is the best women's player in college hoops, the closest thing to Diana Taurasi since D left Storrs. The Cardinal counters with senior guard Amber Orrange, who was also secretly dropped over North Vietnam in the late Sixties. I wonder why Tara Van Der Veer has yet to convince 6-8 Cardinal volleyball player Merete Lutz to join her squad.