https://mediumhappy.com/?p=5913
STARTING FIVE
1. At Horowitz End
What really happened between Jamie Horowitz and the Today show that allowed them to fire him just 10 weeks into his gig, while he was still in the "listening tour" phase of his stewardship of NBC's morning show (he was technically due to start on Dec. 1)?
I don't know for sure, but I've come across Jamie in various ways over the years –he was offered a reporter position at SI when I was there and turned it down to become an Olympics researcher for NBC Sports (a more interesting gig).
Allow me to don my Rona Barrett Wig for a moment and remind all of this small item of trivia. Jamie and Kevin Wildes, both in their late thirties, teamed up to create and foist such shows as SportsNation and First Take upon us (on a more enlightened planet, they'd be imprisoned, as opposed to promoted, for this). They also were the executive producers behind the launch of Olbermann. They are, as this story suggests, close friends.
Kevin Wildes is married to Libby Geist…whose brother is Bill Geist…who is an anchor-in-waiting on Today.
And now you know –doffs Rona Barrett wig, dons Paul Harvey wig–the rest of the story.
I like Jamie well enough –he'll never win a Modesty Contest (but then, either would I)–but he's smart and has obviously done well. I point out the familial connection just as a way of noting that he didn't walk into Today blind. I imagine he knew the layout and wanted to make some changes. Page Six suggests he wanted to replace Savannah Guthrie with Hoda Kotb which, on the face of that alone, if it's true, is grounds for termination.
Another report, however, suggests that both Natalie Morales and Willie Geist had been told they were fired -assumedly, a Horowitz-baked idea. If so…AWKWARD. Especially since before Today, Horowitz last worked with Wildes on Olbermann.
No one is paying the author of this site (Wildes, when interviewing me for a job, referred to MH as "a wonderful resume") seven figures to fix Today, but to me it's fairly simple. Stop trying to be like the sophomoric clowns at Good Morning, America, and remember what got you there. Matt Lauer may be cranky, but he's the best in the business. Surround him with fewer sycophants and let him do his magic until he hangs up his blazer. Keep Al, because Matt and Al work well off each other. Find a female –if one is not already there–who can hang with them (I've been telling you for years, Peacock: It's Paula Faris) and then just get out of the way (or beg Katie Couric to return).
CBS This Morning has figured out a winning formula by going in the extremely opposite direction of GMA. Although PLEASE, CBS, stop insulting the audience who are smart enough to tune into you by referring to your news as "Real" news. We get it. That's why we're there. The Calculus prof doesn't refer to calculus as "real math with numbers AND letters."
Meanwhile, whither Josh Elliott (an old comrade from SI)? He's just too damn handsome and smart to be getting back-up reps in practice, but you can bet that Messrs. Costas and Lauer are less than thrilled by his presence and neither are quite ready to retire to the 19th hole. Josh, like Jamie, is an ESPN alum and I imagine there are a few at 30 Rock that wonder if he's the right person for the job, especially if an actual cataclysmic news story takes place.
The funny thing to me is that, looking to the future, NBC has had its guy for some time now: Horowitz's friend's brother-in-law, Willie Geist. He's likable, intelligent and doesn't look as if he cares too much what his Q Rating is. If I were Deborah Turness, the woman who sacked Horowitz, I'd stop worrying about the ratings so much and start worrying more about producing an authentic show that she can be proud of. She's doing it all backwards.
Or I'd just ask myself, What would Jack Donaghy do?
p.s. Curiously, there's nothing in Deadspin about Horowitz's firing. Here's a dirty little secret about Deadspin: it plays favorites. If you look closely, you'll see stories they otherwise would naturally pursue but have chosen not to. I don't know if that's what happened here, but I'm sure Horowitz's firing is far less newsworthy than a golden retriever's agility test. 
2. Love at First Bite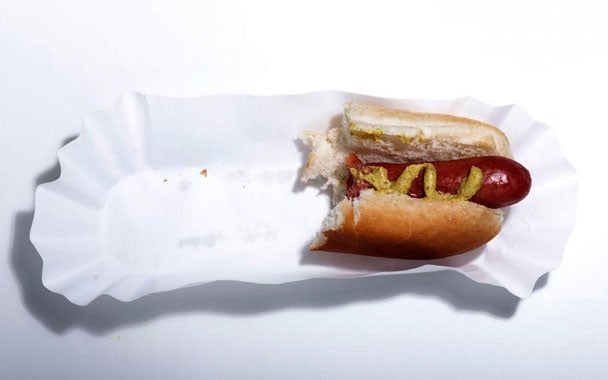 Oh, Don Lemon. No, you di'unt!
Remote Patrol
North Carolina at Duke
ESPN 7:30 p.m.
I'm on record as saying that ACC football north of the town of Clemson, S.C., officially bores me. However, you'll want to (maybe) watch this to see if the Tar Heels can upset the Blue Devils, which would open the door for Georgia Tech to face Florida State in the ACC title game, which would be a far better game. Or, you could just tune in to TCM and watch Alfred Hitchcock's The Birds.