https://mediumhappy.com/?p=6007
Starting Five
1. Apple Sauce
Apple's quarterly earnings report, announced after the closing bell yesterday, was….fruitful.
In the last three months of 2014, the tech monolith sold 74.5 million phones…and showed profits of $18.4 billion (equivalent to $8.3 million per hour). In short, it was the GREATEST PROFIT any company has ever shown in one quarter in the history of man.
So Tim Cook is all like, I may be no Steve Jobs, but I think I can put that on my resume.
I'm so, so glad that the company took my suggestion in the late 90s to remove the "Sn-" from the beginning of its name and to stop focusing so much on refreshing iced tea-based beverages.
The stock is up nearly 8% ($8.57) to $117 this morning, which equates to $819 per share based on the 7-for-1 stock split Apple did last spring. Consider that you could've bought Apple for less than $400 per share just 17 months ago and for under $500 a share a year ago today.
2. Media Daze
Marshawn Lynch: Beast Mode.
Richard Sherman: Beats Mode.
Bill Belichick: Gnome Alone.
3. Finals Preview? (with apologies to ATL)
The Chicago Bulls visited ORACLE Arena for the first and only time of the 2014-15 regular season last night, and it was a doozy. El Toros, who only eight days ago were being pilloried by their point guard, Derrick Rose, in the media after dropping their sixth game o the previous eight at Cleveland, have awakened.
Last night in overtime in Oakland, Chicago took down the NBA's top team, the Warriors, 113-111. It was only Golden State's second home loss of the season, and its first after 19 straight home wins.
As for Rose? He became only the second player in NBA history to miss at least 20 shots (13 of 33) and commit at least 10 turnovers (11) in a game, after Jason Kidd. He also scored a (tied with Klay Thompson) game-high 30 points, including the game-winner with 0:07 remaining in OT.
Yeah, this would be a terrific NBA Finals matchup…
4. Kids We Will Care A LOT About in the Coming Week and Then, For a Year After, Not So  Much
Notre Dame fans, remember offensive lineman Quenton Nelson? He was the jewel of last year's Fighting Irish recruiting class. And he'll probably still turn out to be an NFL player. But he never saw the field last season. Neither did wide receiver Justin Brent, though he did gain a certain amount of blog-worthy notoriety. Brent will also turn out to be a stud.
All of which is to say that some of the names on this Rivals 100 recruiting list —National Signing Day is a week from today –will be renowned next season (Nick Chubb!), but others may appear to vanish for a year….
5. Guilty
Sadly, you could almost program an entire new ESPN channel on student-athlete related campus rape (The Wronghorn Network?). Yesterday former Vanderbilt football players Brandon Vandenburg and Cory Batey were found guilty on multiple charges of rape against a female Vanderbilt student in 2013.
The jury deliberated just three hours following a two-week trial.
The details of the incident are disturbing, but no more so than the defense that was used to try to win both former players an acquittal ("It was the football team culture"). The entire rape took place when the woman was passed out and the players, who incriminated themselves by taking video on their own cell phones (they should be put away for five years simply for being that stupid), treated her like a blow-up doll.
'Don't blame the culture," said prosecutor Glenn Funk. "Don't blame alcohol. Don't blame the victim. Sexual violence is a crime and it will be prosecuted.'
Take the validity of the following at your own discretion, but a Buzzfeed story on the incident–very well reported, by the way–names a source who claims to be "99.9% sure" that then Vanderbilt coach James Franklin saw the camera phone footage and urged the players –both of whom had yet to play a down for Vandy due either to transferring or red-shirting–to delete the evidence.
If that proves to be true down the line, well, you do know where Franklin is now coaching: Penn State.
Oh, meanwhile in Palo Alto, a Stanford swimmer was involved in a bizarre rape of an unconscious woman last week, which was taking place outside on campus. Vanderbilt and Stanford. These are a pair of Top 20 academic schools that compete at the Division I level.
Remote Patrol
No. 4 Duke at No. 8 Notre Dame
ESPN2 7:30 p.m.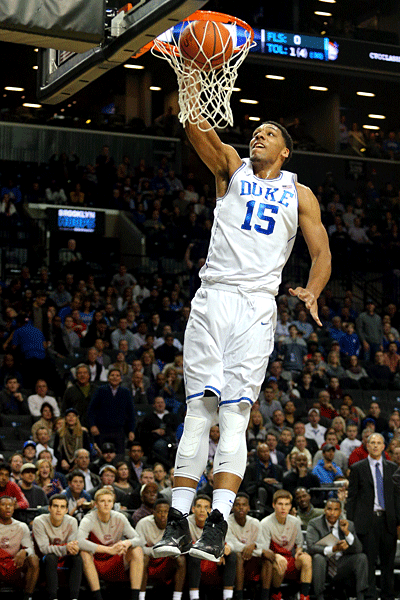 It has been 41 seasons since the Fighting Irish (19-2) had a record this good this deep into the season. That, of course, was the year that Notre Dame finished 26-3 and ended UCLA's record 88-game win streak. That was also a year before Mike Krzyzewski got his first head coaching gig. Coach K, as you know, won his 1,000th career game on Sunday. Duke's 6-11 frosh Jahlil Okafor averages 18.5 points and nine rebounds a game for the Blue Devils (17-2) and will be the No. 1 pick in June's NBA draft. Notre Dame's Jerian Grant, who missed the spring semester last year due to academic issues, has resurrected his career (16.8 points and 6 assists per game)