https://mediumhappy.com/?p=6152
by John Walters
Starting Five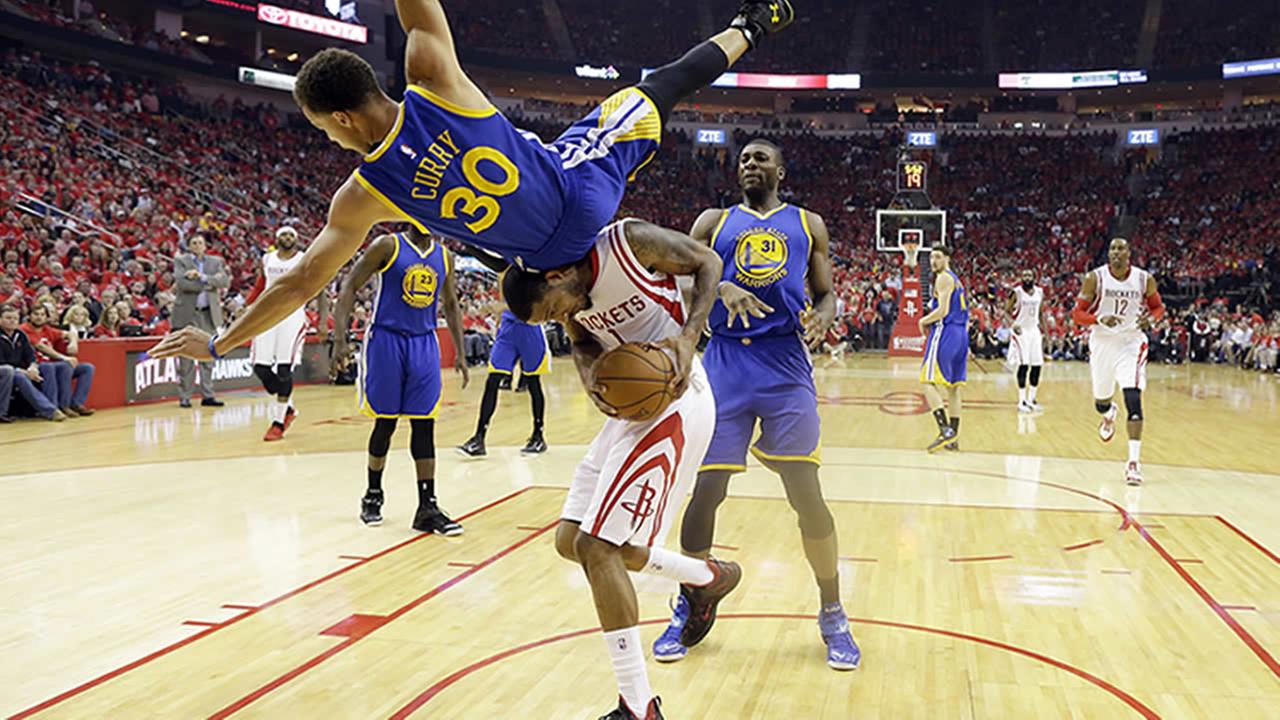 1. Hero Takes a Fall
Which is the most provocative "Steph Curry Goes Ass-Over-Teakettle" photo? Is it the one above? Or is it this one? Okay, this one certainly has more of an air of panic to it because you can see Steph's expression….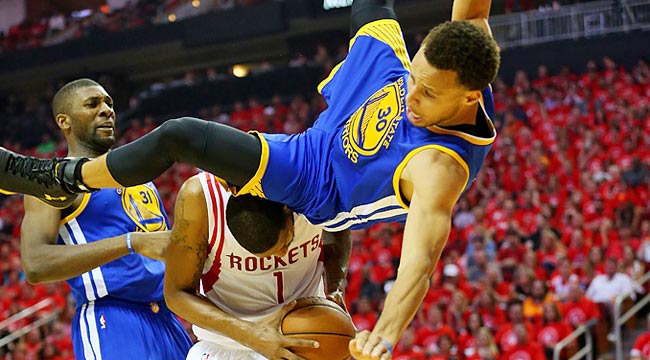 Or how about this one? I refer to this as the "Sully Sullenberger" photo: "Brace for impact."
Curry wasn't too much of  factor after this — cut to shot of him running in a hallway in the bowels of the Toyota Center — and the Rocketx extended the series to a fifth game.
2.Toews of Glory (see, cuz you pronounce it "Taze")
Anaheim led 3-0 and the Honda Center (Honda Center, Toyota Center) after one period. The Western Conference final series was tied 2-2 and both of Chicago's wins have come in overtime.
So what happens? The Blackhawks trail 4-2 with less than 4 minutes to play. Then Jonathan Toews scores to make it 4-3. A little over a minute later, he scores again on the hockey equivalent of shooting it from the corner and banking it off the backboard. I still don't understand how that puck went into the net.
So, overtime. Blackhawks win? Nope. Anaheims scores :45 in to to up 3-2. That was the sixth overtime session in five games this series, though.
3. Honorary Dr. Lou
Former Notre Dame coach and certifiable living legend (as a public speaker of course) Lou Holtz received an honorary doctorate from Steubenville University, not far from his place of birth, Follansbee W. Va., and then he addressed the graduates. A Lou Holtz speech will have a few old (but good) lines, but it's still a good listen. My favorite: "They called it 'Catholics vs. Convicts.' I didn't like that. Because not everyone on our team was Catholic."
4. House of Plane*
*The judges will also accept "Air BnB"
A bouncy house with three kids aboard in Fort Lauderdale makes a brief, unscheduled flight to a slightly more western section of Fort Lauderdale. There were a few broken arms, but nothing worse. I think most kids would say, "Do it again! Do it again!"
5. Cersei's Unhappy Hour
Everyone's favorite diabolical and incestuous queen mother, Cersei, is imprisoned on Sunday's Game of Thrones (making it an incarceration hat trick for the Lannister kids). Although I imagine she feels that any place that does not serve Prosecco is prison enough.
Rising: Tyrion, Ser Jorah, Jon Snow (even if he does know nothing)
Falling: Cersei, Bronn, Sansa
Cersei (played brilliantly by Lena Headey) has long been the Don Draper of GoT: do we love to hate her or hate to love her? Sure, she's flawed –and, okay, far more ruthless than Dick Whitman — but something within her still makes me feel empathy. There are days when I even wish I were related to her.
A review of Sunday night's episode by Andy Greenwald of Grantland….
Music 101
The Tracks of My Tears
So take a good look at my face/You know my smile seems out of place/If you get closer it's easy to trace/The tracks of my tears.
(A few) Motown acts of note:
The O'Jays: a 3-man vocal group.
The Four Tops, Smokey Robinson & The Miracles: 4-man vocal groups. (Diana Ross & The Supremes, a four-woman vocal group.
The Spinners, The Temptations, the Jackson Five: 5-man vocal groups.
Very similar templates, just different numbers of members.
Back in the Sixties, when scoring a Top 5 hit on the Billboard chart was akin to winning the SEC West, this all-time classic rose as high as No. 16. That's it. It also made a wonderful cameo in the 1986 Best Picture winner, Platoon. There's a future Best Actor winner in that scene, too, but you'll have to find him.
Remote Patrol
Game 4: Hawks at Cavs
TNT 8:30 p.m.
All offseason long, I've worked behind the scenes to enlist TNT to create a Susie B.-cam for Cavs games. They've told me, "No dice, as long as she continues to refer to him as 'Sweet Pea.'" I can respect that. It was a nice run, Atlanta. There will be some lovely parting gifts for you.