https://mediumhappy.com/?p=6171
by John Walters
Starting Five
1. Wood, You Believe?
Quite a fortnight for United States soccer: take down Sepp Blatter and his evil minions; the men win a pair of friendlies on the home pitches of Netherlands and reigning World Cup champion Germany; and the women win the first match of their World Cup. Take a bow, soccer moms. Take. A. Bow.
Yesterday in Cologne there would be no after-saves (!) for the Deutsch, as Team USA, led by their German coach, Jurgen Klinsmann, recovered from an early 1-0 deficit to vanquish the hosts. Mario Goetze, who is somebody that I used to know, scored the opener in the 12th minute for Die Mannschaft, but then Jeff Bradley's Nephew lofted a beautiful lead pass to the sublimely named Mix Diskerud (yes, he's on our side), who scooted in the equalizer in the 41st minute.
Then in the 87th minute Wood, a 22 year-old Hawaiian who last Friday night scored the game-winner in the 90th minute of USA's 4-3 win over Oranje (say it ain't so, Dodgy Flapper!), fielded a pass outside the penalty box, swiveled, and booted a seeing-eye strike past the German goalkeeper, who is now working in a shipyard in Hamburg.
Pretty good week for Bobby Wood. Two game-winninng goals on the home pitches of two of the world's more venerable soccer powers. And he was a sub in both matches. Watch the video here while listening to it in Deutsch.
2. New York Post-Mortem
The man who gave the world this headline in 1983, Vinnie Musetto, died at the age of 74 on Tuesday. Here's a very entertaining (especially if you are in the biz) tale surrounding the creation of that hed (an editor questions whether or not it is in fact a topless bar and Musetto, echoing the thoughts and aspirations of quipsters the world over, retorts, "It's gotta be a topless bar! This is the greatest [bleeping'] headline of my career").
Almost as a tribute to Musetto's legacy, Tuesday was also the day that most of us began to see the above hed from the East Oregonian, "northeastern Oregon's largest regional newspaper since 1875." I only wish that Venditte's first name were Gil, because then you could make a claim that this was true.
3. It's About….Time
Ironically, it's the Warriors who have the cavalier attitude and the Cavaliers who are playing like Warriors.
LeBron James is 30 years old and playing in his fifth straight NBA Finals. Stephen Curry, Klay Thompson and Draymond Green are all at least three years his junior and making their NBA Finals debut. While I can't fault for one moment Curry's effort in this series, it's clear that what I tweeted on Friday has thus far come to pass: the intangibles have taken over.
LeBron, who is averaging 40 points per game this series, just wants it that much more and he has infused at least three of his teammates, none of whom are American — Timofey Mozgov (Russia), Tristan Thompson (Canada) and Matthew Dellavedova (Australia) — with that same sense of urgency.
Then again, we are only three games in and all three games have been within a point or tied in the final minute. No one is choking here. Two fantastic teams playing a fantastic series thus far.
As I said Friday, the loss of Irving actually provides LeBron with a once-in-a-career opportunity. Win these Finals and you have a permanent SHUT UP! card to hand every remaining (foolish) critic. It's too bad LBJ won Sportsman of the Year in 2012, because this is the year in which he may truly deserve it.
4. Safe  –and Yet Also In Danger — at Home
Elbow Room: In the Texas 4A state final last week, Huffman defeated Needville (neighboring town of Wantville) 6-4. But the real story was the not one but two subtle elbow shivers that Needville catcher Megan Crosby delivered to Huffman players as they were coming in to score at home. The umpires missed both of them. Video here.
Update: Crosby will skate on the Blackhawks third line for the remainder of the Stanley Cup finals.
5. Raising — and Re-Raising — The Bar
The NCAA Track & Field Outdoor Championships commence today yesterday from Track Town, U.S.A. (Eugene), and the big story should be pole vaulters Sandi Morris (left) and Demi Payne (below). Morris and Payne between them, this year alone, have accounted for the NINE HIGHEST INDOOR VAULTS in NCAA history and have also EACH reset the OUTDOOR NCAA record — TWICE.
They're pretty amazing young women and both will be high on NBC's radar next summer. Morris is the reigning NCAA Indoor champ while Payne's vault of 15-7 indoors last winter is the highest vault, indoors or outdoors, that any collegian has ever done. I cannot wait until the real sport blogs discover this pair. In the meantime, here's Sandi's blog (click for the title alone) and my story in Newsweek should be up very soon. Prelims are tonight, finals on Saturday. Tune in to ESPN or ESPNU.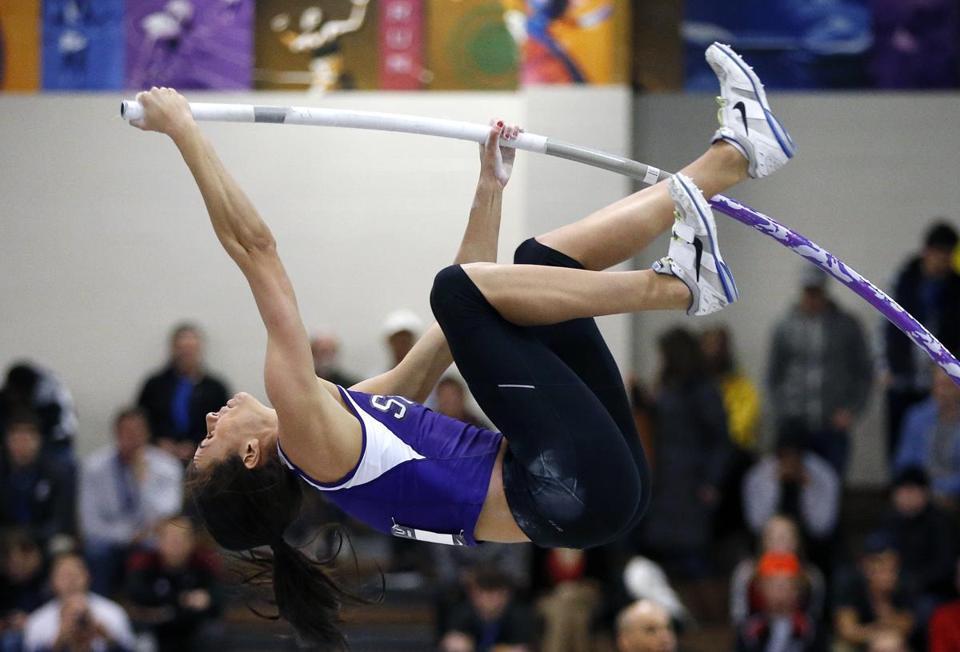 Music 101
Pumped Up Kicks
All the other kids with the pumped-up kicks/Better run, better run/Outrun my bullets
It's rare to hear a perfectly crafted pop song this millennium. Even rarer to hear one that references a 1990s footwear product. But Mark Foster and his band, Foster the People, created just that in 2011 as this catchy tune made it all the way to No. 3 on the Billboard chart. Foster, for years a struggling commercial jingles writer, crafted the catchiest melody of his career and then kept it for himself.
Remote Patrol
Game 4: Warriors at Cavs
ABC 9 p.m.
If the Cavs win, it's over. If the Warriors win, we've got a series. Go Warriors! This series is too delicious to want it to go anything less than 7. Besides, I'm wide open the rest of this month.