https://mediumhappy.com/?p=6181
by John Walters
Starting Five
1. Noooooooooooo!
Dustin Johnson misses this four-foot putt on 18, which would have put him into a Monday playoff with Jordan Spieth. Johnson's lovely parting gifts include his son (it was Father's Day, after all) and his smoke-show fiancee. Spieth, only 21, has now won two majors this year with two remaining.
2. True Defective?
The second season of True Detective, which takes place in Los Angeles, premiered last night on the HBO. Most everyone panned it. Talk about The Leftovers.
3. Surfin' Safari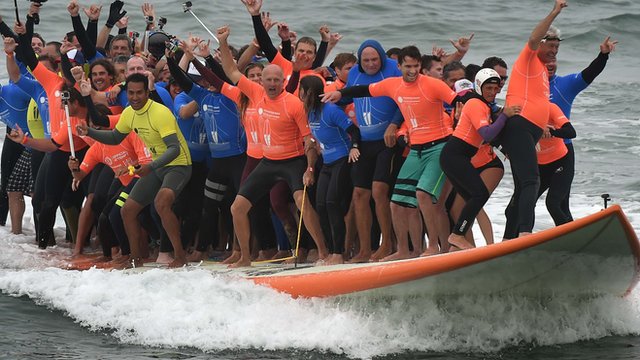 In Huntington Beach, Calif., — check out that as-advertised June Gloom weather — a Guinness World Record is set for most people on a surfboard. I don't have the precise number of people, but I hear it was "two girls for every boy."
Note: It is officially the slow time of the news cycle. We should all be on vacation.
Note 2: It was actually 66 people, the board was 42-feet long, and they rode for the required minimum of 10 seconds. I want to know who paddled to catch that wave.
4. Death on the Pitch 
Here's your heartbreaking Father's Day story: James Ackerman, a player for the Sunshine Coast Falcons in the Australian Rugby League and a father of two, died after being tackled in a match against the Norths Devils in the Queensland Cup on Saturday.
Ackerman, 25, suffered a head injury after being tackled by Francis Molo, 20, just five minutes into the game. Ackerman two days later, Monday in Australia, at a hospital in Brisbane as the game was canceled.
5. Mad, Max?
Rule 6: In baseball, every game brings an opportunity to see something you've never seen before.
Washington Nationals' ace Max Scherzer is one out away from a perfect game — and Scherzer would've been the first pitcher with heterochromia to throw a perfecto — but instead strikes the Pirates' Jose Tabata on the elbow. Tabata not only didn't make an effort to avoid being hit, but he somewhat leaned into the inside pitch.
Scherzer still picked up the no-hitter, but meow, that hurts. Meanwhile, stay tuned for the next time Tabata faces Max. I think he'll make the next HBP memorable.
Music 101
Only In My Dreams
As real as it may seem/It was only in my dreams
Bubble-gum pop never was more sugary than in this No. 4 hit from the summer of '87 by Debbie Gibson. Who cares if there was never a solid follow-up? We loved this song. Stay tuned for the cheesy mid-'80s saxophone solo.
Remote Patrol
Women's World Cup: USA vs. Colombia
FS1  8 p.m.
After shocking France, 2-0, in group play (the French are ranked third in the world by FIFA, behind Germany and the USA), Colombia meets the Yanks tonight in Edmonton in the Round of 16. Lose and you're out. Thunderstorms expected. We'll see about colossal meltdowns.