https://mediumhappy.com/?p=6204
by John Walters
Starting Five
1. Miss Opportunity
Just four days after approximately 38,000 people tuned in to watch the Miss USA Pageant on Reelz ("Trump always has had a bad relationship with things that end in '-z' " one comic noted), ABC reeled in a monster audience, I assume, with an ESPYs in which the star was Caitlyn Jenner.
While I may be cynical about why ESPN gave Jenner its Arthur Ashe Courage Award, the presentation of it was slick, right down to the narration of the intro segment by Jon Hamm, who once played a character named Don Draper, who once famously said, "If you don't like what people are saying, change the conversation."
Draper, by the way, also spent most of Mad Men living his life under an assumed identity.
But Caitlyn did change the conversation, and bully for her. Six months ago she was skulking out in public in a hoodie, an ambassador of shame. And then she realized, What do I need to feel ashamed of? I'll change the conversation. She spoke to Diane Sawyer, who has a ton of pull at ABC/ESPN. And then the ESPYs happened.
Here's my favorite thing of what Jenner said last night, and it came near the end of her speech: "If someone wanted to bully me, well, u know what, I was the MVP of the football team. That just wasn't going to be a problem. And the same thing goes tonight: If you wanna call me names, make jokes, doubt my intentions, go ahead. Because the reality is (camera cuts to Richard Sherman, listening attentively), I can take it. But for the thousands of kids out there coming to terms to being true to who they are, they shouldn't have to take it."
2. Hail, McHale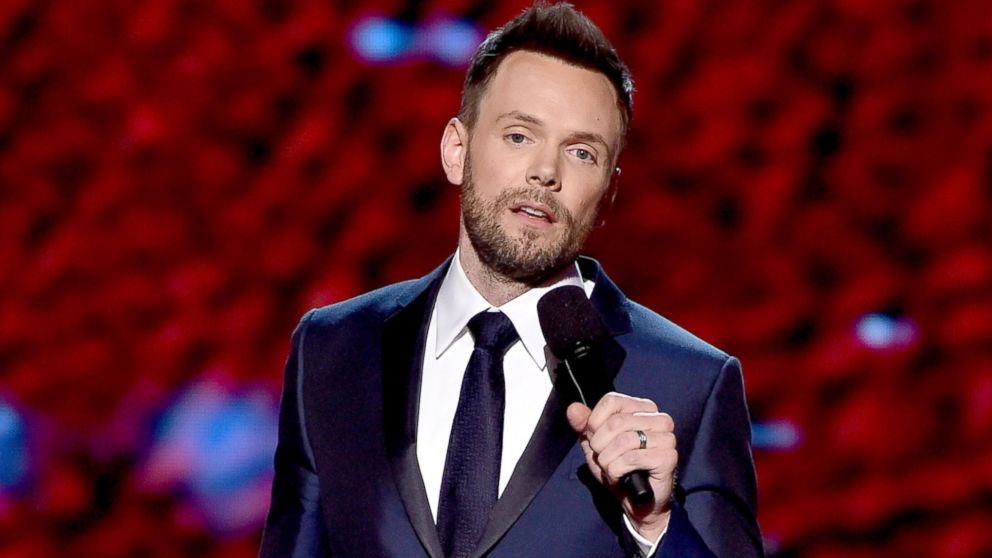 Comedian Joel McHale, who is as far as I know the first former FBS football player (U-Dub) to host the ESPYs, had a killer opening monologue. Not quite Norm Macdonald-level, but very strong. McHale was tepid at the White House Correspondents' Dinner in 2014, but he has learned.
My favorite line: "Gronk is nominated in the category of Best Comeback, which he thinks is for when he said, 'Oh yeah? That's not what your mother told me last night!'"
3. Summer Getaway in the year 2253
"Mr. DeMille, I'm ready for my closeup!"
Look at you, Pluto! All geological and stuff. Neptune is so last millennium.
Ralph Kramden: "To the moon, Alice!"
Buzz Lightyear: "To infinity and beyond!"
New Horizons: "To the last stop in our solar system…unless you really don't believe it's a planet."
Of course, now we discover that Pluto did not want these photos posted on the web. It's both dwarf planet-shaming AND, since Pluto was dumped by the solar system a few years back, revenge porn. Oh, well. On to the next planet…or galaxy.
4. Speaking of New Horizons
Netflix, the stock that is a lot like the crime rate in New York in the Rolling Stones' "Shattered", announced second-quarter earnings yesterday after the market closed. In the time since — and the opening bell is just minutes away as I type this — the already "overvalued" stock by some estimates has risen 11%.
If you had bought Netflix AFTER the last earnings report in April, AFTER the stock shot up $70 and more than 15%, you'd still be up, this morning, about 35% since then. The stock is going to open at around $109 per share after its 7-for-1 adjusted split, or at about $763 per share in Monday dollars. Not bad considering it closed last night at the equivalent of $699.
5. One Major Down, One To Go
On the eve of golf's UK major, another Major, Major Garrett of CBS News, scolded POTUS for being "content" to make an arms deal with Iran while there are still four Americans imprisoned in that country (one word: Vietnam). Anyway, Bill Maher has since called him a "Major Asshole" (which, granted, is what a lot of people have called Bill Maher).
It's totally cool to ask any politician, POTUS included, the tough questions. It's another thing to pretend to not understand how negotiations with foreign countries work or to ignore that leaders have to act in the best interests of the most citizens. There was a good way to ask that question. Using the word "content" was not the way.
Music 101
Never My Love
How can you think love will end/When I've asked you to spend your whole life with me
I'm not sure, but it may be a sad commentary about your author that the first band to make a second appearance on MH's Music 101 is The Association. And, yet, I don't care. This band epitomizes the late Sixties, which is when life and I first met and started our whirlwind romance. Come for the cheesy lyrics, stay for the ethereal "da da da da's."
Remote Patrol
Tour de France, Stage 12
NBC Sports 8 p.m.
Unlike cancer, you can survive the Tour de France beyond Stage 5. Good to know…. Three hours of coverage. I just like watching cyclists pedal through the Alps (or Pyrenees). I'm not in Seine. Nor are they, by definition.