https://mediumhappy.com/?p=6208
by John Walters
It's All Happening!
1. Trumpnado!
We always knew the Trump was lethal, but in the Summer of '15 we learned just how much. Mexicans, POWS, Lindsey Graham. No one is safe! Do not dip your toe in the political waters. Is it safe to run for president yet?
2. 93,226
Does Los Angeles want pro football? Well, yes, if it does not include helmets and shoulder pads (or Roger Goodell). More than 90,000 jammed the Rose Bowl last night to watch the world's greatest professional team, F.C. Barcelona, square off against the MLS' Los Angeles Galaxy.
(Sure, but a lot of them were probably Latinos, so not "real" Americans). Barca, the current La Liga and UEFA Champions League champions, won 2-1 and Luis Suarez (the biter) scored.
This Saturday Barca plays Manchester United (Wayne Rooney) in Santa Clara and then next Tuesday they face Chelsea (the EPL side, not the former –and future?– president's daughter) in Washington, D.C.
Of all the European acts touring the U.S. this summer, Barca is the one most in its prime.
The sad thing? The world's premier player, Lionel Messi, did not make the trip. Which is a lot like seeing U2 without Bono.
3. Welcome to Baltimore!
This could be a downtown view of Baltimore…or Boston…or New York City… in 100 years and, let's face it, in most cases that would be an improvement. Dr. James Hansen, the former top scientist at NASA and now an adjunct professor at Columbia, has just published a paper (with 16 co-authors…geez, I only needed seven on The Same River Twice) that projects sea levels will rise 10 feet in the next 50 years.
"We conclude that continued high emissions will make multi-meter sea level rise practically unavoidable and likely to occur this century," Hansen and his co-authors wrote. Something to think about as you climb into your Dodge Ram pickup this morning.
We've all been warned. We'll all ignore — and then shout at someone, "How did you let this happen?!?"
Your grandchildren will enjoy summering at the beach in Allentown, I just know it.
As this map suggests, we're all moving to Omaha…
4. Infinite Jester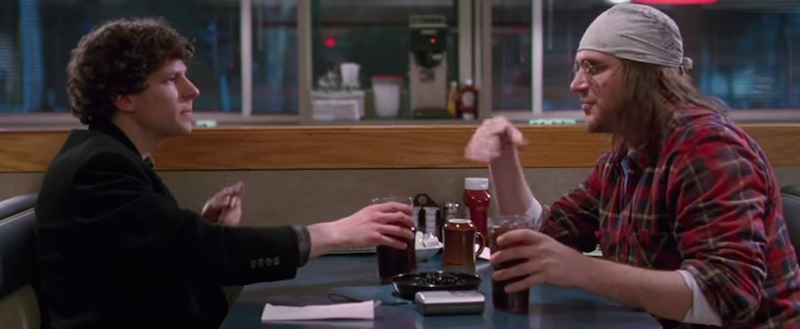 I had a chance to catch a screening of the new film about the late author David Foster Wallace, The End of the Tour, last night. If you're nerdish about writers and the interviewing process — the story revolves around the few days that a Rolling Stone writer who receives no counsel from Lester Bangs spends with Wallace on a book tour — then you may enjoy this. There are no Marvel characters or The Rock or even anything that is fast or furious.
As a reporter, I enjoyed watching the "faux" relationship between Wallace, played sublimely by Jason Segel, and writer David Lipsky (Jesse Eisenberg). When you are sent out to profile a subject, it is by definition a person who is greater than, or has done more with his life, than you have. So it is inherently a relationship between unequals. The more gracious interview subjects, as Wallace was here, recognize that fact and do not exploit it. But many do.
In the end, Lipsky comes off as a much worse person than Bill Miller ever did, though, to Lipsky's credit, he is the one who chronicled all of this, so he acknowledges it. Good stuff.
By the way, the attractive blonde in the film is Sting's daughter, Mickey Sumner.
And here is a clip of David Foster Wallace appearing on Charlie Rose in 1997, so you can glimpse some of his essence.
5. Wedding Crasher
(I'm sorry for this headine, and at the same time I'm not)
Last weekend Michael Zagula, 54, of Trapper Creek, Ala., decided to do a flyover of his daughter's wedding reception. It did not turn out so well.
Music 101 
The Lion Sleeps Tonight
In our continuing series — "How White People Usurp African Music" — we present one of the most spectacular poachings not involving white rhinos. The song was originally penned in the 1920s by Solomon Linda, a South African singer of Zulu heritage, under the title "Mbube" ("lion" in Zulu), then it was covered by a whole bunch of people, and then the English doo woo group The Tokens added some lyrics in English and took it to No. 1 in the United States in 1961.
My personal rendition, dedicated to my roomie, is "The Kitty Sleeps Tonight (and This Morning and This Afternoon)"
 Remote Patrol
Sharknado 3
SyFy 9 p.m.
I'd have more faith in President Cuban if he could hold on to free agents and CEOs…