https://mediumhappy.com/?p=6233
by John Walters
Starting Five
1. Straight Outta Hampton
It's referred to as "Tinder for elites," a dating app for the young, beautiful and successful. It's called The League and it was started in January by a Stanford alum (of course) named Amanda Bradford. Two Saturdays ago it held an invite-only party in Montauk that Mischa Barton ("The O.C.") attended.
The League launched in New York City back in May and had 30,000 applicants, but only accepted 7,000. It's the dating site equivalent of trying to get into Stanford or Harvard for people who got into Stanford or Harvard.
2. Green Monsters
Yesterday Notre Dame unveiled its Shamrock Series unis for the November 21 game in Fenway Park versus Boston College. The Eagles, by the way, get access to only 5,000 of the 40,000 or so tix since it is technically a Notre Dame "home" game (about 5 miles from B.C.'s campus).
If you're going to play in the shadow of the Green Monster (albeit at night), you have to become green monsters, I guess. Both teams will share a sideline. Also, Brian Kelly produced the squad's first made-for-Showtime moment of the season yesterday.
3. Up in The Air

I've never flown Singapore Airlines, so I will say that the best carrier I've ever flown is Emirates (Cape Town to Dubai; ooooh, look at me!). Today they announced the world's longest non-stop flight, from Dubai to Panama City. The flight time is supposed to be 17 hours and 35 minutes. Are that many people traveling to Panama City?
Personally, I don't see why a little layover in the Canary Islands would hurt, but I'm not flying this bird.
4. Troll Ide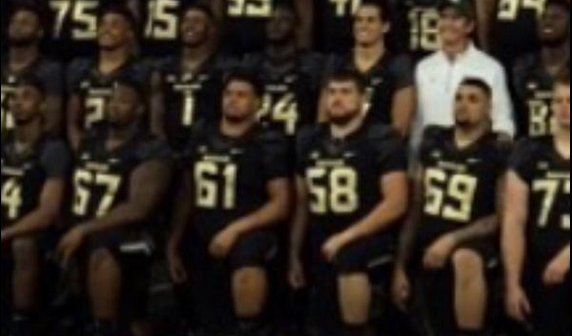 Some outstanding football trolling came to light yesterday, both at the FBS and NFL level. Above is an inset of the Baylor team photo, snapped earlier this week. Note the linemen situated next to one another wearing numbers 61 and 58. The Bears came from 21 points down in the final 11 minutes last October to defeat TCU, 61-58. It was the Horned Frogs' only loss of the season and kept them from a berth in the first College Football Playoff.
Then, last night in Detroit, for the Jets-Lions preseason game, Ford Field's musical director played "Can't Feel My Face" by The Weekend as the p.a. announcer announced that Geno Smith was inactive.
5. Is Dane Great?
Dane Warp stands 6-4, 190 pounds.
He is a high school quarterback who has thrown 78 touchdown passes, for 8,407 yards, while completing 65% of his passes.
He is on pace to break his state's prep career marks in TD passes, yardage and, in basketball, points.
He has a 4.0 GPA.
The problem is that Dane Warp plays for Havre (Mont.) High School, which is at least 500 miles from anywhere. He has yet to field a single Division I scholarship offer. Diamond in the rough or the world's largest fish in its smallest pond? Or are those the same things?
Music 101 
Wedding Bell Blues
Yet another classic song written by Laura Nyro, one of the most gifted songwriters ever (she was rightfully inducted into the R&R HoF a few years back). The tune, put out by The Fifth Dimension, hit No. 1 for three weeks in November of 1969. Coincidentally, lead singer Marilyn McCoo was engaged to backup singer Billy Davis, Jr., hence the fun had here in the stage performance (note to Bill: you were seriously over-chicked)
. A standard in the Walters wood-paneled Chevy station wagon in the early '70s.
Remote Patrol
Marx Brothers Marathon
TCM 8 p.m. 
Three of their very best, beginning at 8 p.m. with Monkey Business, followed by Horse Feathers (which skewers college football in a way that is about 80 years ahead of its time), followed by Duck Soup. "If I had a horse, I'd horsewhip you."