https://mediumhappy.com/?p=6234
by John Walters
Over the weekend MH celebrated its 3rd birthday. It was not a Yuuuuge deal, as our friend Donald T. would say. Not quite an extravaganza….more like a vaganza. 
Starting Five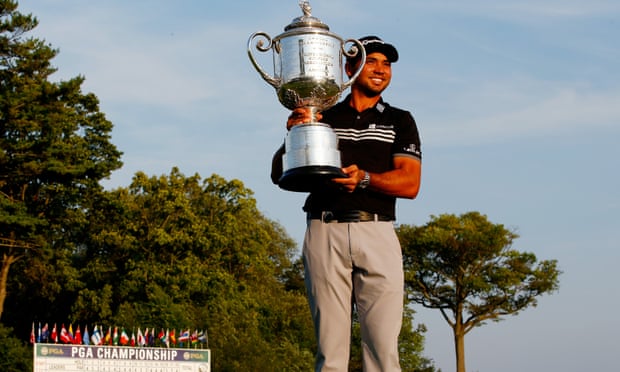 1. Day In and Day Out
After shooting a 20-under par 268 in the PGA Championship at a course named Whistling Straits (such a perfect hoity toity golf name that you'd swear David Feherty made it up) in a state named Wisconsin, Jason Day of Australia was bequeathed the trophy above and the child below.
Only eight months until golf's next major…
2. Straight Outta Compton
No, this is not a trailer for Fear the Walking Dead. It's for Straight Outta Compton, only the 2nd biopic this summer to employ Paul Giamatti as an overbearing, ultimately evil manager of an L.A.-based music act.
The story of N.W.A. ("Nuclear Weapon Arsenal?") hit the theaters this weekend and came in No. 1 at the box office, illustrating Hollywood's dire under-representation of black superhero movies. The film made $56 million in its opening weekend..meaning we're either going to see a Straight Outta Compton 2: South Central Boogaloo, or a film about Tupac titled All Eyez on Me. 
3. Sky Diver Down
Tragedy at the Chicago Air & Water Show yesterday, as Army Sgt. 1st Class Corey Hood collided with another sky diver during a 13-man routine and then struck a building. Hood, 32, died in the accident. The other man, a Navy diver, suffered a broken leg.
4. Fill 'er Up
The good folks at Outside magazine found the 64 Best Towns in the U.S.A. and then created this interactive map to invite you to explore them. I can vouch for Red Bank, N.J. (place of birth; no plaque yet…bummed) and Santa Fe, N.M. (lived there a year). A few towns that did not make it and should've: Bend, Ore. and Eugene, Ore.; Boulder, Colo. and Ouray, Colo. Minneapolis. Saratoga, N.Y. and Ithaca, N.Y. Feel free to suggest your own.
5. Tillery Time?
Notre Dame starting senior defensive tackle Jarron Jones was lost for the season over the weekend after tearing his MCL in practice. That's a big blow for the Fighting Iriah and, of course, Jones. The "Next Man In" may be true frosh Jerry Tillery, a 6'6″, 315-pound prodigy from Shreveport, La., who also had a 3.8 GPA in high school. Tillery committed to Notre Dame long ago but still took official visits to LSU, Texas A&M and…Dartmouth (someone should've chronicled that visit with video).
Tillery has the face of a teddy bear, but all accounts from the Irish coaching staff are that he's a total stud.
Ricky Town Outta Tinseltown: In other football news, former 5-star QB Ricky Town of Ventura, Calif., who famously decommitted from Alabama in order to attend USC, has decided to transfer just two weeks into training camp (For the record, Ricky did not make Outside's "64 Best Towns" list, which seems rather cruel). Town graduated early and early-enrolled at USC, but must never have felt comfortable in that pocket. Town, too, is now Straight Outta Compton.
Wondering where he will land. Town must now sit out for a year before he can play anywhere.
Music 101
Rikki Don't Lose That Number
(unless it's Steve Sarkisian's number)
There are few songs that capture the mood of summer in the Seventies better than this Steely Dan classic. It peaked at No. 4 in the summer of '74, the band's top charting hit of its career. As the decades roll past, Steely Dan only grows in stature.
Of course, if the song were written today, it might be titled, "Rikki, Just Save That Number On Your Smartphone."
Remote Patrol
AFC Bournemouth at Liverpool
NBC Sports Net 2:55 p.m.
The visitors are one of the best stories in all of sports. After decades and decades as a lower division club, one that almost went bankrupt twice, Bournemouth has finally graduated to the English Premier League. Their "stadium" seats just 11,000, or about half what the next smallest stadium in the EPL sits. This, as far as I know, is the Cherries' first moment in the American television spotlight. As one tweep noted, "It's like Bangor, Maine, getting an NFL team."