https://mediumhappy.com/?p=6235
by John Walters
Starting Five
1. Nontroversy Alert: Participation Trophies
The first year I played organized sports, in 4th grade, our basketball team went 0-10. I started at point guard.. I didn't earn a trophy and I didn't want one.
Two years later, playing the same position, I started for a team that went 26-1. And even after all that we only earned a trophy because we won our final game of the season.
What does that have to do with anything? Nothing, perhaps.
I wasn't playing organized sports at the age of five or six, but had I been, I'd probably have wanted a trophy. But I'm quite sure I wouldn't have really known what it meant. At that age I also wanted hot fudge sundaes for dinner (okay, still do) and a pet stegosaurus.
Here's what James Vance, a legend in the D.C. area in broadcasting, had to say about this whole kerfuffle. I largely agree with him (although I think the entire issue perhaps takes a back seat to, you know, just about everything). And The Brady Bunch actually tackled this entire quandary 44 years ago.
2. Cub Scouting
For those of us not paying attention (raises hand), the Chicago Cubs have the 4th-best record in baseball…and yet are still mired –oh, they are soooo mired —in 3rd place in the National League Central. Chicago, after a 10-game win streak was halted Sunday by The Elongated Man (Chris Sale), finds itself at 67-49. Only the Cardinals (76-42), Pirates (69-47) and, outside their division, Royals (71-46), have better records.
This could only mean one thing: I'm truly struggling to find items this morning.
What all four of those teams have in common? Excellent pitching. They're all in the top seven, and two of the other teams ahead of them have the best starting staffs in the game: Dodgers and Mets.
The studs are pitcher Jake Arrieta, who leads the club in Wins (14), ERA (2.39), Strikeouts (163) and WHIP (0.99), and 1st baseman Anthony Rizzo, who leads the North Siders in Batting Average (.296), Home Runs (23), RBI (68) and OBP (.407).
A Cubs-Pirates wildcard game? Cool. But hopefully it'll be in Wrigley…
3. Too Much Talent
That was C.J. Sanders at age six, playing a young Ray Charles in the music biopic Ray (you may recall that Jamie Foxx won a Best Actor Oscar for playing the older version of the blind musician in the 2004 film).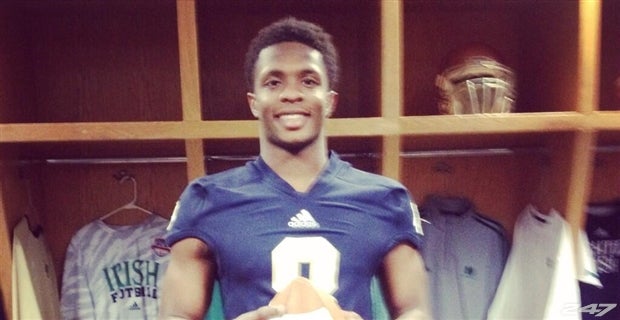 And this is C.J. Sanders now, a diminutive (5-8) but explosive freshman wide receiver at Notre Dame. Sanders has been turning heads (and ankles) at camp with his speed and moves and could be the team's top punt returner. His dad, Chris Sanders, played three seasons at Ohio State before heading into the NFL for seven years while his stepdad, Corey Harris, was a star at Vanderbilt who played 12 NFL seasons.
Sanders' mom played hoops at Michigan. Expect the Showtime crew to find this kid and quick.
4. Ahead of the Pack
What does Africa have an abundance of? Two things: the world's greatest distance runners and the planet's most incredible wild life (no thanks to you, Walter Palmer, you incredible douchebag). Anyway…
….this is the best idea you'll hear about all day. The Maasai Mara Marathon in Kenya is a distance race that is committed to raising money for schools and for conservation in the region. This year's race was held this past weekend (it's somewhat of a misnomer as the longest distance is actually a half marathon) and as you can see, the wildlife gets involved (though, you know, where grazing animals are running, there is often a big cat in pursuit…your Pumas cannot outrun a puma). But DO sign me up for next year. This sounds incredible.
5. Trump's Immigration Problem: Sexy Beast
Possibly because the first time I saw it was on the evening of September 10, 2001, I am sometimes guilty of forgetting just how (bleeping) incredible the movie Sexy Beast is. Ben Kingsley as the Jack Russell Terrier in human form named Don Logan should have won an Oscar for Best Supporting Actor on his work here alone, but when you contrast it with the character he played in Gandhi, they should have created an entirely new category for him: Best Portrayal of a Character Who is the Polar Opposite of a Character You've Already Portrayed.
I mean, just watch these scenes…
And why does this pertain to Donald Trump's "just build a wall" solution to illegal immigration (and, to be fair, he's not alone…even NFL coaches agree with him). Because it doesn't address the cause, it only addresses the outcome. As long as the root cause of illegal immigration exists, Mexicans (and Guatemalans, and Panamanians, etc.) will still find a way to arrive illegally in the U.S., no matter how big you build that damn wall. Why?  Well, let Don Logan (with an assist from Ian McShane) tell you…
Which is to say, after you've spent a week in Mexico — and not Cabo — and then spent a week here, you'll understand that people will find a way to get here, wall or no wall, because there is "a (bleeping) will" and as long as there's that, there's "always a (bleeping) way."
Music 101
Fix You
I thought Coldplay would be even bigger after their first two albums, but perhaps they've sort of peaked. As memorable as songs such as "Yellow" and "The Scientist" are, I think this 2005 tune, their "Bridge Over Troubled Water," may wind up being their signature tune. It only reached No. 18 on the U.S. charts, but that didn't keep Aaron Sorkin from recognizing its potential. 
https://www.youtube.com/watch?v=m95qHOmoUXs
Remote Patrol
Navy SEALs: Their Untold Story
PBS 8 p.m.
Did you know that the SEALs started in World War II and played an active role in D-Day? Me neither. Worth watching.