https://mediumhappy.com/?p=6242
by John Walters
Starting Five
1. Daily Harrumph! — The Fall Guy
So….14 months ago Cris Carter, standing next to Warren Sapp (who would one month later be arrested for an incident of domestic violence but NOT be fired from the NFL Network until this past winter after soliciting prostitutes) advised rookies at an NFL Rookie Symposium to "find a fall guy" to take the rap in order to avoid trouble.
And so one of the rookies there, Chris Borland, would later tell two reporters, "I was wondering, Should I just get up and walk out?" A year later Borland, a starting DE for the San Francisco 49ers, retired (Borland didn't explicitly rat out Carter; he just mentioned the incident without going Testikov on him).
The truly disturbing thing: NFL.com had that video up for a year and nobody noticed (maybe it the league were more popular). And where were the plethora of NFL "Insiders" on this. Yes, SI's Robert Klemko was there but he had agreed beforehand to some things being off the record in exchange for access. I can understand his predicament. However, as soon as the NFL posted that video on its state-run website, it was fair game for Klemko and everyone.
Carter apologized last night because he doesn't want to lose his job at ESPN, but now he belongs in the same corner as Ray Lewis, the one where fraudulent men deign to address issues about character with a straight face. ESPN should fire Carter and hire Borland: he's the only dude involved here with any integrity.
2. Da Bears!
The stock markets in China sneezed again yesterday, and again the U.S.A. caught a cold. America: We're China's Canada!
The DOW Jones became America's wildest roller coaster yesterday, dropping nearly 1,100 points at the open (Is that bad? It's not good), then rebounding so as to be down only 200 points before finishing down 588 points, its worst day in four years.
Now, here's the thing: this isn't necessarily bad. It's not as if the bomb detonated here. The bomb detonated across the Paciific and a breeze wafted it over to us. It's not like 2007 when Lloyd Blankfein was saying, "Fire? What fire?" as he held a blowtorch in the other hand.
The other reason it's okay (Stocks 101, from someone truly not qualified to teach it). It's only a BAD day if 1) you are oversaturated in the market and 2) you actually SOLD your stocks.
Solutions: 1) Learn to read the market. Stop trying to sell at the top. As Jim Cramer wisely states, "Nobody ever went broke taking a profit." This way, when days like yesterday occur, you have cash on hand that will allow you to see yesterday as a Crazy Eddie-type sale ("His prices are insane!"). 2) Follow the advice of Bette Davis in All About Eve: "Fasten your seat belts; it's going to be a bumpy night." The ride may be turbulent, but that doesn't mean you jump out of the plane (sell). Fasten your seat belts, kids, and I guess, sure, take the advice of Wilson Phillips as well.
3. Split-Second Timing
Last night Indy Car driver Justin Wilson died from head injuries he suffered at Pocono Raceway on Sunday. Wilson simply had the worst of luck. The lead driver in the race, Sage Karam, spun out on Lap 179 of the 200-lap ABC Supply 500. Karam did not encounter any other cars, he simply spun out coming out of a turn.
Karam hit the wall, debris flew, and the nose of his car went airborne, striking Wilson, 37, in the head. No way to avoid such an accident when you're traveling at 180 m.p.h. It was simply Wilson's time, if you believe in such things. Wilson most likely lost consciousness, and his car then speared the side wall nose first. He never regained consciousness and died  one day later.
If you watch the video, you'll note how the announcers' tones change when, upon seeing the replay for the first time, they realize that the piece of debris struck Wilson. At that point, they know the reality. p.s. The announcers here, especially the Brit, were extremely astute here. They didn't jump to conclusions, they waited to see the video but then once they did, they didn't sugarcoat it.
4. U Oughta Know…That We Are Never Ever Getting Back Together
Night 3 at the Staples Center, and Taylor Swift invites '90s siren Alanis Morissette onstage to perform a duet of "You Oughta Know." That T-Swizzle is so smart. First, she keeps the tour interesting for herself by brining on special guests all the time. Second, she pays respect to artists who preceded her, knowledgeable that her fame is at its zenith and that it is all fleeting. I'm sure someone like Alanis appreciates playing to a crowd of 18,000 again. It's difficult to resent a fellow artist for their wild popularity when they're inviting you to wallow in it with them.
Third, pay close attention to what Taylor does here. She realizes she's singing the verse with the F-word in it, and she has a wholesome image, and she knows that hundreds if not thousands of fans are videotaping her on their smartphones, so she doesn't want that to go viral. Thus, in the middle of the verse (3:00) she hands it back to Alanis. Am I overanalyzing this moment? You tell me.
5. The Screen Door Slams…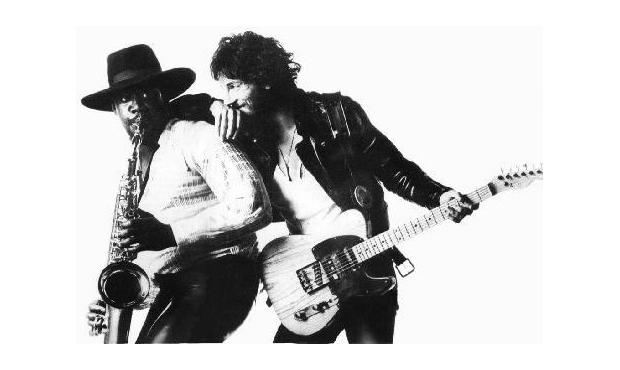 It's the 40th anniversary of the release of Born To Run. It's the first album I bought in high school and still the best I've ever owned. And I can still, with only a few lapses, recite the entire volume by memory. Soon after the album's release, both Time and Newsweek placed Bruce Springsteen on its cover, which was the 1975 equivalent of The Boss doing a Reddit AMA and being part of a Buzzfeed listicle on the same day.
….tonight in Jungleland.
Day of Yore
93 years ago today, the highest-scoring Major League Baseball game ever played. The Cubs led 25 to 6 over the Phillies at one point before giving up 14 runs in the Phils' final two at-bats. Chicago held on to win, 26-23. Hack Miller went 4 for 5 with two home runs and six RBI for the Cubs.
Music 101 
Thunder Road
I mean, how can I not?
and then 38 years later…
Remote Patrol
Listen. Tonight, ESPN2 is airing the World Armwrestling League in prime time. So, you know, go home, Norby, you're drunk. Go visit Netflix and watch The French Connection: you'll learn that Gene Hackman was nearly as bad a cop as he was a high school basketball coach.