https://mediumhappy.com/?p=6272
by John Walters
Starting Five
1. Alarmist Clock
That's Ahmed Mohamed, and he's in handcuffs on Monday because the principal at his school was worried that the homemade clock that he brought into school to show his teacher was actually a bomb.
He's Muslim. It's Texas. He doesn't play football. So let's all jump to conclusions.
You have to love that extra dig by POTUS on the morning of the second GOP debate: "It's what makes America great."
Flava Flav is da bomb! But no one ever accused him of toting one.
From @DangerGuerrero: "BREAKING: The British appear to have developed some giant bomb, possibly attached to a rocket."
2. Mass Debaters
It's good television, the GOP debates. At least for the first three hours. There's Lindsay Graham going off and declaring, "We're going to kill every one of these bastards we can find!" and Rick Santorum comparing Kim Davis to a teenage victim at Columbine, which prompted George Pataki to say, "My response is kind of, 'Wow'," before commencing to give Santorum a lesson on the rule of law.
I didn't even make it to the varsity debate, although apparently the most important question was a hypothetical one as to which woman belongs on the $10 bill. Please, these are men with Super-PACs behind them. Let's make it the $1,000 bill.
CNN, which aired the debate(s), produced a "The Debate in 3 Minutes" video. That's the way you do it.
3. America's Got (British) Talent
John Oliver and James Korden were not enough. Now a Brit has won America's Got Talent. He's a ventriloquist and his name is Paul Zerdin and if you watch his act, he's very talented. Still, America needs to secure its talent borders.
(On the other hand, maybe we should look to the UK for our next president. After all, Charles has been waiting patiently for quite some time.)
4. The Funny and Bizarre Rise of PFT Commenter
He doesn't have a name, or at least it is not widely known. He prefers sleeveless shirts and he doesn't say much. But somehow in the past six weeks PFT Commenter has become a quasi-household name. He held up the "Is Joe Flacco a elite quarterback?" sign at GOP Debate 1 in Cleveland. Then he actually appeared on Pro Football Talk with host Mike Florio. And met Skip and Screamin' A.
Holy Zeitgeist, Batman!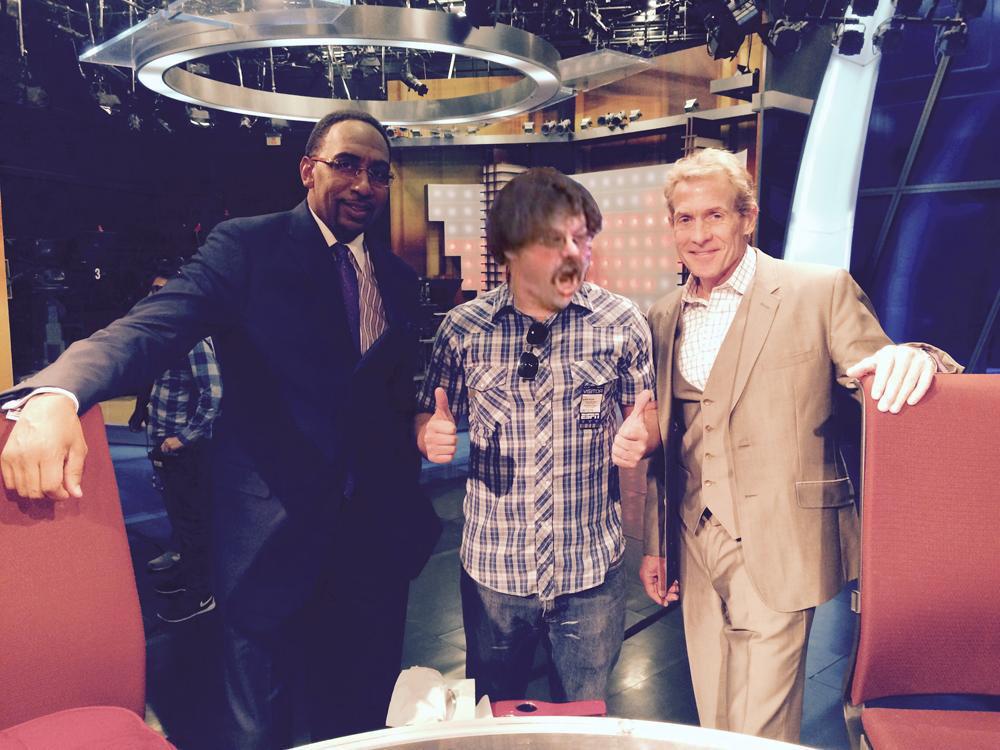 Last night he appeared at GOP Debate 2 in Seamy Valley wearing a sleeveless Deez Nuts T-shirt. His presence is now required at every presidential debate going forward, I should think.
5. The Bats Go Home After October 2
The top eight hitters in MLB, based on batting average, are: Bryce Harper, Washington (.338), Miguel Cabrera, Detroit (.335), Dee Gordon, Miami (.332), Buster Posey, San Fran (.328), Xander Bogaerts, Boston, and Yunel Escobar, Wash., (.321), and Paul Goldschmidt, Arizona, and Michael Brantley, Cleveland (.315).
What do they all have in common? None of them are headed to the postseason.
Eight of the top 10 hitters in the National League in OBP are not headed to the postseason. Six of the top 10 hitters in the AL in OBP are not, either.
The top four home run hitters — Nelson Cruz, Chris Davis, Bryce Harper and Nolan Arenado — are not, either.
Yes, I get it: pitching matters. But I'm not sure how often such a plethora of the game's most potent offensive weapons are all shut out of October play. There are FOURTEEN non-pitching MVPS currently represented on MLB rosters and of them, the only ones who will likely play in a wildcard or ALDS game are Andrew Mccutchen (2014) and twilight-ers Alex Rodriguez (multiple years),  Jimmy Rollins and Josh Hamilton.
Great names you won't see: Bryce Harper and Mike Trout, arguably the game's top two players. Nelson Cruz. Paul Goldschmidt. Chris Davis.
It's not that it's good or bad. It just…is.
Music 101
Bennie and the Jets
There are Elton John songs that seem to have gained greater renown over the passage of decades ("Candle in the Wind" and "Tiny Dancer" come to mind), but having lived in the moment of Elton's mid-Seventies hey day, I don't know that there's a more Elton John-ny tune than this one., which peaked at No. 1 in 1974. Some just AS Elton Johnny, but this one captures his vibe and you'll find yourself mouthing the words even if you don't want to do so.
Remote Patrol
Broncos at Chiefs
CBS 8 p.m.
I'll be watching to see if Louisville falls to 0-3 (at home versus Clemson, ESPN, 7:30 p.m.), but I imagine you'll want to see Peyton Manning and his puny passer rating (59.9) take on Alex Smith and the Chiefs.