https://mediumhappy.com/?p=6278
by John Walters
Happy 66th to the Boss, Bruce Springsteen! Let the broken hearts stand as the price you gotta pay…
Starting Five
1. POTUS, Pope, US
"DraftKings or FanDuel?"
   "I've been wondering the same thing myself."
2. Hat Trick, With Two to Spare
Footballer Robert Lewandowski, who is Polish (duh, JW), scores five goals in just nine minutes for Bayern Munich in a Bundesliga match against Wolfsburg ("More like Lambsburg, amirate?"). Of course, Bayern only won 5-1, so if you are an SEC fan who happens to support Wolfsburg you are probably taking this opportunity to note that without Lewandowski's five goals in nine minutes, Wolfburg wins. Go, Wolfsburg!
Watch the video. It goest from impressive ("Because that is what Robert Lewandowski does for a living!") to simply dumbfounding. It's quite remarkable.
3. Yogi: It's Over
A fond farewell to Yogi Berra, Yankee, Hall of Famer, maxim manufacturer, inspiration for a cartoon character, catcher of the only perfect game in World Series history, purveyor of wisdom, husband, father, grandfather, World War II/D-Day veteran, 18-time All-Star, 13-time World Series champion, three-time MVP, Italian-American (whoop whoop!), and incredibly humble spirit. There was never anyone like him.
4. Pizza Rat:The Easiest Halloween Costume Yet
Sure, I was thinking of going as black-and-yellow dress that changes to blue-and-white, or perhaps hose myself down, wear boxers, have some seaweed hanging from me and be Rob Konrad, or there was always Caitlyn Jenner or a Patriot equipment manager, but what costume allows you to be constantly chomping on a slice of pizza? That sealed it for me: Pizza Rat, I am totally going as you.
5. At the Tops of their Fields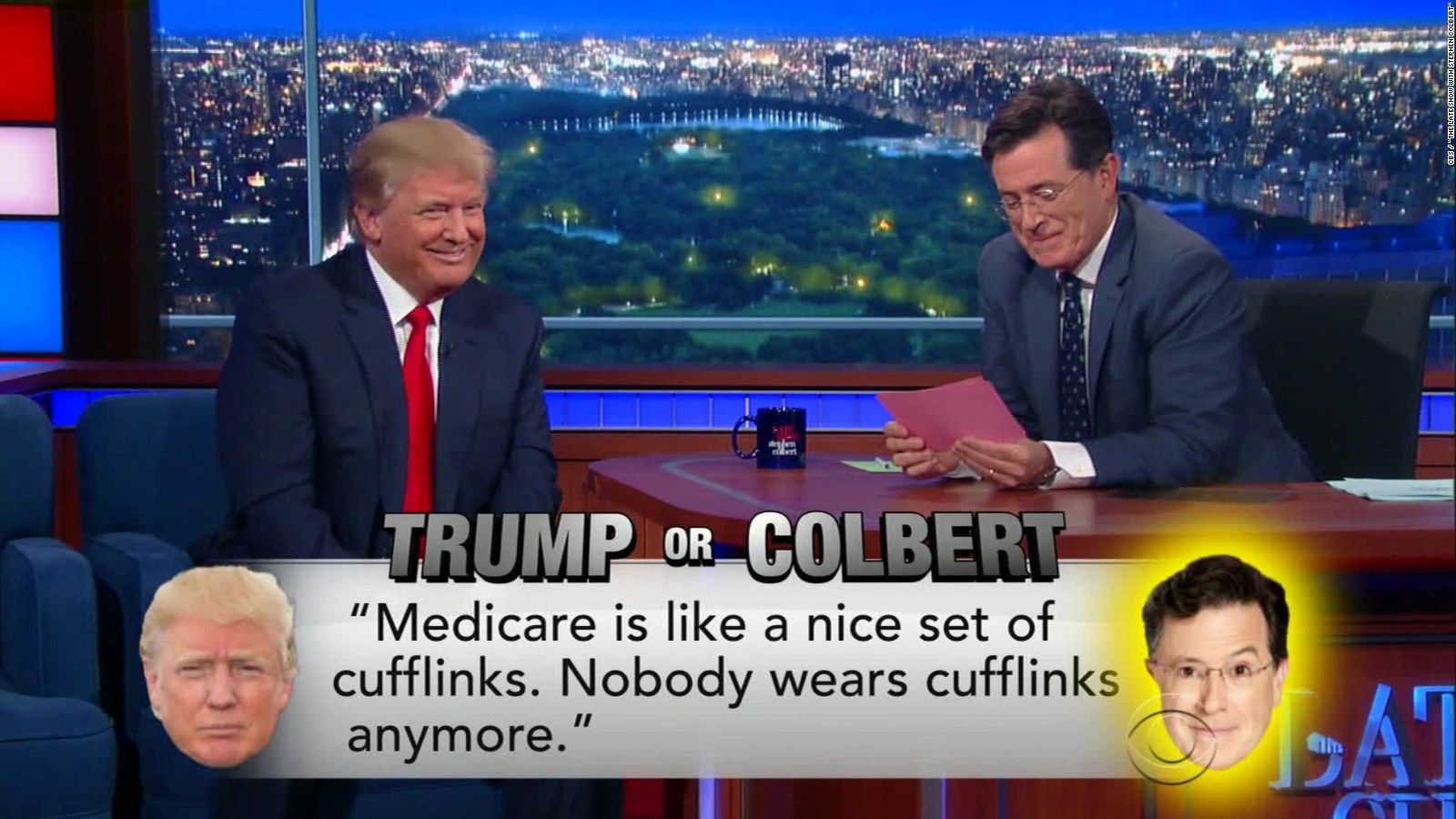 There is no one else currently in late-night who could have conducted such a smart and entertaining interview with the GOP frontrunner as Stephen Colbert did with Donald Trump. When SC reviews the tape, he will note that he interrupted DT far too often –that's just nerves, methinks — but all in all it was hilarious and the Donald seemed to enjoy himself. He was far nicer than you see him during the debates.
And as Colbert said during the opening monologue, "Someday I may be able to tell my grandkids, 'I interviewed the last president of the United States.'"
Now where do we find these fire-proof crocodiles?
Music 101 
Escape
Before there was Ashley Madison, there was the Pina Colada Song. Kids, in the Seventies musicians often actually penned ballads, songs that were stories. And some of them were like good short stories, with a plot twist. That was Rupert Holmes's "Escape," which hit No. 1 in late 1979 and was actually the last No. 1 Billboard hit of the decade.
Remote Patrol
Mr. Robot
USA/NetFlix
Okay, the first season just ended a few weeks ago but I'm just catching up on Netflix. Rami Malek, whom you may remember from The Pacific or Night at the Museum, is terrific as your lead, Elliott, a hacker who works as a tech at a security firm. Christian Slater is his anarchy-leaning mentor, and my friend and former colleague waiting tables at Del Frisco's, the fantastic Jeremy Holm, plays the bodyguard of the evil Tyrell.