https://mediumhappy.com/?p=6307
by John Walters
Starting Five
1. Goodbye, Columbus?
We've barely bid farewell to Columbus Day and already it may be near the time to say goodbye to the Columbus Blue Jackets' chances of NHL playoff contention. Sure, that's hyperbole, but the CBJ have started off 0-8 and already fired coach Todd Richards and replaced him with John Tortorella, who led the Tampa Bay Lightning to a Stanley Cup in 2004.
The CBJ, Medium Happy's new favorite hockey franchise, lost to the Minnesota Wild last night, 3-2. They've allowed 37 goals while scoring 15. That's not good.
2. Swords With Fiends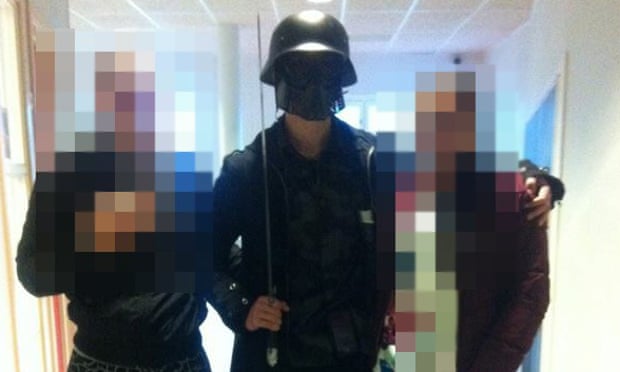 A man walks into a school in Trollhattan, Sweden, dressed like this. Two students see him, believe it is a prank, and ask to be photographed with him. He obliges. A teacher walks into the hall, sees what's up, and tells the man to leave. The man, a 21 year-old, fatally stabs the teacher. He killed one other person, a teenage student, before being shot dead by police.
This answers that question, at least in part, What would it be like if guns were far harder to obtain in the U.S.? Mentally deranged people would still walk into schools and wreak havoc, although perhaps not quite as much.
3. The Black List
Classic exchange between ESPN's premier duo, Neil Everett and Stan Verrett, on last night's Post-SVP SportsCenter. The set-up: Stan is doing a V/O of Cal-UCLA highlights.
Stan: "And those are UCLA's 'City' uniforms (all black). I don't like them. I don't like teams wearing black if black isn't their normal color."
Neil: "And you can say that because black is your normal color."
(Silence for a few seconds….finally, Stan; "You went there?" as both chuckle).
4. Does Bo Know?
"There's no racist conspiracy working for Cousins and working against RG3," wrote ESPN AOL Sports FOX Sports ESPN FOX columnist Jason Whitlock on his site, j.school, yesterday. Whitlock thus crushed the opinion, framed in numerous posts, of former colleague Bomani Jones of ESPN, who has spent the past few months on Twitter insinuating that both the Redskins' and the media's promoting of Kirk Cousins (white) over Robert Griffin III (black) has been racially motivated.
I don't follow the situation closely enough to parse the truth here. I imagine Bomani has taken this crusade a little too far, but the team is named the Redskins. Racism is their bag, baby. Still, it is quite rare for a nationally known African-American media type to publicly trash a fellow African-American media type's opinion this way.
Will we be hearing more about this on His and Hers later today?
Meanwhile, Whitlock being Whitlock, he was unable to resist throwing a self-aggrandizing line into his column: "The reason so many people in the media hold me to a standard of perfection is because my record of achievement is so high." (Resists urge to make "cholesterol level" quip).
for a number of reasons, it will not. hate to disappoint. can't do it with whitlock. won't do it with whitlock. https://t.co/unzSci1ZYI

— El Flaco (@bomani_jones) October 22, 2015

Bomani chose to take the high road.
5. Where In The World?
Yesterday: Casa Brutale, Greece
Music 101
Stay With Me
Before this great Scot began tearing pages out of the Great American Songbook, Rod Stewart was a grade-A blues rocker with his band, Faces. When the Rolling Stones poach your lead guitarist (Ron Wood), your band must be doing something right. This 1971 tune climbed up to No. 17 on the Billboard Hot 100.
Remote Patrol
Memphis at Tulsa
ESPN 8 p.m.
Dig: The Tigers are 6-0 and last week defeated the team, Ole Miss, that defeated Alabama last month. Quarterback Paxton Lynch is No. 2 on Mel Kiper, Jr.'s board after only Jared Goff (the difference between the two? Lynch's team wins more often). The AAC has three undefeated schools (Temple and Houston, too) and Justin Fuente's team will take on both of them on the road next month.