https://mediumhappy.com/?p=6341
by John Walters
Starting Five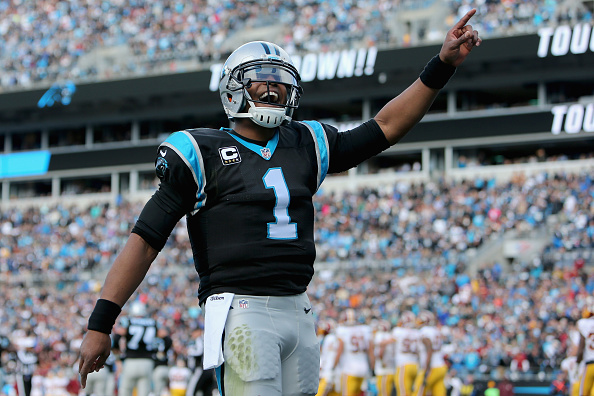 1. Cam-Demonium
Granted, I always hoped that the Carolina Panthers would rechristen themselves the Charlotte Raes ("Mr. Drummond!"), but here they are even more perfect than the New England Patriots (10-0 to 9-0, at least for a few more hours) on the week of Thanksgiving. Cam Newton has entered his prime, Jonathan Stewart is a beast at running back (not having to do a nightly TV show as well has allowed him to focus), and let's face it, almost the entire rest of the NFC has taken the season off.
The Panthers are at Dallas on Thanksgiving Day, which is going to be fun. The Cowboys have won 1 in a row after losing seven straight, and yet still are just two games out of first place in the NFC East. Tony Romo will be behind center for the non-Texan Texans.
2. Sime-Plicity
That's Christian McCaffrey's grandfather (and Ed McCaffrey's father-in-law0, Dave Sime, on the left. In 1960 he won the silver medal in the men's 100 meters at the Rome Olympics and should have taken gold running the anchor leg in the men's 4 x 100, but two of his teammates had a handoff outside the zone.
At Duke Sime played baseball and football as well and in 2001 he was named Duke's Outstanding Athlete of the 20th Century (take that, Christian Laettner). Sime then went on to become a leading ophthalmologist who was the Miami Dolphin team doctor. His grandson had 389 all-purpose yards versus Cal on Saturday night.
Here's my story on the two of them in Newsweek.
3. Reports of Glenn's Death Are Greatly Exasperated
So Glenn, whom we last saw three episodes prior, apparently survived being flat on the ground, surrounded by zombies, and lying prone beneath a friend whose own innards were being devoured by the walkers on The Walking Dead. Ooooooooooooookay, sure.
Show runner Scott Gimple and his creative team went too far with this one, and now they have a show that is itself a zombie: meandering around aimlessly, with no soul. I did not see Talking Dead, but I do wonder how host Chris Hardwick (Happy 44th Birthday, by the way!) handled this abomination.
4. Her Heart Will Go On
At the American Music Awards, Taylor Swift grabs more hardware ("Blank Space" over "Uptown Funk" for Single of the Year is the greatest of travesties), but Celine Dion garners all of the attention by paying tribute to the victims of the Paris attacks with a song by Edith Piaf, Hymme a L'Amour.
5. Air Guitar Hero
Sure, maybe the 4th spot in the College Football Playoff still goes through the state of Oklahoma –we'll see — but how about Michigan State? Playing without its starting quarterback on the road, Sparty upset the defending national champions when kicker Michael Geiger nailed the game-winning field goal from 41 yards out last time expired.
Loved the old school Big Ten final score: 17-14. Loved that Urban Meyer chose not to look as Geiger, a Toledo native, attempted the GWFG, but instead turned his back and looked toward the stands. Loved that Geiger sprinted downfield, windmilling it the entire way. Eddie Van Halen would be proud.
And yes, I think Michigan State is more deserving of being in the Top 4 currently than Iowa, what with wins at Columbus and Ann Arbor while having beaten Oregon at home. Their lone defeat came on a verrrrrry sketchy call in Lincoln. Not that it really matters, as The Fighting Dantonios will meet Iowa in two weeks and we can settle it there (unless the Hawkeyes boink at Nebraska themselves this weekend).
My Top 4 as of TODAY: 1. Alabama 2. Clemson 3. Michigan State 4. Oklahoma. Irish jussssst out of that 4th spot. Have looked  moribund past two weeks.
Music 101
I'd Really Love To See You Tonight
This 1976 tune by England Dan & John Ford Coley reached No. 2 on the Billboard chart and No. 1 on the Adult Contemporary chart. Dan Fogelberg still cannot believe that he did not write or perform this (but he didn't). The duo performed the tune on James at 16 (great show, by the way), and they shoe-horned it in by saying that England Dan was the uncle of one of the two characters. What Evs.
Remote Patrol
Bills at Patriots
ESPN 8 p.m.
New England attempts to improve to 10-0 versus Rex Ryan and the Bills, who are better this season but still just thrilled to be a part of Monday Night Football.