https://mediumhappy.com/?p=6404
by John Walters
Starting Five
1. Marvin's Room
Last year, as a freshman, 6'10" Marvin Bagley III of Tempe Corona del Sol High School was probably one of the top five NBA-potential prep players in America. Since leading the Aztecs to a 34-1 record and their fourth consecutive Arizona state championship, Bagley has dropped out of Corona to attend a "high school," Hillcrest Academy, that did not exist a year ago; seen his coach, Sam Duane (the most successful prep coach in Arizona the past two decades), "retire" before his 50th birthday, transferred to a school in southern California, Sierra Canyon, which was the lone school that beat Corona del Sol last year, and now been declared ineligible to play in California.
It's like, Can Bagley, now 6'11" just move to Lexington, Ky., now and acclimate to the local customs, weather and food? And can you say, "Daddy's a little TOO involved?"
2. A Crowe Soars with the Eagles
We always knew that William Miller was Cameron Crowe, but I never knew that Stillwater was the Eagles (for the most part). Here Crowe shares his story of how he tracked down the band, who would go on to be much more than Almost Famous, at a show in San Diego when he was in high school, and how Don Henley and Glenn Frey (the Jason Lee and Billy Crudup characters?) befriended him. It is…incendiary.
3. Missing Marines
Two helicopters, each carrying six U.S. Marines, departed from Oahu the other night for a night maneuvers session. The helicopters and the 12 Marines never returned. Inflatable rafts from both helicopters have been found, but with no signs of people having used them. Two helicopters missing usually equates to accidental collision.
4. But Is He, Though?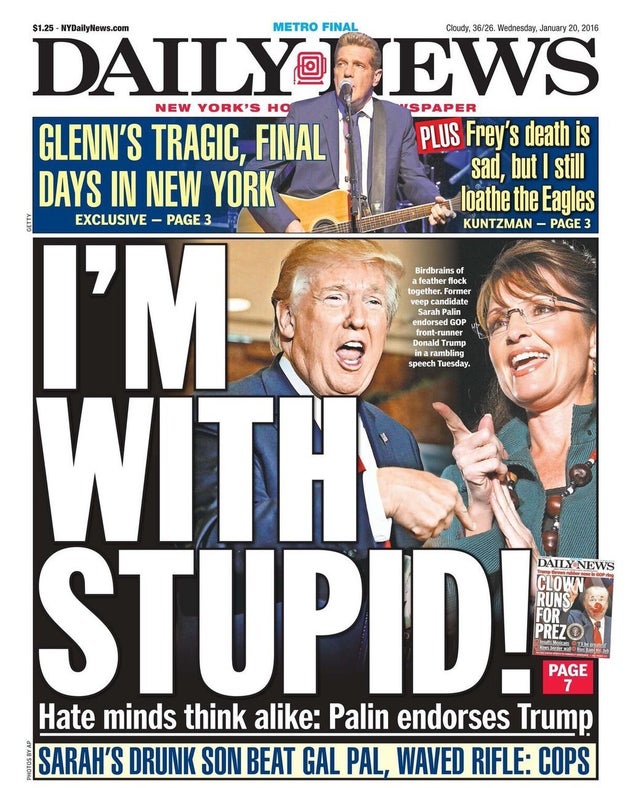 As someone put it so poetically on Twitter yesterday, "Politician turned reality TV star endorses reality star turned politician."
Does it mean anything, other than Donald owns the news cycle for another day? To me, this is a little like Gladiator. Trump is currently in the midst of a melee-style fight to the death, but if he can survive it he earns a one-on-one with Caesar (or Caesara).
Mock him, laugh at him, denigrate him. He doesn't care. He'll do anything to put MarcoTed RubioCruz behind him. Once he's done that, he'll tone it down and focus on either Bernie or Hillary with laser-focus. Let me know how it all turns out. I'll be living in Moose Jaw, Saskatchewan.
5. Kelsey Times Three
The leading scorer in women's college basketball is just above this sentence: Kelsey Plum of the University of Washington, who averages 27.3 points per game for the Huskies (14-4).
But the second-leading scorer in the country is Kelsey Mitchell of Ohio State, who averages 25.3 points per game for the Buckeyes (13-4).
And the seventh-leading scorer in Division I is Kelsey Minato of Army (14-2), who averages 23.3 points per game.
Were all their parents fans of Frasier Crane? And does Plum spend her down time in Seattle seeking out the Cafe Nervosa?
Music 101
Dream Weaver
This 1976 tune by Gary Wright was also all over AM radio (like yesterday's tune) in the mid-1970s. It's considered the first synth-pop hit and it reached No. 2 on the Billboard chart. I never really needed to listen to it again, but part of the goal here is to educate, not just to entertain. I'm not your trained chimp! You're welcome. Harrumph!
The song was inspired by a prayer from a yogi that passed from that yogi to George Harrison,who passed it on to Wright.
Remote Patrol
The Apartment
TCM 10:15 p.m.
Winner of five Academy Awards, including Best Picture and Best Director (Billy Wilder), this 1960 dramedy has to be on your list of films to see if you aspire to being a film snob (like Chris Corbellini and Mark Beech and myself). Anyway, it stars Jack Lemmon, Shirley MacLaine and Fred MacMurray and is basically every episode of Mad Men, but like 47 years before Matt Weiner's show premiered.