https://mediumhappy.com/?p=6412
by John Walters
Starting Five
1. (Blake) Griffin Done (For Now)
First of all, let's agree that being the equipment manager for an NBA team is so much easier than being one for an NFL or MLB team. Football equipment managers are right below auto mechanics, or have you never had to use a screwdriver to adjust a helmet or shoulder pads on the fly?
Anyway, we still don't know what the argument was about, but Korean vehicle pitchman/Clipper Blake Griffin is going to miss four to six weeks after fracturing the fourth metatarsal ("No, I never have metatarsal") by punching Clipper assistant equipment manager Matias Testi in the face. It happened outside a restaurant in Toronto. Funny, no one is saying how long Testi will be out.
By the way, Griffin already was out with a partially torn quad. But the Clippers are in fourth place in the West, so no one's been paying much attention to them. They're actually the 4th-most interesting team in California this season.
2. The Admirable
Yesterday, the Notre Dame Observer reported that senior-to-be wide receiver Corey Robinson, son of David Robinson, The Admiral, is running for student body president. I assume he's doing this in order to put it on his transcript so that he will be able to get accepted to a prestigious college.
Anyway, Corey has always come off as an erudite gridder. Talented musician, well-spoken, catches tough balls in the corner (remember the TD versus USC last October? Not easy). He even physically resembles the younger version of another president we know of.
Election day in South Bend is February 10. If elected, Robinson would become the first student body president in Notre Dame history to have caught a game-winning touchdown pass versus Florida State.
3. Mammoth Discovery
Yesterday, in the most blatant display yet that God would like to see Oregon State change its mascot name from beavers, construction workers found bones from a woolly mammoth beneath the end zone of Reser Stadium in Corvallis.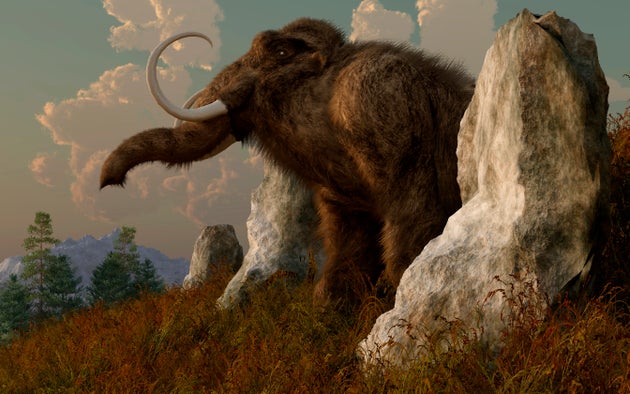 The Oregon State Mammoths? I like it.
Bison and camel bones—yes, camel—were also excavated. The bones were believed to be 10,000 years old.
4. Tyler Sash: CTE
Yesterday it was revealed that former Iowa Hawkeye and New York Giant Tyler Sash, who died last September 8 at the age of 27 of an accidental overdose of pain medications, had an unusually advanced stage of CTE in his brain at the time of his death.
Sash was cut by the Giants in 2013 after what was at least his fifth concussion. If you ever had the chance to watch Sash, a safety and punt returner, play, then you remember he was a cage rattler. Tyler Sash gave his life for football. Pure and simple.
5. Abe Vigoda
So I'm sitting here feeling old realizing that I'm nearly the same age Abe Vigoda was when he appeared as Sal Tessio in The Godfather. Vigoda, who most New Yorkers that have lived here awhile saw on the street at least once (he was as easy a find as Tony Bennett or Beth Ostrovsky), passed away at the age of 94 yesterday. "Tom, can you get me off the hook, for old time's sake?" "Can't do it, Sal."
To those of us who grew up in the Seventies, Vigoda was also Detective Fish on Barney Miller (and later, Fish). But he may be just as famous for having outlived everyone's expectations of his mortality, over and over and over again. When you think about it, he was only in his fifties when he appeared in those sitcoms.
It's morbid, but we're at the point where we may need to begin ranking January celebrity deaths: Bowie, Rickman, Frey, Haggerty, Vigoda. At least four of them will make the Oscars death montage next month.
Music 101
The Muppet Show
It's the most sensational, inspirational, celebrational, Muppetational theme song ever written! Decades before "meta-" became part of our vernacular, The Muppets performed just such a song to open their show, one that included audience participation ("Why don't you get things started?")
Remote Patrol
Djokovic vs. Federer
ESPN 9 p.m.
Roger Federer, 34, and Novak Djokovic, 28, have each won 22 matches against the other in their careers. But Djokovic has won their last three Grand Slam matches and has clearly overtaken the Splendid Swiss, and everyone else, in tennis.
Tonight they meet in the Australian Open semis. Federer owns 17 Grand Slams, the most of anyone, and Djokovic 10. But the Serbian has won four of the past five Aussie Opens. And he still has at least five good years ahead of him.