https://mediumhappy.com/?p=6440
by John Walters
Starting Five
1. Not Again, Northwestern
On December 30 Northwestern opened its B1G tour with an 81-72 win at Nebraska to move to 13-1. The Wildcats, as you may know, hosted the very first Final Four on their campus in Evanston (1939) but have never, ever, ever been to the Big Dance. And, well, nearly 7 weeks ago, fans had a right to feel somewhat optimistic.
Last night the Kitties lost at Purdue, 71-61, their 9th loss in the past 13 games. Northwestern is now 17-9 on on the outside looking in for a tourney berth. Chicago's second-most famous sports drought looks as if it will continue. Maybe they should be using the Veep's son more. Charlie Hall is low man on the team in terms of minutes.
2. Ode to Kanye
I did this in about two minutes. Perhaps it shows:
Don't take no time,
To bust a rhyme,
In any clime,
A message sublime,
But your lyrics are meaningless,
The words, they demeaning us,
Imploring and teasing us,
Inciting and Yeaz-ing us,
Don't take no college dropout,
For wisdom to pop out,
Of your mouth with a cop out,
While wanting a handout,
A bailout, a flop-out,
This ain't no recital,
Drop your album on Tidal,
While acting infantile,
With a sneer and a smile,
You taking a beating,
For your whining, your Tweeting,
140 characters self-defeating,
The crying, the bleating,
So now you retreating?
Cuz haters retweeting?
3. Pope Vs. Juarez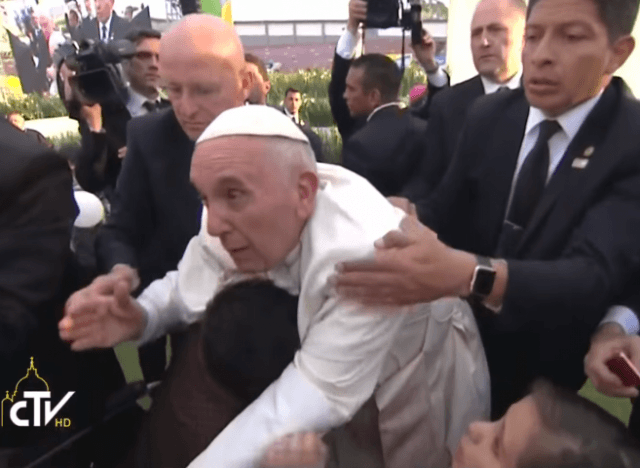 Today, thanks to the overwhelming success of Telenovela, Pope Francis visits Juarez, Mexico, which is just across the Rio Grande from El Paso, Texas. Juarez has been called, deservedly, the Murder Capitol of the World. It is Ground Zero for the drug war. That's one brave pope. Yesterday a man in the crowd attempted to pull him toward him, wouldn't let him go, and got a papal scolding. I don't think the pope will return to Mexico, but then again, he's 78.
4. Saul 'tof the Earth
A couple more things on the Season 2 premiere of Better Call  Saul that we forgot to cover: First, notice the symmetry between the first and last scene: Jimmy is trapped, to a degree, in a room that makes him uncomfortable. In each room there is a switch or lever he can press. In Omaha, he does not take the chance for fear of alerting the cops to his identity. In Santa Fe, he breaks the rule and flicks the switch (nothing seems to happen).
Also, don't you get the feeling that "SG WAS HERE" may come back to haunt him?
Also, note the name that he uses as the resort: "Mr. Cumstein." That's a call back to a scene from Caddyshack. Mr. Gilligan is a playful writer.
Finally, it was easy to see why the po po would be suspicious, but how did they know to look behind the love seat? Because it was the only part of the room not in shambles? Odd.
5. What's the Matter, Horn?
This is SI Swimsuit model Emily DiDonato, who was born in New York and whose great-grandparents immigrated here from Italy. Our grandmother was named DiDonato, lived in New York, and either she or her parents immigrated here from Italy (we know, we should know this for sure; we'll do some fact-checking later). It's clear who got all the good genes.
Anyway, we're going to take a little familial pride in Emily's success and we may stop throwing those reunion invites immediately into the garbage. Meanwhile, neither one of our two favorites, Nina Agdal or Samantha Hoopes, garnered their first covers this year, which we feel is just below a crime against humanity. Just….
Music 101
Ferry Cross the Mersey
This 1965 single by Gerry and The Pacemakers rose to No. 6 on the Billboard charts, a testament to how much people at the time cared about commuting. The Mersey is the major river you see when you're in Liverpool, England, which you should really visit once in your life.
Remote Patrol
Duke at North Carolina
9 p.m. ESPN
Not as much heat surrounding this rivalry as in years past, but the Boo Devils (No. 20, 19-6) are coming off their best win of the season while the Tar Heels (No. 5, 21-4)are coming off two losses, followed by a 3-point win at ACC-winless B.C., and then finally a decent win against Pitt. Does it feel as if every year the Heels have one 1st team All-American kinda guy (Marcus Paige) but that they're just not a team that people don't talk about the way they used to?