https://mediumhappy.com/?p=6536
by John Walters
Starting Five
Nothing Compares 2 U
How many icons actually change their name to an icon? Only one who I can think of: Prince.
On April 21, 2016, a queen turned 90 and a Prince passed away at the age of 57. I won't pretend to be an expert on The Artist Formerly Known As, but I do still proudly own a vinyl copy of Purple Rain. Vividly remember his appearance on Solid Gold in 1981 or '82 where he and the Revolution played "1999" and "Little Red Corvette." Had never seen a band that was that blatantly sexual, funky and also could riff like Keith Richards. Also remember in the summer of '84, waking up to my music alarm just as the first licks of "When Doves Cry" were playing on the radio, and just laying in bed and being hypnotized by the raw energy.
Prince always understood and appreciated that our time on earth here is fleeting:
"1999"
"I was dreaming when I wrote this/Excuse me if I go too fast
But life is just a party/And parties weren't made to last…."
Or, from "Let's Go Crazy"
"Dearly beloved, we are gathered here today to get through this thing called life…"
and
"We're all excited
But we don't know why
Maybe it's 'cause
We're all gonna die
And when we do (When we do)
What's it all for (What's it all for)
You better live now
Before the grim reaper come knocking on your door"
He was a supremely gifted musician, a prodigy who played nearly all the instruments on his first five albums, all of which were released before his 25th birthday. This clip, which you should just jump to 3:30 for, showcases his mastery of the guitar. Watch him shred right in front of two RnR HoF guitarists, Tom Petty and Jeff Lynne, as if to say, "Yeah, mine's bigger…"
He also wrote insanely smart and tight lyrics:
Kiss
Women not girls rule my world
I said they rule my world
Act your age, (not your shoe size)
Not your shoe size
Maybe we could do the twirl
You don't have to watch Dynasty
To have an attitude
You just leave it all up to me
My love will be your food
He was simply a genius. A Twin Cities product who never really left. I never knew until yesterday that Paisley Park is located just a mile due east of the Minnesota Landscape Aroboretum, which is one of my favorite places. Visit it some day.
Anyway, a few more great moments/tributes/oddities: Yes, he played the only Super Bowl halftime show out of 50 where it rained, and when informed that it was raining, asked, "Can you make it rain harder?" I mean, when one of your signature tunes is "Purple Rain," you're not bowing out for that reason.
The folks at Niagara Falls had already decided to light it up purple last night to honor Queen Elizabeth on her 90th birthday. So that was a strange coincidence.
Some wonderful soul did this at the Prince St. subway platform here in NYC. I hope the MTA lets it stay there for awhile.
Artists who had big hits (for some, their biggest) with songs Prince wrote and let them record: Sinead O'Connor ("Nothing Compares 2 U"), Chaka Khan ("I Feel For You"), The Bangles ("Manic Monday") and Sheena Easton ("Sugar Walls").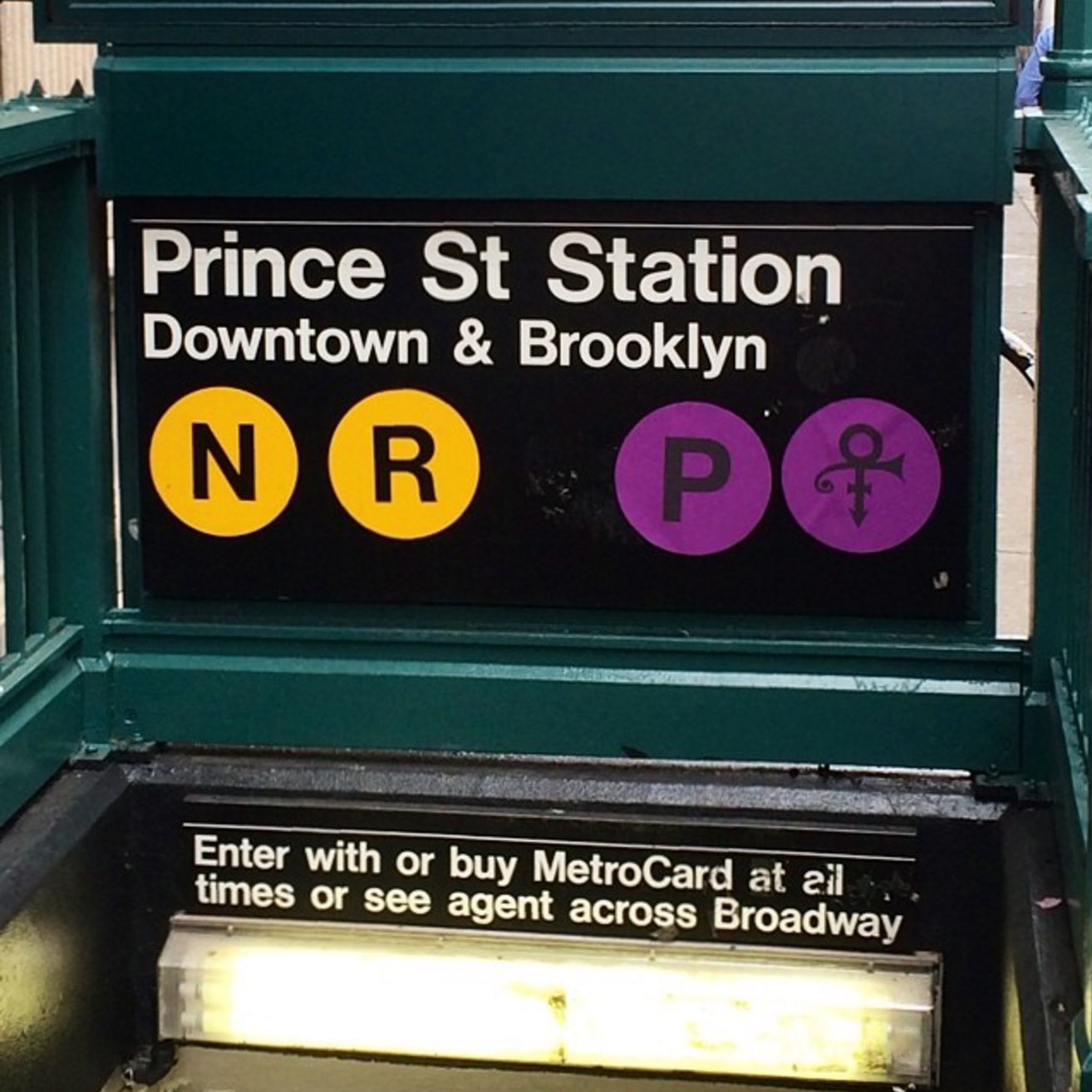 Also, in the song "Let's Go Crazy," Prince mentions "the elevator" three times ("Are we gonna let the elevator bring us down?"). He was found dead in an elevator.
Finally, Prince inspired one of the funniest skits in the history of Chappelle's Show, "Game, Blouses."
Prince: Bold. Original. Eccentric. Unique. Completely in control of his destiny and his music. A lot like David Bowie, who did three months ago, in that he was sui generis. A genius.
2. Tiger and SEALs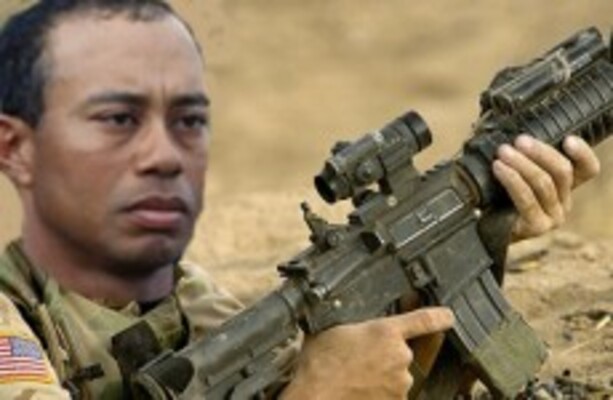 Take a few minutes half hour to read this piece by Wright Thompson on Tiger Woods, the most intriguing part of which is his obsession with the military, particularly the U.S. Navy SEALs, following his father's death in the spring of 2006.
Earl Woods served two tours with the Green Berets in Vietnam, then retired and played golf. Eldrick Woods won 10 majors in golf, then his father died and he became obsessed with joining the military (he would win 4 more, the last in June of 2008 at the U.S. Open not far from where the SEALs train in the San Diego area). Most damaging? An anecdote in which Tiger and a few SEALs go out to lunch in a diner and he fails to pick up the check.
One man's hot take? Tiger was bored by golf. He had mastered it at an early age and he wasn't nearly as consumed with catching Jack Nicklaus as the public might think. He needed a new drug, and he missed his pop, who was his golf shaman. So of course the military was a way to feel closer to the man his father had been.
Also, to complete the arc of Tiger's career, read this story by Tim Crothers, who "discovered" Tiger in a way, or at least for Sports Illustrated, a quarter century ago when Tiger was 15.
3. Houston, What Are You Doing?
The final 14 seconds of Game 3 of Warriors-Rocktes.
–Houston, nursing a one-point leading and inbounding under its own basket, throws it away and Golden State scores to take the lead.
—James Harden takes the inbound pass, dribbles up court, pushes off Andre Iguodala (no foul called), and sinks J.
—Draymond Green takes inbound pass at half court, dribbles off foot.
—Houston, needing to inbound with :01 left from half court, throws pass back toward its own basket. Shaun Livingston comes mere inches from stealing play and making greatest late moment steal in a playoff game since Larry Bird robbed the Detroit Pistons in 1986.
Nutty. Houston wins by one point.
4. The Two Jakes
Cubs win, 16-0, at Cincinnati and Jake Arrieta throws his second no-hitter in his past 10 starts (the other being at Los Angeles last August). Arrieta, the NL's reigning Cy Young Award winner, is now 4-0 on the season with a 0.87 ERA. His first three-plus seasons as a Baltimore Oriole (2010-13), his ERAs were 4.66, 5.05, 6.20 and 7.23. Don't give up. Don't ever give up.
David Ross, a 15-year MLB vet who had never caught a no-hitter, was the other half of the battery last night for the Cubs.
5. "Hey (hey), You (you), Get Offa My Lawn!"
One man's retort (mine) to all of those millennials mocking us with the "Get Off My Lawn" meme.
Music 101
Nothing Compares 2 U
As you may know, you can't find Prince's original recordings or videos on YouTube (props to him for that; he owns all his stuff), but here is Chris Cornell covering a Prince classic that Sinead O'Connor later recorded herself (without his involvement), who turned it into her star-making hit in 1990.. Thanks to Mark Ennis who pointed this video out to me via Twitter.
O'Connor took this song to No. 1 and the album, I Do Not What What I Haven't Got, remained No. 1 for six weeks.
Here is O'Connor later reflecting on her relationship with Prince: "He summoned me to his house after 'Nothing Compares 2 U.' I made it without him. I'd never met him. He summoned me to his house—and it's foolish to do this to an Irish woman—he said he didn't like me saying bad words in interviews. So I told him to fuck off." O'Connor said: "He got quite violent. I had to escape out of his house at five in the morning. He packed a bigger punch than mine."
Remote Patrol
SUNDAY
Game Of Thrones
HBO 9 p.m.
"We're gonna build a wall, and the Wildings are gonna pay for it!" Make Westeros great again! The Mother of Dragons is in exile….Jon Snow is dead-not-dead….Cersei is launching her revenge tour…and Winterfell is about to get wild. The Wild Wild Westeros is back!