https://mediumhappy.com/?p=6545
by John Walters
Starting Five
1. Bob: Trumpy*
*The judges will also accept "Grump Supports Trump"
In yesterday's Craziest Election Ever news….
—Bob Knight endorsed Donald Trump, who won all five primaries on Tuesday, at a campaign rally in Indianapolis, calling him "the most prepared person ever" to be president and then providing this weird-ass parable about long hair and using your parents' cars and Jesus. Yes, Jesus."
–Trump used a teleprompter, finally, while giving a speech on foreign policy in which he pronounced the country name as Tan-ZANY-a, as in "it's zany" as opposed to Tan-ZA-ni-a, as it's properly announced. Uh oh, I just played my liberal elite card.
 
–Speaking of cards, Trump accused Hillary of playing the "woman card." Hillary did not accused him of playing the "Trump card," because that's a real thing (Donald's "Trump card" is being unapologetically bombastic, and it's working).
—Ted Cruz picked Carly Florina as his running mate, which as one tweep opined, "is sorta like the Atlanta Braves announcing their first-round playoff pitching rotation." Cruz had announced earlier in the day that he'd be making a "major announcement at 4 p.m." and this was it, meaning that the Zodiac Killer is still out there.
2. Bern Notice
Oh, and Bernie Sanders, after losing four of five primaries to Hillary on Tuesday, announced that he's terminating the positions of hundreds of field staffers and throwing a Hail Mary at the June 7 California primary. The end is nigh. It's going to be Badman versus Super Girl for the world's most high-profile job.
3. The Prince Diaries*
*(see what I did there?)
If you missed this Monday night, here's Jimmy Fallon and QuestLove sharing a bizarre tale about Prince, ping pong, and a date at Susan Sarandon's ping pong club on East 23rd Street, Spin (she named it so before the whole boutique cycling craze struck the city).
Perhaps even nuttier, here's director Kevin Smith relating a bizarre week he spent in the company of The Purple One a few years back. What's truly compelling here is that Smith is asked a single question by an audience member (was he a plant?) and then launches into a mesmerizing, uninterrupted, 29-minute tale about his encounter with Prince. This happened in 2013, but it's still enlightening. You'll notice that when it begins, Smith considers Prince a near deity, but by the end he's a little cheesed that Prince neglected to show the smallest sign of courtesy.
Also note: Prince relates to Smith that he has knee pain (knee and hip pain is ultimately what led to his reliance on painkillers) and Smith actually asks the 5'2″ Prince if it's because he wears high heels all the time. Talk about a portent.
Also in the news: the coroner reports that prescription painkillers were found in Prince's possession when they found him in the elevator. So Prince likely joins Michael Jackson and Elvis (among others) who died of an overdose of painkillers.
4. Farewell to a Fleet-Foot
You may not know who Chris Solinsky is, but he retired yesterday at the age of 31. Solinsky never made a U.S. Olympic team, but the Wisconsin native won five NCAA individual titles and then, on a magical spring night (May 1) in 2010 in Palo Alto, became the first non-African born person to go below 27 minutes in a 10K. And this was 10K DEBUT!
The footage of these last two laps is completely worth watching. The announcers' enthusiasm is off the hook, by the way. There may not even be a hook left, in fact. Olympian Galen Rupp entered the race as the favorite, but Solinsky takes off here and burns a 1:56.2 in the final 800. Running versus no one, but rather only history, on the final lap, he crosses the line at 26.59.60 to put himself into running immortality.
A year later Solinsky suffered a hamstring avulsion in which the hamstring tendons separate from the pelvis, and he was never able to return to that elite form. "I thought maybe I'd just keep running and compete when and where I can," said Solinsky in a release yesterday. "But I don't really want to do that. That would feel like I was running for a paycheck, and running has never been like that for me."
5. All About the Washingtons
In New York City on Tuesday, police arrested 87 alleged gang members in the Bronx, thought to be the widest sweep in city history.
Meanwhile in Los Angeles, cops arrested alleged Skid Row drug kingpin Derrick Turner, 48, and more than a dozen associates in suburban Cerritos. At Turner's home police found $600,000 in cash, but here's the funny thing: all of it was in $1 bills. ""The fact it was $1 bills tells you a lot about his business on skid row," LAPD Capt. Andrew Neiman said.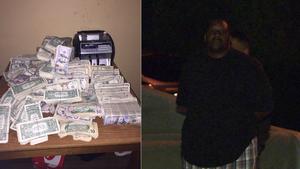 Either that or Turner and his crew were planning on making it rain and then some at the Spearmint Rhino soon.
SPORTS!
It Saul Happening, as Atletico Madrid's Saul Niguez scores the only goal in their first leg semi triumph over Bayern Munich. Some goals are a lot more impressive than others.

Elsewhere, in the NBA: Rip City wins, while Houston is R.I.P. City.
CHK'ing In
I don't want any of you to ever think that what I know about the stock market is any more nuanced or informed than what Clay Travis knows about picking games. It's gambling to a degree, and that's true even if you've passed your Series 7 exam and/or have an MBA. There are some things with stocks (such as comparing Amazon's P/E to Apple's P/E) that no one can logically explain.
That said, I've been telling you about Chesapeake Energy (CHK) for a while now, and checking in with you about it if for no other reason than to implore you to keep an eye on it.
Yesterday CHK rose 54 cents to $7.14, a gain of 8%. On Thursday, April 7, CHK was trading as low as $3.54. Yesterday it was at $7.14, which means that in 20 days (less, actually, of trading when you consider the weekends) it jumped by 100%. That…is…significant.
Which way does it head next? I dunno. But it's volatile.
Update: CHK is up 4.34% this morning….
Music 101
Carrie Anne
This is easily one of my favorite performances I've ever found on YouTube. It's The Hollies and it's 1969. Everyone is so well-dressed and so well-coifed, and little Tony Hicks looks so cute and adorable, that you barely notice that they're slut-shaming a girl in the lyrics. And not just any girl: Carrie Anne was a shot at Marianne (get it?) Faithfull, and it was written by original Hollies member Graham Nash (who later went on to found CSN&Y). Faithfull was every musician's muse in London's mid-Sixties swinging scene and had an affair with Mick Jagger though she was already married.
In 1967 the song became a top-five hit in the UK and a top-10 hit in the USA. This performance took place in 1969, after Nash had left the group (I have no idea where the violins you hear at 1:40 are coming from). The only other Carrie Anne you may know of, actress Carrie Anne Moss, was named for this song. It was her mom's favorite at the time she gave birth to her in 1967.
Remote Patrol
NFL Non-Mock Draft
ESPN 8 p.m.
Who's taking Myles Jack? Will either LA or Philly come to its senses and realize that neither of these two QBs are a sure thing and that they're better off taking Jalen Ramsey or Joey Bosa? Is Ezekiel Elliott the steal of the draft? Whither Jaylon Smith? All the mock drafts end tonight.