https://mediumhappy.com/?p=6675
by John Walters
Starting Five
Anti-Social Climber*
*The judges will also accept "Rogata de Blanked," "He Does Do Windows," and "I Prefer Guys Who Don't Get Apprehended Scaling Trump Tower"
On a hot, muggy afternoon in Manhattan, 19 year-old Stephen Rogata of Virginia decided to scale Trump Tower to get the Republican candidate's attention. He apparently wanted a private audience with Trump. Rogata, using four suction cups, made it to the 21st floor before police officer Christopher William grabbed him and hauled him in.
Rogata wore cargo shorts, only fueling the debate as to whether they are acceptable on Twitter.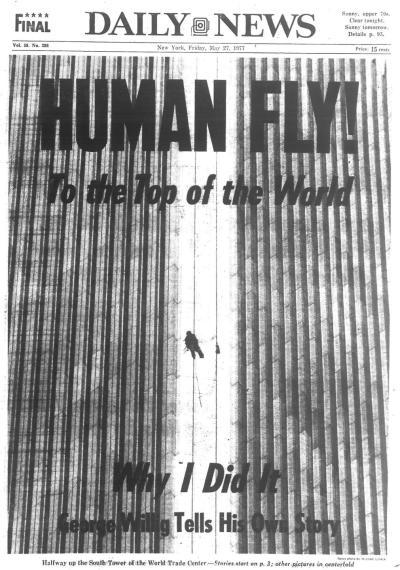 In the spring of 1977 George Willig successfully scaled the south tower of the World Trade Center (he's still alive). He was known as The Human Fly.
Willig scaled all 110 floors, then was fined one dollar and ten cents.
2. Olympics, Day 5
Katie Ledecky captures her 3rd gold, anchoring the 4 x 200 freestyle relay, and wins by a body length, in the one Olympic pool that is not green. Kristin Armstrong wins her 3rd gold medal in cycling. And Nijat Rahimov of Kazakhstan set a new world record ("Very niiiice") in the clean-and-jerk (215 kg) in his weight class (77 kg) and had a world-class celebration.
3. John Saunders
After thirty years of highly professional work at ESPN, John Saunders passes away at the age of 61. Saunders, a Canadian who joined ESPN in 1986, was one of the network's on-air founding fathers whose intelligence and talent was part of the fortuitous coming together of people (Saunders, Bob Ley, Chris Berman) that helped make ESPN what it has since become.
Hannah Storm (above) has now had the unenviable task of announcing on-air the deaths of both Saunders and, last year, Stuart Scott.
4. Play-Rod?
"My job description does not entail farewell tours." —Joe Girardi, New York Yankee manager
That's rich. Love you, Joe, and you have been placed in an untenable position multiple times the past few years, but that has been part of your job description. In Derek Jeter's final two seasons (he played just 17 games in his penultimate year), he hit exactly .250 even though he was a .310 career hitter. Jeets, who also had a career .377 OBP, was getting on base at about a .300 clip. He still got 634 plate appearances and 145 games in his final season.
Girardi was vindicated to a degree last night when rookie DH Gary Sanchez went 4 for 5 from the plate and belted his first career home run. Still, he had Mark Teixeira, who is batting .198, batting cleanup.
The funniest part of this, to me, is that Girardi's real problem with an overpaid DH providing little offensive production is not with A-Rod, but with Brian McCann. Yes, he also catches, but McCann is batting just .231 this season, and he's only 32 years old. At $17 million per, he's the Yankees 4th-highest paid position player after Tex, Jacoby Ellsbury and A-Rod. Once Girardi permanently puts Sanchez in as his backstop, and he will, he's going to have an entirely new problem.
No one is going to be happier to see Saturday arrive than Joe G., although Friday night's game could be rained out. What happens if the Yanks wind up playing a doubleheader on Saturday? Does A-Rod leave after the first game?
Last note: A-Rod will retire a career .295 hitter. Had he left after 2012, before all the Biogenesis junk, he'd be $96 million poorer but he'd have a .301 career average. He's not getting into the Hall either way, so…
5. More Words About Guns
What people forget about the man who said, "Hillary wants to abolish, essentially abolish, the Second Amendment. By the way, and if she gets to pick –if she gets to pick her judges, nothing you can do, folks. Although the Second Amendment people, maybe there is, I don't know. But I'll tell you what, that will be a horrible day, if — if — Hillary gets to put her judges in…" is that nobody, not Hillary, not even I, want to ABOLISH the Second Amendment.
The fact that people focus solely on Trump's glib threat to a presidential candidate and yet again, not the lie explicitly stated, is one of his true rhetorical gifts (Patti Davis, the daughter of a president who was shot and survived an assassination attempt in 1981, had some harsh words for Trump yesterday).
Reagan daughter @Patti_Davis chides @realDonaldTrump pic.twitter.com/sVjPRNLHPj

— Bud Kennedy (@BudKennedy) August 11, 2016
But here's what slays me (figuratively), as I spar with hardcore gun advocates on Twitter: They're simply not honest. Not with me, and/or not with themselves. Almost none of them are willing to admit that they like owning guns, that it's a status symbol for them. They all preach to me the benefits of protecting their home, protecting their loved ones; also, they talk about how if the people cannot own guns, then we relinquish our freedom.
So let's tackle a few of those arguments:
–As soon as I see people flocking to electronic home security system conventions the way they do to gun shows, maybe I'll believe that the most important thing about owning guns is that they provide safety for the homeowner.
–It's very rare for any of us to find ourselves in a situation or a confrontation where a gun would be necessary—most of us will never encounter such a situation. However, my guess (and you could ask former New Orleans Saint Will Smith if he were still alive) is that having a gun emboldens people to heighten contentious situations when discretion would tell you that maybe it would be best for all to diffuse them.
–The U.S. military has more firepower than the next EIGHT biggest militaries COMBINED. Do you really believe that you, Buford T. Homesteader, is going to prevent it from doing what it would want to do if it came to an armed confrontation? Not. At. All. The irony of all this is that nothing keeps you and me safer day in and day out than THE RULE OF LAW. The fact that we have laws and that people, police and government included, must abide by them is what really protects you. And when institutions attempt to skirt the law or big-time Joe Q. Public (as we often see), the fact that we have a free and independent press to report on such things also protects you.
It's just that laws and newspapers don't give you the visceral thrill of firing off a few rounds of live ammunition. It's primarily a testosterone rush. They'll never admit that, though.
Music 101
Beginnings
This song from Chicago is so old that the band was known as the Chicago Transit Authority when it was written in 1969. Written and sung by Robert Lamm, the architect of other Chicago hits such as "25 or 6 to 4", "Does Anybody Really Know What Time It Is?", and "Saturday in the Park," the tune initially failed to chart. After the band became more popular in 1971, the song was re-released and climbed to No. 7 on the Billboard charts.
Remote Patrol
Olympics 
NBC All The Time
I saw that Today is having the band Perry perform live on Copacabana Beach. How about Duran Duran? Hellloooooooo? Highlights from Day 6 will include Phelps vs. Lochte and in gymnastics the women's individual all-around.