https://mediumhappy.com/?p=6692
by John Walters
Starting Five
Race, Bannon*
*The judges are Johnny Quest fans
I'll admit, before this week I though "Alt-Right" was the lap top function to search for keywords. And when I saw the photo of the man above, Steve Bannon, I just assumed that he was the defensive coordinator for the Saints…or the Jaguars.
When Donald Trump elevated Bannon, the CEO of Breitbart News and the de facto Thomas Paine of White Supremacy, to be his campaign CEO, he lifted the veil: he's out and out pursuing the white supremacist vote. Read this story, 10 months old but very prescient.
It's this simple: You're not a racist if you prefer Trump to Hillary. But if you are a racist, you prefer Trump to Hillary. Or, to paraphrase Katrina Pierson, "I'm not a racist; I just prefer white people to the inferior types of people."
2. Crossbow-dacious
You don't see the phrase "Triple Crossbow Murder" often, but that's what took place in suburban Toronto earlier this week. All we know is that two men and one woman were found with fatal crossbow injuries, that the suspect, a 35 year-old man, was seriously wounded, and that none of them were Lannisters.
3. Buckeye Rookies
Last April Joey Bosa and Ezekiel Elliott were taken 3rd and 4th overall in the NFL draft respectively, because they were the two best overall players (the dudes chose before them were quarterbacks who will probably turn out to be Blake Bortles).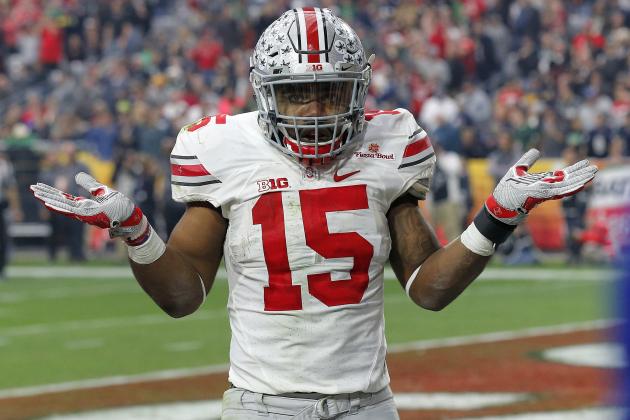 We're one month into training camp and Bosa has yet to show up in San Diego (I lack the mental energy or acumen to determine who's wrong here, but maybe both sides should compromise?) while Elliott is facing a domestic violence charge in Columbus and was seen visiting a weed store in Seattle (he didn't buy anything and weed is legal in Washington state) before the Cowboys' exhibition game there yesterday.
Eli Apple, Taylor Decker and Darron Lee, Ohio State's three other first-round picks, all seem to be staying out of the news.
By the way, Bosa and Elliott are going to turn out to be excellent pros. We'll see if the Rams and Eagles regret their choices.
4. Mason Jarring
Former Auburn running back Tre Mason rushed for 195 yards in the 2014 BCS National Championship Game. He would've been MVP if the Tigers could have stopped Florida State's final drive. He was drafted in the third round by the Rams.
Now, two years later, the Rams say they haven't heard from him since the end of the 2015 season. And Mason's mom says he has "the mindset of a 10 year-old" from all the hits he's taken. Hearing her describe Mason's behavior, it almost sounds more like early onset schizophrenia, but what do I know?
Anyway, all I remember is marveling at how HARD Mason ran when he rushed the ball. Every running back likes to think he runs with anger, but Mason truly, truly did. He was a runaway train. And now here's HBO at his team's training camp, where he is not, doing a series titled Hard Knocks (I haven't watched; have they mentioned Mason?)
5.  Long Time
It's been 40 years, and one day, since Boston released its eponymous debut album in 1976. Few albums have ever pervaded the airwaves more deeply than this one did. In the mid- to late Seventies, you either heard disco or you heard a cut off this album, which created a sound using synthesizers, power chords and the inimitable voice of Brad Delp. It was MIT alum Tom Scholz who created the band and basically forged its sound.
The hits: "More Than A Feeling" (as much of a 70's signature tune as any), "Peace of Mind," "Foreplay/Long Time," "Rock and Roll Band," etc. There's really not a single dud among the eight tracks. The album has sold more than 17 million copies, the second-best selling debut album after only Guns n' Roses' Appetite For Destruction.
Also, the cover art. Whose idea was it to turn guitars into spaceships, just a year before Star Wars was released? Brilliant! It's one of the most iconic album covers ever, too.
Music 101
The Way
In 1998 Fastball released this song off their debut album, All The Pain That Money Can Buy, and it spent seven weeks at No. 1. Frontman Tony Scalzo had read a story about an elderly Texas couple who'd taken off to attend a nearby festival and were later found dead, in their car in a ravine, hundreds of miles in the opposite direction in Arkansas. He chose this as their preferred narrative.
Remote Patrol
California vs Hawaii
10 p.m. ESPN
I don't know why Hawaii and California, representing the two states most like Australia, are opening the college football season in Sydney, but who are we to look gift kangaroos in the mouth? Keep an eye on Golden Bear QB Davis Webb, who by this time next year will be touted as "better than Jared Goff" and then all the Rams fans will have buyer's remorse.
Note: This is not Australia's first college football game, U.S. style. In 1987 BYU beat Colorado State in Melbourne before less than 8,000 fans.