https://mediumhappy.com/?p=6786
by John Walters
The Starting Five
Taking The Fifth
It seems that Donald J. Trump is ready to be the 45th president of the United States, but he may not be ready to leave New York City. Donald is conducting all of his extreme vetting of potential staffers and cabinet members from Trump Tower, which is just south of 57th Street on Fifth Avenue, which if you've never been to New York City, is a prit-tee, prit-tee, prit-tee essential piece of real estate. And busy.
Are we going to have four years of this? Trump has already indicated a desire to return to Trump Tower on weekends, as if the White House is just boarding school. How did we get from the Twin Towers to Trump Tower in just 15 years? Worth noting: George Washington was sworn in as our first POTUS in lower Manhattan, in a building catty corner to the New York Stock Exchange. Is Trump bringing it all back home?
Caught the above video for the first time yesterday. The comedian is Anthony Atamanuik. Check out the look on the mug of the dude at the 1:19 mark.
2. K.P. Duty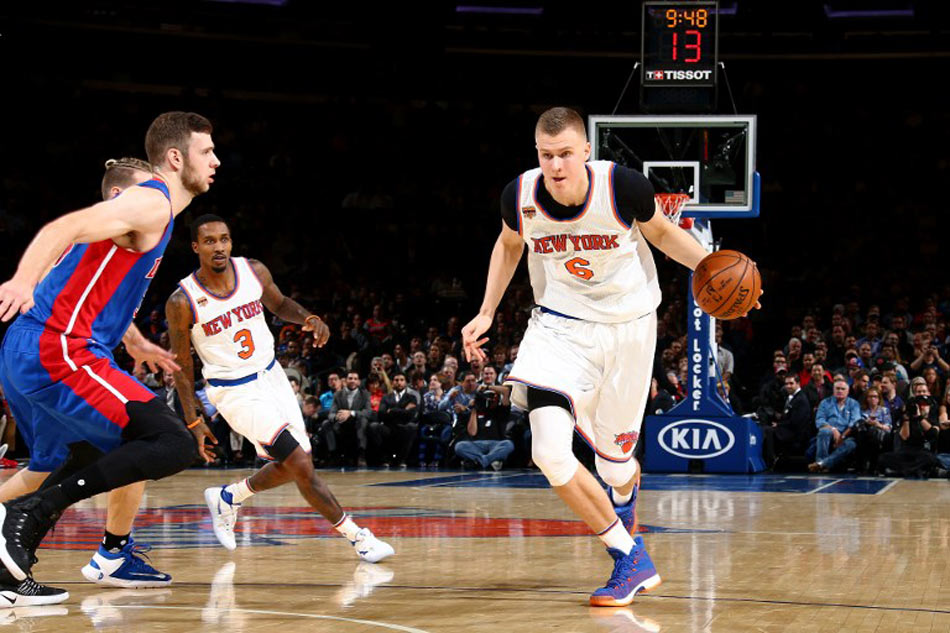 The Knickerbockers defeated the Piston 105-102 behind a career-high 35 points from 7'3″ Latvian Kristaps Porzingis, who is 21 years old. That's an encouraging sign for a franchise that has experienced just three winning seasons in the past 15 years. On the other hand….
Porzingis has 35 points tonight, but I can't root for him because he took a job away from an American worker.

— Downtown Josh Brown (@ReformedBroker) November 17, 2016
(Downtown Josh Brown is someone you should follow, if you're not already)
3. Faster Than The Human Race
Have to admit, it was refreshing to see some deer run down a human for once. I hope the deer's grill is okay. The runner who failed to "Watch out for the deer!" was Justin DeLuzio, a senior at Gwynedd Mercy College who was taking part in his last cross country race. Deluzio, competing in an NCAA D-II Mideast regional in Center Valley, Pa., got up and finished the race.
4. Death in the City
The story of the death of 26 year-old Joseph Comunale is not uncommon. Something like this happens in New York City at least once a year it seems. Doesn't make it any less grisly.
Here's what we know: Comunale, a 26 year-old Hofstra grad who lived in Stamford, Conn., takes the Metro North into the city (about 80 minutes) with some friends to attend a party. Someone knows someone. Good-looking guy, extroverted, Comunale makes some new friends, ditches his friends, and goes clubbing. Is last seen entering an upscale apartment building on 59th and 1st just after sunrise with two other men and three women.
That's the last anyone sees him alive. On Wednesday morning his body is found in a shallow grave off a dirt road in Oceanport, N.J., about 35 miles south as the crow flies. Apparently one of the two men had led cops there. He'd been stabbed to death and the body burned to some degree.
Meanwhile, the man who owned the apartment, James Rackover, the son of a wealthy jeweler, at some point on Sunday allegedly asked one of the security people in the building how long they keep surveillance video before getting rid of it. Not smart, dude. Not smart.
Man, if Law & Order were still airing fresh episodes….
(UPDATE: The older man above is Jeffery Rackover. He's a longtime friend of Donald Trump's and sold him the engagement ring he gave to Melania. So it'll be interesting if he puts in a call to the Don for a favor).
5. 76…er
Don't usually do items on programming, but how strange that No. 2 Baylor at No. 3 UConn, the latter of whom is sporting a 76-game win streak, can be found nowhere on national television tonight (ESPN is going with Louisville at Houston in football, which makes sense, and Pitt at SMU in men's basketball, which doesn't.).
To break its own record of 90 consecutive wins, UConn will need to beat No. 2 Baylor (tonight), No. 8 Texas (Dec. 4), at No. 1 Notre Dame (Dec. 7), No. 7 Ohio State (Dec. 19) and at No. 6 Maryland (Dec. 29). That doesn't even include a contest with No. 20 DePaul and this weekend's game at LSU, which won't be simple. That's five Top 10 and six Top 20 teams between now and the record. Not an easy stretch.
Meanwhile the 2-9 Philadelphia 76ers, who need to go back 4-plus seasons to compile a total of 76 victories, are on TNT tonight at the T-Wolves (second night of a back-to-back for the Sixers; take Minnesota and give the points if you are a wagering man).
ESPN has no control over the Sixer game, I know, but I'm trying to understand why Baylor at UConn from Gampel Pavilion is not on TV. Krulewitz, you have any answers?
Reserves
What Makes America Great Again?
Earlier today on CBS This Morning Jon Stewart appeared and spewed more wisdom that you'll hear out of Donald, Rudy or KellyAnne for the next four (make it less, please) years. One of the things he said that stuck with me, "Nobody ever asked Donald Trump what makes America great."
I think I did in one of my 5,000 Trump-related tweets, but I'm too lazy to find it. But you do know, that VERY question from the Northwestern coed (Is "coed" not acceptable? Forgive me) was the launch pad of The Newsroom. Very prescient, Mr. Sorkin.
Word Up
Obsequious
adj. obedient to an excessive or servile degree (from the Latin sequor, "to follow")
The obsequious Howard Stern fan phoned into the cable news channel to say, "Bababooey."
Music 101
That's Entertainment
Unless you grew up in the U.K. and are at least 45, you may not know who The Jam are. Punk contemporaries of The Clash, this trio from Surrey scored 18 consecutive Top 40 singles in Great Britain between 1977 and 1982 and as you can see, they would morph into New Wave or even beat music. That darker-haired singer is Paul Weller, who would later go on to form the Style Council, an '80s New Wave band. This 1980 song is the only song by The Jam to make Rolling Stone's list of the 500 Greatest Songs of All Time (No. 306). You've probably also heard "Town Called Malice" without realizing it was by The Jam (or maybe I'm just talking about myself).
Remote Patrol
No. 5 Louisville at Houston
ESPN 8 p.m.
The Cards are dealing with the WakeyLeaks scandal of earlier this week (Who cheats to beat Wake Forest?) but they find themselves at the 8-2 Cougars making one last plea to the Selection Committee. Louisville's lone loss was by 6 at Clemson on October 1, as they were stopped just a few yards short of pay dirt (yard marker guy didn't seem all that interested in laying orange stripe down, by the way). Michigan or Ohio State is still going to lose, so Lamar Jackson and his posse (wait, can I say that?) are going to have win out and then prolly hope that whoever wins the B1G championship game isn't as appealing to the SelCom (they're not to me). It would have helped if Houston had only lost to Navy.