https://mediumhappy.com/?p=6788
by John Walters
The Starting Five
1. The King Is Dead
Running geek news: On Saturday in Terre Haute, Ind., Oregon's Edward Cheserek, a.k.a. "The King," took aim at becoming the first man in NCAA history to win four consecutive NCAA cross-country national championships. No one had ever even won three  non-consecutively except for legends Gerry Lindgren, Steve Prefontaine and Henry Rono.
Cheserek entered the race the prohibitive favorite, as he owns 13 national championships in x-country, indoor and outdoor track (the record is 15).But Villanova senior Patrick Tiernan, an Aussie who finished 2nd last year, dropped the King at the 8K mark. Tiernan broke the tape in the 10-K race in 29:22, five seconds ahead of Justyn Knight of Syracuse. Cheserek finished a distant third in 29:48.
"I wasn't coming in second again," said a resolute Tiernan afterward. "I was going to get my way today."
Rule No. 37: Something can't happen; until it does.
2. Character Is Who You Are When No One Is Looking (Even If You Are The Most Watched Person in a 100,000-seat Stadium in A Televised Game)
If you have not seen the brief video of Dallas Cowboy rookie quarterback Dak Prescott failing to complete a sideline throw and then correcting his error, watch it here. The Cowboys beat Baltimore for their 9th consecutive win on Sunday, but this moment will last as the game's highlight.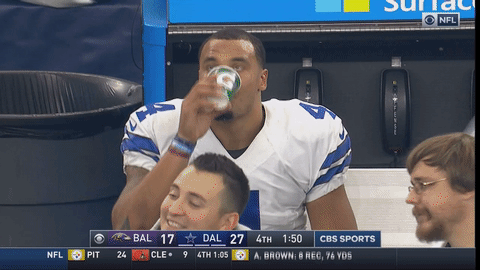 I remember watching George W. Bush appear on Letterman while he was running for president (the first time, I think). During a commercial break—I believe Dave aired the moment later to show us—Bush reached over and clutched the end of a female producer's long sweater and, without asking her, used the garment to clean his glasses. I never forgot that. It said so much more than any words could.
3. The Hamilton Nontroversy
The vice president-elect, Mike Pence, attends a Broadway show, Hamilton, in which the main character is killed in a duel by the nation's third vice president, Aaron Burr, for not apologizing for an insult. At the show's conclusion, as the cast stands onstage having taken a final bow, the actor who played Burr (Brandon Victor Dixon) reads a brief statement directed toward Pence and his new boss about respecting diversity.
Unusual? Yeah. Petulant and disrespectful? You can see that, though it was Dixon who admonished the audience not to boo and, given the material, was respectful as possible. Pence handled the entire episode well but his boss, having no concept of irony, demanded an apology via Twitter.
The cast and producers of Hamilton, which I hear is highly overrated, should immediately apologize to Mike Pence for their terrible behavior

— Donald J. Trump (@realDonaldTrump) November 20, 2016
President-elect Trump was also none too pleased about Saturday Night Live's cold open, demanding "equal time" in a tweet (Is he just going to spend four years reviewing late-night TV shows and the theater?). Afterward, Alec Baldwin had a few words for the 45th president (how did we all argue before Twitter?).
…@realDonaldTrump
Equal time?
Election is over. There is no more equal time. Now u try 2 b Pres + ppl respond. That's pretty much it.

— ABFoundation (@ABFalecbaldwin) November 20, 2016
By the way, Bobby Moynihan messed up his line in that skit, saying he was from "Virginia" when he should have said, "West Virginia." Also, immediately after Kristen Wiig's monologue (which must have created one or two sleepless nights for the people in wardrobe), SNL did a faux commercial skewering liberals, "The Bubble." So, sorry Donald, not completely one-sided.
4. Yale Daily Nudes
(UPDATE: Our lede should have read, "Yale ended one streak and its fans looked poised to start another…." MH regrets the error.)
For the first time in ten years, Yale defeated Harvard in The Big Game on Saturday. The Elis (3-7) also denied the Crimson (7-3) their fourth consecutive Ivy League title as QB Kurt Rawlings threw for two scores and ran for 74 yards in Cambridge. A few Yale undergrads were so moved by the team's play and the 60-plus degree temperatures that they got naked (it's about half that temperature today), and then got kicked out. It's not exactly the old women's rowing team stripping down for a Title IX protest, but you know….
If only Rory Gilmore were still on the case, this would make a front-page story in the Yale Daily News.
5. There's No Palace Like Home*
*The judges will also accept "Games Of Throne" and "The Not-Thomas Crown Affair"
Looking for a little royal intrigue before the gang from Westeros returns? May I suggest Crown on NetFlix, a series based on Queen Elizabeth the 2nd's rise to the crown in post-World War II England. Just watching the sets, and wondering where they filmed the scenes, is half the fun.
That's Jared Harris (a.k.a. Lane Pryce from Mad Men) as her "pa pa," King George VI, and the always excellent Jon Lithgow as Sir Winston Churchill II. It's terrific: there's palace intrigue (Princess Margaret, you hussy!), a prodigal son and a terrific love story between QE2 and Prince Phillip. MH recommends….
Music 101
Bits & Pieces
This is a gem at 1:59 by The Dave Clark Five (lead vocals and drums by Mike Smith here, who wrote the song). It was released in February of 1964, just as the Beatles were arriving in the U.S. for the first time, and yet it hit No. 2 in the U.K. an No. 4 in the States. One month earlier their song "Glad All Over" had knocked "I Want To Hold Your Hand" from No. 1 on the U.K. charts.  One month later, in March, they would become the second band in the British Invasion, after the Fab Four, to appear on The Ed Sullivan Show (which they did for consecutive weeks that March).
Remote Patrol
Marathon: The Patriots Day Bombing
HBO 8 p.m.
This documentary explores not just the horrible 2013 bombing that claimed three lives and injured hundreds, but also the aftermath as amputees and others attempt to pick up their lives.