https://mediumhappy.com/?p=6888
by John Walters
Starting Five
1. Small Potatoes
As we head into Day 13: America Held Hostage, here's a reminder (from Jeff Pearlman and others) that Donald Trump destroyed the USFL in much the same way he's currently harming the United States. All the moves are similar.
The video above is from the very first ESPN 30-for-30, and the title was taken from a dismissive quote Trump gave director/producer Mike Tollin.
I encourage you to read Jeff's blog entry from yesterday. Jeff is working on a book about the USFL, the late, great American spring football league. Also, read this letter that Jeff unearthed….
2. It's Another Day of Trump
(Can we lease this tune from La La Land, have Angela Parrish re-record the song with those lyrics, and use it as an intro to all Trump reporting?).
It's too exhausting to cover Donald Trump extensively day in and day out. That's part of their program. So here's some quick hitters:
—David Brooks in "the failing" New York Times on the Faustian bargain GOP leaders followers have made with Donald Trump…
–More than 1,000 State Department officials worldwide have signed a letter of dissent concerning Trump's ban-not-a-ban on citizens from the seven predominantly Muslim nations. Go, State!
–Out as attorney general: Sally Yates, who was heroic. In as Supreme Court nominee: Neil Gorsuch, who has an impressive resume. By the way, when did high-ranking legal minds become so middle-age attractive? We've come a long ways since Anton Scalia.
For fans of comedy, check this out:
—Jon Stewart appears on The Late Show, predicting future Trumpian fiats and pointing out that inadvertently "45" is making America great again by inciting activism by his millions of detractors.
—Sean Spicer keeps repeating that it "is not a ban" even though his boss tweeted that it's a ban. NBC's Kristin Welker: "The president himself called it a ban. Is he confused or are you confused?" Reminder: This is NOT a Coen brothers film. It's real life.
–This is what Fake News looks like. Consider who tweeted it. This is why we've been calling them Faux News for so long. The suspect was actually a white French-Canadian. Fox only apologized after Canadian PM insisted they do so: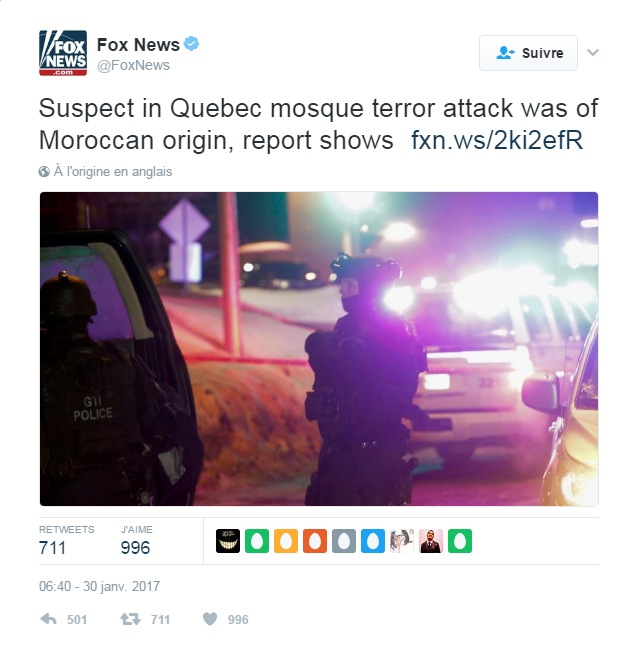 .
3. Ollie, Ollie, All Come Free!
Have you seen this bobcat? This is Ollie. He went missing from the National Zoo a couple of days ago, although he's reportedly been spotted this morning not far from the facility. Also spotted? The zoo's leopard, though he's not missing.
I'm rooting for Ollie to remain on the lam, because freedom trumps security, even if it poses a little more danger. Maybe Ollie is simply trying to send America a message. Where is the National Zoo located again? That's correct: Washington, D.C.
By the way, the zoo insists that Ollie, 25 pounds, poses no danger to humans but 13 schools near the zoo have canceled recess in the wake of his escape, because America may have one bobcat on the loose, but we are a nation full of 'fraidy cats (and overly litigious individuals).
4. Here Comes Isaiah
Only one school in Rivals', Scout's and ESPN's top seven recruiting rankings has not played for or won a national championship in the past 20 years. That institution? Georgia, which is ranked third in two of the services' rankings and second in the other's. Kirby Smart is doing work in Athens in his second season.
The above gargantuan is 6'8″, 354-pound five-star offensive lineman Isaiah Wilson of Brooklyn Poly Prep. He's the Dawgs' top recruit.
If you are an Irish fan, it should concern you some that Stanford nabbed not one but two offensive lineman rated higher than Wilson: 6'6″, 315-pound Foster Sarell out of Seattle is the No. 14 player on Rivals' list while 6'8″, 305-pound Walker Little out of Houston is their No. 7 stud (maybe Christian McCaffrey left too early?). Little was a high school teammate of defensive tackle Marvin Wilson, Rivals' No. 2 overall player who as of this morning had yet to commit (but the guess here is LSU).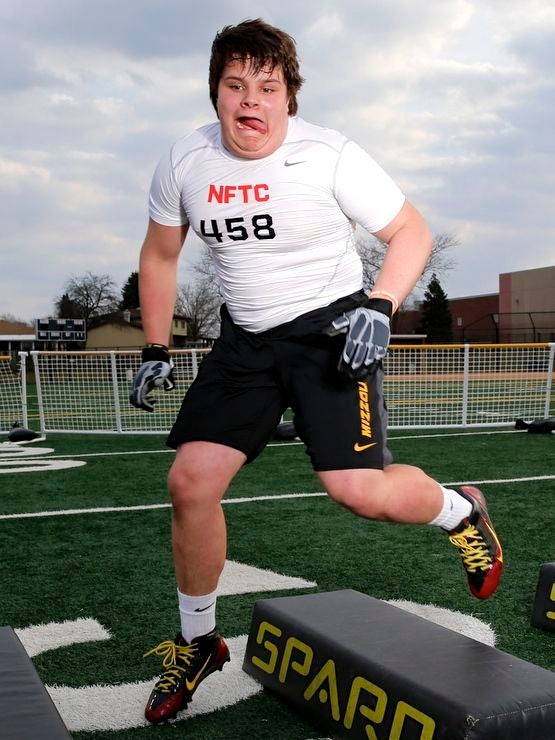 Above, that's Joe Spivak of Montini Catholic in suburban Chicago. He has chosen to walk on at Northwestern. He's a future pie-eating contest All-American.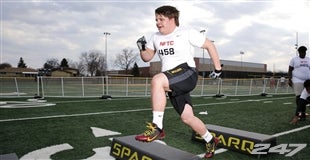 5. Apple Soars
Tech, and the iPhone, isn't dead yet.
Apple, the greatest thing that gets regularly maligned that isn't LeBron James, announced its quarterly earnings report after the bell yesterday. The Cupertino, Calif., based  company, which was founded by the son of a Syrian refugee and oh, just happens to have the largest market cap of any company on the planet, reported a record quarter in revenue ($78.4 billion). It's the first better-than-expected quarter for Apple since last January, when Tim Cook's company posted a then-record-quarter of $75.9 billion.
Apple's stock is up nearly 5%, from $121 to $127 in pre-market. It's not at an all-time high, but it's getting closer.
Coming later this week: Facebook will announce earnings after the bell today and Amazon will do so after the bell tomorrow.
Music 101
On A Carousel
Why did Graham Nash, singing lead here, leave The Hollies? I'm asking, I don't know.  Granted, his next band (Crosby, Stills, Nash and Young) did okay. This English band was like the turn-of-the-century Lakers: as great as they were, just imagine how much more they would have done had they kept Kobe and Shaq (hey, that's Shaq and Kobe) together.  In this case, Nash, Alan Clarke and Tony Hicks.
The song was released in February of 1967 and reached No. 11 on the Billboard charts, but greater than that, it may have inspired one of Don Draper's greatest ad pitches, if not his very best. Riding along on a carousel/Trying to get back to you….
Remote Patrol
All About Eve
TCM 8 p.m.
It's the best month of the year—Oscar month—for TCM and they're kicking it off with the only film besides Titanic and now La La Land to garner 14 Oscar nominations. It won for Best Picture and Best Supporting Actor as well as four others. If you've never seen Bette Davis, this is your must-see viewing. Also, a very early-in-her-career Marilyn Monroe gets a scene or two. Trust me, millennials, you'll love this.