https://mediumhappy.com/?p=6926
by John Walters
Starting Five
California Streaming
Water, water, everywhere! California, land of the perpetual drought, is now its own disaster film. Five people died in various storm-related incidents (electrocution, submerged vehicle, pedestrian swept away) as presumably Albert "It Never Rains In Southern California" Hammond scrubbed a nostalgia gig.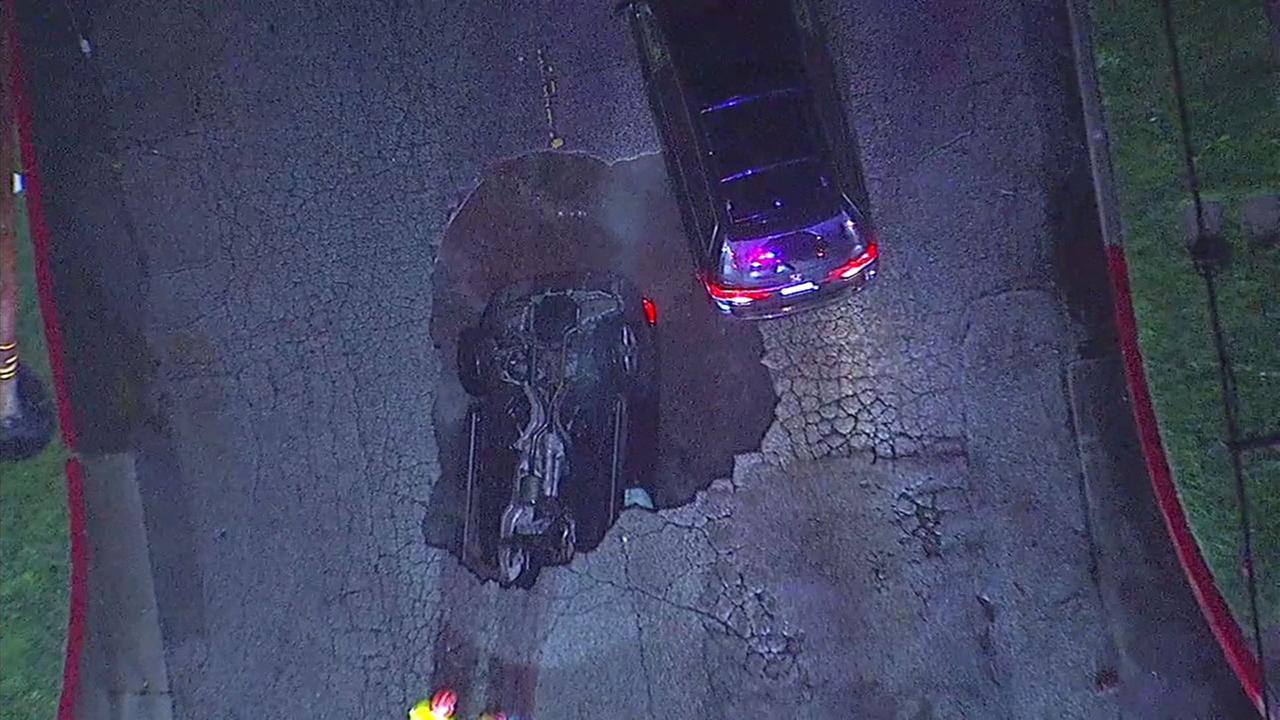 Was it only two years ago, this same time of year, that SoCal was drenched with rain and Ellen DeGeneres kicked off the Oscars assuring the world that Hollywood was fine? At least the gods/God were kind enough to bring this storm a full week earlier this year.
2. Hangar Stake
In dire need of some emotional stroking after four weeks on the job, Donald Trump fled to Florida (again) and held a rally in front of 9,000 acolytes at an airport hangar in Melbourne. Donald played many of his heats ("Win, win, win", "I inherited a mess", "Get rid of the gang members," "radical Islam") but retired "Lock Her Up" and "What The Hell Is Going On In Chicago?"). Then he headed down to Mar-A-Lago.
Trump, the president of all 50 states, has visited Florida three times since being inaugurated, South Carolina once (on Friday), and Maryland briefly (to do a "My bad" in front of the parents of a slain Navy SEAL). That's it.
There are doofuses who wrongly assume that because Trump stays at his own resort, he's saving taxpayers money. WRONG. Here's a Washington Post story detailing just how costly the president's lifestyle already has been (the Secret Service is working at three dedicated locations–White House, Trump Tower, Mar-A-Lago, while also footing the bill when Donny, Jr., and Eric traveled to the UAE this weekend to conduct private Trump business; American taxpayers are basically underwriting the cost of Trump, Int. doing business; but then again, maybe we've already been doing that for decades).
Trump's three Florida excursions have already cost taxpayers $10 million. When his predecessor took a four-day trip to Chicago and Florida that cost us $3.6 million, Republicans in Congress called for the Government Accountability Office (GAO) review Obama's costs. When those same Republicans were asked if they'd do the same for Trump, they actually pointed to the Japanese prime minister's visit as proof that Trump trips were all business.
3. The Mason-Jackson Line
You need guards in the NCAA tournament, and Kansas has two of the nation's best. Senior Frank Mason III is under six feet but he reminds you of Kemba Walker (who led UConn to a national title in 2011). Superfrosh Josh Jackson is a 6'8″ string bean who plays like a young Kobe Bryant.
Yesterday in Waco, No. 3 Kansas overcame a four-point deficit late to host No. 4 Baylor to win 67-65. Mason had 23 and Jackson 16. The defense got turnovers at key moments. The front court is not elite, but the Jayhawks (24-3) are going to be an awfully tough out in March and most likely the first weekend of April.
4. The People's McCourt
You may have heard about Charlotte McCourt by now. A sixth grader and Girl Scout from South Orange, N.J, she hatched a devious plan to sell Girl Scout cookies: honesty. McCourt wrote a letter to her dad's wealthy friend, Dirty Jobs host Mike Rowe, in which she bluntly reviewed her inventory ("Toffee Tastic is a bleak, gluten-free wasteland"), and then Rowe posted the letter on Facebook and talked about it, and the next thing you know McCourt had sold a Girl Scout-record 26,000-plus boxes of Girl Scout cookies.
This is the most candid moment in advertising since Don Draper confessed to Hershey brass that he grew up in a whorehouse. Of course, the results of his brutal honesty did not go so well.
5. The Devil and Daniel Webster*
*The judges know: Too Easy
If you went to a Division III basketball game in Nashua, N.H., this weekend and a felony broke out, you were at the Daniel Webster-Southen Vermont College contest. Daniel Webster player Marquise Cardill, 22, was charged with assaulting an opponent and is being held on $50,000 bail. Teammate Antwaun Boyd, 23, was charged with disorderly conduct after allegedly inciting the crowd to hurt an officer who had stepped in to stop Cardill.
The game was forfeited and Southern Vermont won, 2-0. If you took Daniel Webster and laid the points, I don't know what happens here.