https://mediumhappy.com/?p=6987
by John Walters
Starting Five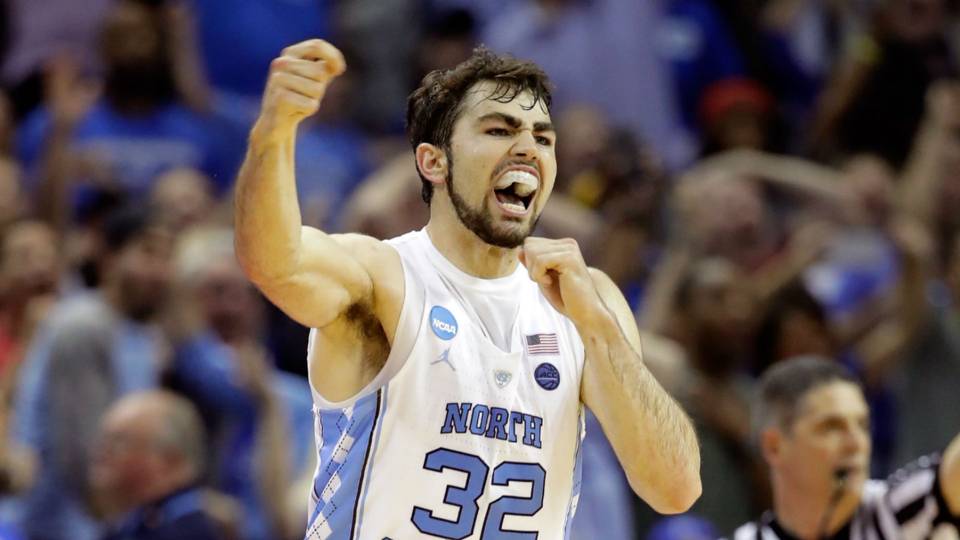 Maye Madness*
*The judges acknowledge that this is almost too easy. They'd have accepted "Luke What You've Done!" and "Maye Daye! Maye Daye!"
Twenty-five years ago tomorrow, Christian Laettner of Duke buried a shot as time expired to sink Kentucky on a Sunday in the Elite Eight. Yesterday, different white dude, different Carolina team, and a less dramatic shot, but Luke Maye of North Carolina ended Kentucky's run to the Final Four with an 18-footer with 00.3 on the clock.
Actually, the final sequence was more reminiscent of last year's national championship game, except this time the Tar Heels played the role of Villanova. Kentucky's Malik Monk hit a tough three-pointer (his second in the final :40) to tie the score at 73-73, then Carolina's Theo Pinson dribbled down court and fed the ball to the trailer, Maye, who calmly buried the shot.
Maye, a 6'8″ sophomore from Huntersville, N.C., did not start but did finish with 17 points and geneticists claim that both of his parents had the clutch gene.
So the Final Four is set: two schools from the Carolinas, two from the Pacific Northwest, two No. 1 seeds, and two schools that have won it all as long as 1939 and as recently as 2009: North Carolina, South Carolina, Gonzaga, Oregon.
@jasonrmcintyre I like your four, but I'll take the field. $20?

— Medium Happy (@jdubs88) February 14, 2017
So am I gonna get paid, Jason?
2. "America Held Hostage" by Sean Hannity
In 1979, when the Americans were taken hostage at the U.S. embassy in Tehran, ABC's Ted Koppel became the nation's most trusted news man. Relatively unknown before the hostage crisis began, Koppel came on the air after local news each night to apprise the country of what was transpiring pertaining only to Iran. They named the show Nightline.
It's still on today. If you want to credit Koppel and Nightline with being the progenitor of cable news, I'd go there, too. The thing about Koppel: he was serious, he was terse, he was objective, but he'd occasionally slip in a dose of his extremely dry sense of humor.
Fast forward 38 years, and here's Fox News' Sean Hannity interviewing Koppel, universally respected, and here's Koppell telling Hannity, "I think you're bad for America."
(We know Hannity is bad for America.)
Worth noting; Ted Koppel was born in England in 1940 after his Jewish parents fled Germany to escape the Nazis. I'd think Koppel is even more sensitive than the average person to nationalism and bigotry, but hey, try telling Hannity that.
Notice, here, that Hannity interrupts the 77 year-old Koppel and the older newsman has to ask him to let him finish his sentence. Sad!
Here's the money quote (in all caps, so nobody misses it): "YOU HAVE ATTRACTED PEOPLE WHO THINK THAT IDEOLOGY IS MORE IMPORTANT THAN FACTS."
(I'd go further; he's not "attracted" them so much as he's promoted that concept)
3. Another Day of Trump (Day 67)
News Alert: @POTUS spending weekend working at the White House. pic.twitter.com/kAtZVQE2Mr

— Fox News (@FoxNews) March 26, 2017
I don't have a problem with the president playing golf on the weekend (okay, 13 rounds in 66 days may be excessive; who does he think he is, Mark Mulvoy?), but it tells you something about both him and Fox News that this tweet is sent out while elsewhere….
Pool was told Trump was in meetings at Trump National this afternoon. This Instagram photo posted from the course says otherwise pic.twitter.com/WMudqofGmO

— Josh Billinson (@jbillinson) March 25, 2017
and…
Someone just posted this on Instagram from Trump's golf club. POTUS appears to be watching Golf Channel with 2 other people. pic.twitter.com/5LpVRHR1Do

— Steve Kopack (@SteveKopack) March 26, 2017
It's so easy. It's so f****n' easy!
Trump says he'll "never see" his golf courses again. "I'll stay in the White House and work my ass off" pic.twitter.com/cNb2MwEyEm

— Puesto Loco (@PuestoLoco) March 27, 2017
 Meanwhile in Huntington Beach, it's "Welcome To The O.C., Bitch!"
4. The Magnolia State Is Doing Great
The reigning College World Series champion is Coastal Carolina, which is located in Conway, South Carolina.
The reigning college football national champion is Clemson, which is located in Clemson, South Carolina.
And now the University of South Carolina becomes, as far as we can discern, the first school from the Magnolia State to even make the Final Four.
Has one state ever claimed national champions in baseball, football and basketball at the Division I level simultaneously? I'll invite you to check, but the last time I spotted was 1972 (California), when USC won the national championship in baseball and football and UCLA won it in basketball.
5. To Nome Is To Love Him*
*The judges will also accept "Mitch Madness"
We're way late on this, but 57 year-old Mitch Seavey won the Iditarod Sled Dog Race about 12 days ago, becoming the oldest winner in the race's history while also finishing in record time. Seavey, who previously won the Iditarod in 2004 and 2013, broke the record of Dallas Seavey, a true son of a Mitch, who set it last year.
Mitch finished in 8 days, 3 hours and 40 minutes. The trail is nearly 1,000 miles.
Mitch and Dallas have now each won three Iditarod races. Mitch is the oldest person ever to win it, Dallas the youngest. Mitch's dad—Dallas' granddad— Dan competed in the inaugural Iditarod in 1973.
Music 101
Heavydirtysoul
I've had access to wheels the past few weeks, which means more radio listening, which means I've heard this December 2016 song by Twenty One Pilots quite a bit. In the age of YouTube, I don't think it really matters how high a song charts (well, it may to the record company and artist) as opposed to how many times the song is downloaded. This tune has already been downloaded more than 21 MILLION times.
Remote Patrol
Women's Elite Eight
Oregon vs. UConn
7 p.m. ESPN
Can the Ducks advance to the Final Four in both men's and women's hoops? Probably not, as the Fighting Genos have won 110 in a row, but why not tune in? Also, the Cavs are at the Spurs at 8 p.m. on the TNT. Tune in to see who rests!