https://mediumhappy.com/?p=6993
by John Walters
"Have you heard of Susan B. Anthony?" asks Trump at a women's empowerment event at the White House.

— Rebecca Ballhaus (@rebeccaballhaus) March 29, 2017
This is a little like asking Steve Bannon if he's heard of George Orwell….
Starting Five
1. Make America Yates Again!*
"All you wanna do is testify, Sally, 'fy, Sally, 'fy
All you wanna do is testify, Sally, 'fy, Sally, 'fy,
All you wanna do is testify, Sally, 'fy, Sally, 'fy,
All you wanna do is testify, Sally, 'fy, Sally, 'fy
You been running all over the town, pretty,
I guess I'll have to put your testimony before the House Intelligence Committee...
If you have yet to figure it out, Devin "No Nunes Is Good" Nunes, the chairman of the House Intelligence Committee, has little interest in actually uncovering any damning evidence against President Trump and the Worst Wing. Which is why he canceled former  acting Attorney General Sally Yates' date  to testify in front of the HIC on Wednesday.
*(Another Day of Trump: Day 70)
Trump fired Yates back in January when she refused to enforce his travel ban.
Later we learned that Yates had apprised The Worst Wing of Michael Flynn eating crackers in bed with the Russians in the first week (January 26)of 45's presidency, but the Trump Troupe ignored the news for 17 days until the Washington Post reported it, and that forced their hand. Yates is a dangerous person to the Worst Wing and they are trying their best to silence her.
So they got Nunes to cancel her appearance before the HIC for no reason. But Salty Spice says the WH had no hand in that. Call their bluff: Talk, Sally, talk.
2. Bestbrook
Russell Westbrook: 57 points, 13 rebounds and 11 assists last night in an OT win at Orlando. I've got nothing new here, other than to say if you're a Hot Take Artist (HTA) looking to stand out from the crowd by crowing that Westbrook isn't doing anything special, well, you're standing out alright. This is someone who comes to perform at his absolute best each and every night (oh, and if he'd have even been halfway interested in winning All-Star Game MVP last month, he'd not have pumped the brakes in the fourth quarter and would've won that, too).
3. Mike Adamle and Dementia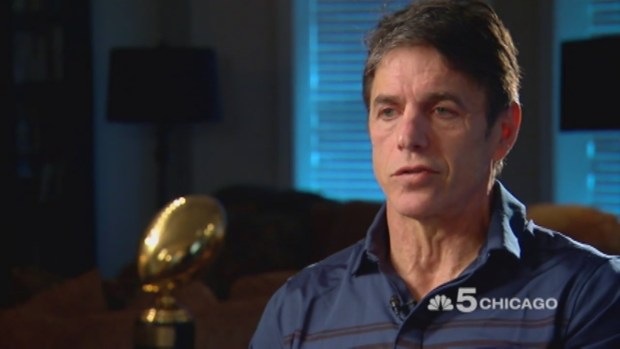 Not everyone who plays professional football suffers CTE and/or dementia, but an disturbingly high number of them do. Mike Adamle, a Chicago treasure who set records as an undersized running back at Northwestern in the late Sixties and 1970 (he was the Big Ten MVP and an All-America fullback in 1970, a year in which he set a Northwestern single-game rushing yards record, 316, that still stands), then played six years in the NFL and became famous as NBC's boyishly handsome sideline reporter for NFL broadcasts, last month announced that he has dementia.
Adamle is better-known to millennials as a WWE host and a co-host of The American Gladiators, but no matter how you know him, you think of the 67 year-old as affable and Wally Cleaver-esque. Another sad football footnote.
4. Amazon and Apple
Shares of Apple stock (AAPL) hit a record-high this morning ($144.50), which if you adjust for the the 7-for-1 split a few years ago would mean that shares jumped over the $1,000 mark, which a few analysts predicted six or seven years ago and were considered kooks for doing so. In just the past 14 months, shares of Apple are up more than 50%.
Shares of Amazon stock (AMZN) jumped nearly $19 to $874 yesterday. Since the election only five months ago shares of Amazon have risen $157 or 22%. In the past year Amazon stock is up 46%.
These are, as you know, not sleepers. These are two of the best-known tech companies in the world. Go into any bank and try to get 3% annually in an annuity or CD. You can't.
So is it too late to jump in on either of these? Hell, no.
Google in 2007: $244. Today: $850.
Netflix in 2012: $12.87. Today: $147.
Amazon in 2007: $69. Today: $874.
Apple in 2007: $17. Today: $144.
But wait a second, JW: Don't you own these stocks? Isn't it self-serving for you to promote them, so we'll all buy them and that will increase demand and the price will increase? Unless Warren Buffett is Susie B. in disguise, I don't think that anyone reading this buying shares will create enough of a bump to move the price. Full disclosure: I own Amazon and Netflix.
By the way, with yesterday's 2% increase in share price, Amazon founder Jeff Bezos passed Buffett on the Richest Man in the World list and is now in second place, at $75.6 BILLION, behind only Bill Gates. If you are a fan of transparency, this is good news, since Bezos owns the Washington Post, which is doing some of the best reporting on The Worst Wing.
In 2006 Exxon was the world's largest company by market capitalization and four of the five largest such companies were not tech (only Microsoft was in the Top 5). Today the top five companies by market cap on the planet are all tech (See ya, Tillerson; see ya, old money; NOW do you see why Donald and his old cronies are running so scared?). In order, Apple, Google, Microsoft, Amazon and Facebook.
Help me help you. In 10 years if your investment t0day in Apple or Amazon or Netflix or Google is not up 100% (that's an EXTREMELY conservative estimate), my guess is you won't need to worry about it because cockroaches will be atop the world's food chain. For my money, literally and figuratively, Amazon is the surest bet on the planet. If you don't believe me, go visit any mall and see how easy it is these days to find a parking spot.
5. Carmel High: 31 for 31
A month or so late on this—my Indianapolis stringer fell asleep at the wheel again (Dave)—but in February the Carmel (Indiana) High School girls swim team won its unprecedented THIRTY-FIRST (31) CONSECUTIVE state championship. No one else in any other sport is close. The Greyhounds won eight of 11 championship races at the meet.*
Swimming is one of those sports where high schools with plenty of money dominate ( my own has won 26 of the past 27 state championships in Arizona). But there can only be one best, and Mount Carmel is it with those 31 straight states dating back to 1987.
Now here's the wild part: For all that success, Mount Carmel has never produced an Olympian swimmer.
*Thanks to @bmdoty for this
Reserves
Jeff Van Gundy on The Vertical this morning:
Jeff Van Gundy on the importance of being "an ass-kicking type of competitor" in the NBA. @WojVerticalNBA Podcast: https://t.co/0S9XhSCcx8 pic.twitter.com/74CIba04pj

— The Vertical (@TheVertical) March 30, 2017
And that reminded me of this photo:
Music 101
Like A Rolling Stone
One of the landmark live shows of the 20th century, as Bob Dylan and The Band show up at the Royal Albert Hall and the voice of a generation goes electric. Someone in the crowd yells out, "Judas!" and Dylan replies, "I don't believe you…you're a liar." Then he proceeded to go out and perform as if his life depended on it.
Rolling Stone magazine, perhaps not the most unbiased authority (considering the name), ranked this 1965 tune No. 1 on its all time list. If Bob Dylan Live, The 1966 Royal Albert Hall Concert is not in your vinyl or CD rack, you may want to correct that.
Remote Patrol