https://mediumhappy.com/?p=7082
by John Walters
Starting Five
Donald of Arabia
Remember when candidate Donald Trump said, "We have a problem in this country; it's called Muslims. We know our current president is one." (Sept. 17, 2015)
Or when he said, "I wonder if President Obama would have attended the funeral of Justice Scalia if it were held in a Mosque? Very sad that he did not go!" (Feb. 20, 2016)
Or when he told Anderson Cooper, ""I think Islam hates us. There's something there that — there's a tremendous hatred there. There's a tremendous hatred. We have to get to the bottom of it. There's an unbelievable hatred of us." (March 20, 2016)
That guy never got on the plane to Riyadh. During his weekend with the world's largest oil-producing nation, Trump signed a $350 billion defense deal with Saudi Arabia, dangled an olive branch and sounded Obaamaesque ("This is not a battle between different faiths, different sects or different civilizations. This is a battle between barbaric criminals who seek to obliterate human life and decent people, all in the name of religion, people that want to protect life and want to protect their religion. This is a battle between good and evil") and even called on other Arab leaders to isolate Iran because Iranian extremists were responsible for taking down the World Trade Center.
Wait, no. That's not right. Nineteen of the 20 hijackers were from Saudi Arabia. Which was the first country Trump chose to visit as President of the United States. With all those other countries out there. Did I mention that Saudi Arabia is the world's largest producer of oil?
2. Irish Go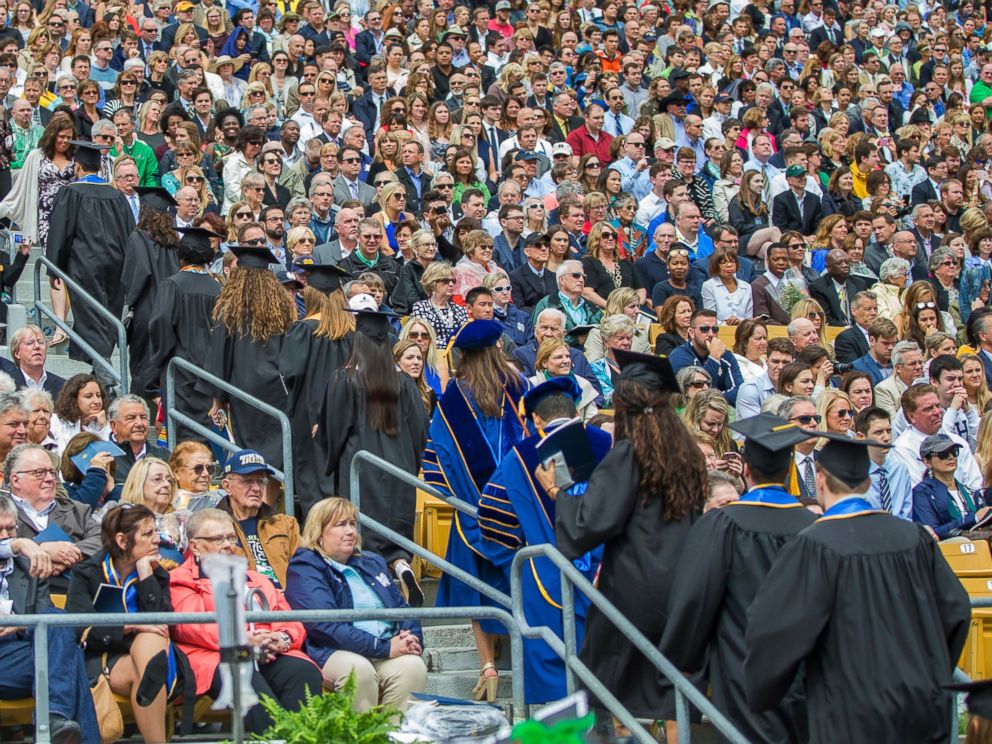 Notre Dame Stadium, home to the world's most famous walk-on ("Rudy! Rudy!") on Sunday became home to a walk-out, as dozens of members of the Class of 2017 exited commencement exercises as Vice President Mike Pence stood up to speak. Been a tough year for these seniors inside that stadium: Michigan State, Duke, Stanford and Virginia Tech, and then you've got to end it with Mike Pence?
@jdubs88 "What adjustments will you be making for the real world?"

— Tim Ring (@timringTV) May 21, 2017
3. I'm Only Huma
Get the Soul Cycle membership/subscription ready! Huma Abedin is cutting Anthony Weiner loose. S'about time, girl! On Friday the former Congressman man from New York, a.k.a. Carlos Danger, pleaded guilty to federal obscenity charges and he'll be going away for awhile. That same day Huma filed for divorce. Snap!
4. Mad Scientists
Buried in the final half hour of the final Saturday Night Live episode of the season was perhaps their most daring skit in years: they tried to make the audience laugh at child molestation. Honestly, until the White Castle veer off at the end (maybe the writers just didn't have a good idea to end the skit? Maybe White Castle actually underwrote it?), this sketch was truly inspired. The Rock was fantastically understated and sold his part so well.
The premise: a conference of evil scientists vying for most evil invention of the year. After that? You'll have to watch.
5. The Judge: Overruled!
Is Aaron Judge going to be an All-Star starter in the American League outfield as a rookie? He leads the majors in home runs (15), is tied with Mike Trout in WAR (2.9) and then yesterday in New York's 3-2 win against Tampa Bay he makes a catch like this. Get ready for greatness, Lloyd.
Music 101
If We Were Vampires
Is Jason Isbell the Southern Springsteen? I dunno, but lots of SEC fans on my Twitter feed love him. His wife Amanda Shires provides the harmonies on this new track about the ephemeral quality of love and life itself.
Remote Patrol
Better Call Saul
10 p.m. AMC
Last week's show was a reset of sorts after the dramatic courtroom episode. But it was also the first time Jimmy McGill referred to himself as "Saul Goodman" since moving to Albuquerque and passing the bar. Also, things are getting more tense between Gus and Hector. The temperatures are starting to rise and certain relationships (Jimmy and Kim, Hector and Nacho, Gus and Hector) and the pot is about to boil over.