https://mediumhappy.com/?p=7091
by John Walters
—An oldie but a fave, everything you've ever wanted to know about men's suits…
Starting Five
1. Chasin' Dixon Line
At yesterday's 101st running of the Indianapolis 500, Scott Dixon (above, I mean like, ways above), survived this airborne crash, which is an entirely different "accident forgiveness" altogether ("an entirely different 'accident forgiveness'").
Anyway, Takuma Sota became the first Japanese driver to win the Indy 500, narrowly holding off four-time champ Helio (Centric) Castroneves. Me, I'm just wondering how exciting the first Driverless Car Indy 500 will be.
2. Extreme Makarova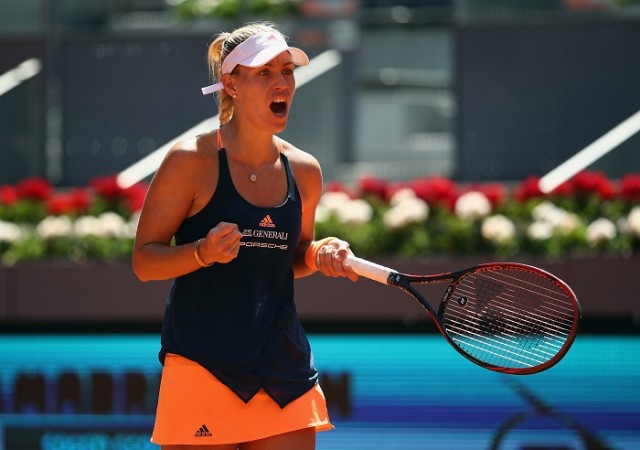 At Roland Garros Stadium in Paris, number one French Open seed Angelique Kerber of  Germany, 29, lost in the opening round and in straight sets to Ekaterian Makarova of Russia, 28. It was a 6-2, 6-2 job. A No. 1 women's seed had never lost the opening match at the French, as Serena Williams thinks, I leave this sport for one hot minute and look what happens. 
Gerber, the reigning U.S. Open champ, is the world No. 1. Makarova is ranked 40th.
3. Rudder Madness*
*The judges will also accept "Yacht See"
Qualifying for the America's Cup got underway in Bermuda this weekend (I had to miss it) and there was a bit of a crash between the catamarans from Great Britain and Japan. No one died, which is probably why you did not hear much about it. Also, no one on either boat was attacked by a shark or even came close to being attacked by a shark, which is why The Big Lead did not cover it.
4. RIP, Gregg Allman (not our famed MH friend Greg Auman, who is still very much among us)
There are the Allman Brothers and Lynyrd Skynyrd and then there is everyone else in southern rock. And you could argue, successfully, that the greatest-known of these two bands, and the only one to marry Cher, was Gregg Allman. He passed on Saturday at the age of 69 and left some unforgettable recordings behind.
For those of us who live on the UWS, we know that the Allman Brothers playing at the Beacon Theater for 10-12 shows each March was a way to get through that final miserable weather month of the season. For that alone he will be missed greatly.
5. Run, Ralphie, Run

How do you fill Colorado's Folsom Field in May? Make it the finish line for the annual Bolder Boulder, arguably the nation's most popular and/or best 10-K race. The BB, which is run each year on Memorial Day, attracts upwards of 50,000 runners to race through the streets of one of America's loveliest college towns. The race is still locally owned and operated and townie Frank Shorter, he of the 1972 Olympic gold medal in the marathon, still holds many of its age-group records.
The fastest men's time ever posted, 28:51, is held by two men: Mark Scrutton and Rodolfo Gomez (1983 and 1982). The fastest women's time belongs to Anna Audain, 32:38, in 1982. If you're a runner, this race, which has 100s of waves at the start to keep it from becoming a traffic jam, belongs on your bucket list.
Music 101
Magic
In 1975 this tune from Scottish band Pilot shot to No. 5 on the charts in the US of A and all the way to No. 1 in Canada. It was off Pilot's debut album, cleverly titled From The Album of the Same Name. 
Remote Patrol
AMC ALL DAY
1 p.m. to 5 p.m. Saving Private Ryan
5 p.m on Better Call Saul Season 3 Marathon
Also: Stanley Cup Finals, Game 1: Nashville at Pittsburgh
8 p.m. NBC