https://mediumhappy.com/?p=7127
by John Walters
What Do You Have On Draft?
Hope you enjoyed it, Brooklyn. That's the most NBA excitement you'll have for the next 12 months at least.
Questions, Thoughts, Insights & Outsights:
–The Lakers added Lonzo Ball AND Villanova's Josh Hart? One was the second pick in the first round, the other the final pick of the first round. Lots of folks had Hart as their Naismith winner after two months last season. He's one of three first-round picks this year who played for an NCAA champion (Tony Bradley and Justin Jackson, UNC).
–The Portland Trail Blazers landed arguably the two most talented big men in the draft: Gonzaga seven-footer Zach Collins and Purdue's Caleb Swanigan. Let's go to a live look-in to Bill Walton's Wavy Gravy Tent to see just how excited Big Red is about those two picks. He's going to LOVE Collins' toughness.
–Sacramento selects Harry Giles of Duke, a frosh who has already undergone two major knee surgeries. Is he Greg Oden or is he Dwight Howard? We'll see. One of three Duke players taken among the top 20 picks. How did they fail to reach the Final Four again??? Is Coach K on the hot seat?
–The Indiana Pacers made an outstanding pick in UCLA's T.J. Leaf, who led the Bruins in scoring last season. It'll be funny to see which UCLA Bruin from 2016-17 Paul George winds up playing with a year from now, but that'll have a lot to do with the drama that Lonzo and LaVar bring to Staples.
–The Bulls add seven-footer Lauri Markkanen while also undermining any current contenders' (Cavs, Celtics) shot of landing Jimmy Butler by trading him. You have to think/hope that Butler is smart enough to stay in Minnesota, where Karl-Anthony Towns and Andrew Wiggins assure that the future is very bright. Gonna miss Zach Lavine up there, though. Chicago is going to be SO average, if not just outright bad.
–You have to love the Motown went with a white boy band singer in Duke's Luke Kennard. He's got game, but we're yet to see how it'll translate to the NBA level. One of the smartest, if not THE smartest, player I watched on the court last season.
–You know who, besides their remaining fans, really despises the New York Knicks' selection of French guard Frank Ntilikina? The headline writers at The Daily News and New York Post. How do you have any word play with that?
–Here's hoping for years of a California rivalry between Sacramento's De'Aaron Fox and LA's Lonzo Ball. As you know, Fox put up 39 on the Bruins when Kentucky ousted them from the tournament. When is the last tie Sac-Town had a player you were this excited to see?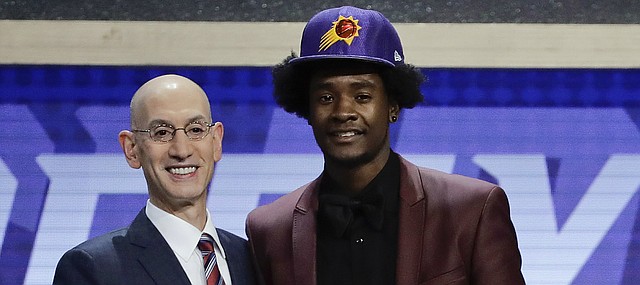 —Josh Jackson to the Suns. The right move and the closest thing to a 21st-century Walter Davis. A starting five of Booker, Bledsoe, Jackson, Marquese Chriss and Alex Len will be fun to watch.
–Jayson Tatum to the Celtics. Hmm. It's difficult to create when Isaiah Thomas has the ball in his hands. I like but do not love this pick.
—Markelle Fultz. For the second year in a row, the Sixers land the No. 1 overall pick who played for a team that failed to be one of the 68 teams to make the NCAA tournament. Should that matter?
I don't trust The Process. The Sixers look like a very good AAU team, but will they have a winner's pedigree?