https://mediumhappy.com/?p=7129
by John Walters
Starting Five
1. What The Health?
So this tweet storm from my new best friends at AARP is a little scary…
Nonpartisan CBO confirms: Senate bill would have a crushing impact on Americans, leaving 22 million more people uninsured by 2026. #CBOScore

— AARP Advocates (@AARPadvocates) June 26, 2017
and…
The bill also imposes an "age tax" – meaning people 50-64 years old could be charged 5x more than younger people for the same plan.

— AARP Advocates (@AARPadvocates) June 26, 2017
and…
What does that mean? A 64-year-old making $56,800/year would see their premium hike from $6,800 to $20,500/year.

— AARP Advocates (@AARPadvocates) June 26, 2017
and…
It would also slash Medicaid funding by $772 BILLION, stripping away coverage from millions of seniors, children, disabled, and veterans.

— AARP Advocates (@AARPadvocates) June 26, 2017
and…
Last, it would give $200 BILLION to big pharma & insurance companies, while doing nothing to lower health and drug costs for real people.

— AARP Advocates (@AARPadvocates) June 26, 2017
Yesterday I was out on a run (it was the most sublime day of the year here in NYC) in Central Park, my own cheap form of preventive health care, and I had an epiphany about the prism with which Republicans such as Donald Trump and Mitch McConnell and Paul Ryan see health care. Tell me what you think:
Let's imagine the USA as a giant corporation. Now, in massive corporations it is possible to streamline the business by laying off employees. In the USA (or in any nation) that happens via death, which is a very non-discriminating form of termination. It happens to men and women alike, people of all faiths and colors and sexual orientations. Death is very helpful to the bottom line of USA Corp.
Here's where it becomes sticky. Imagine if you were to tell a company that it doesn't have to lay off workers, but in order to do so upper management and the top earners at that company are going to have to contribute more from their paychecks. Well, that wouldn't go over very well, now would it? So, to me, this is exactly how a Mitch McConnell or a Paul Ryan views health care: sure, we could save or extend more lives if we made health care more affordable to the bottom 50% of the country, but what is the upside to that for USA Corp? We're actually a more streamlined nation without them.
You may think of that as evil. Really, though, it is just natural selection on a grander scale. 
2. Fatal Retraction
Three prominent print journalists (forgive the oxymoron) at CNN—reporter Thomas Frank; executive editor in charge of investigations Lex Haris; and investigative editor and reporter Eric Lichtblau—resigned on Monday after CNN pulled and retracted a story they worked on last week. In the piece, the trio drew a connection between hedge-fund manager Anthony Scaramucci, a Trump ally, and a Russian investment fund reportedly being investigated by the Senate.
Haris had been with CNN since 2001. Lichtblau was just hired away from the New York Times in April. Clearly CNN is more than a little hypersensitive about being labeled "Fake News," particularly when the accusation may be correct. To be clear, it's not that the story has proven to be false, according to CNN. It simply, at this time, has not proven to be accurate.
As Will McAvoy and Charlie Skinner would attest, the story never passed the red team test. This is a bad look for CNN top guy Jeff Zucker.
3. Penis de Milo?*
*The judges will also accept "Mein Shaft" even though that's a German pun, not a Norwegian one. 
In Norway, a famous rock formation south of Stavanger known as Trollpikken, which resembles an erect penis, was cut off over the weekend. Police have no suspects but are rounding up area rabbis.
Meanwhile, locals have already raised thousands of dollars and the plan is to put Trollpikken back in place, or res-erect it, using reinforced rods and bolts. In other words, after a reasonable dormant period (it is pretty old, after all), Trollpikken will return to its erect state.
4. Miller's Out Post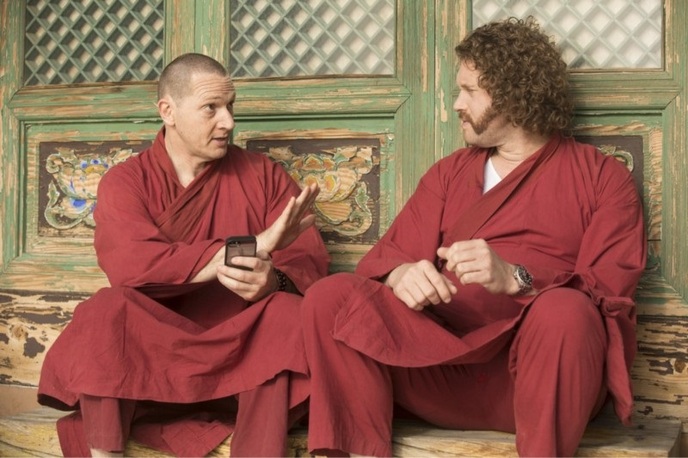 When we last saw everyone's favorite lovable tech a-hole, Erlich Bachman, who runs the incubator out of which Pied Piper runs in HBO's Silicon Valley, he was lit up on opium in a hut along the Silk Road. And that's the last we will see of T.J. Miller on the show.
Miller and Silicon Valley announced a parting of the ways last week after four seasons, but because Miller is not that far removed from the self-absorbed and mildly deluded character he plays, he gave a candid exit interview to The Hollywood Reporter.  "I just thought that what the show has suffered from, what's bad about it, is that Richard [Thomas Middleditch] is the CEO and then he isn't but then he finds his way back to be CEO," said Miller, "and then once he finds his way back to being the CEO he says he doesn't want to be the CEO, and it's just the same thing over and over."
He's right, you know. It's classic Gilligan's Island or even Seinfeld. They're always coming back to the lagoon or the coffee shop and starting over from scratch. Does that make it less of a show? Your call.
5. Daily Harrumph: The McEnroe-Serena Non-troversy
What's the deal here? Yesterday John McEnroe, promoting a book whose title is his catchphrase but in light of what would happen is particularly ironic, You Cannot Be Serious, was interviewed on NPR by Lulu Garcia-Navarro. Here's the transcript of the part that raised everyone's cackles:
Garcia-Navarro: We're talking about male players but there is of course wonderful female players. Let's talk about Serena Williams. You say she is the best female player in the world in the book.
McEnroe: Best female player ever — no question.
Garcia-Navarro: Some wouldn't qualify it, some would say she's the best player in the world. Why qualify it?
McEnroe: Oh! Uh, she's not, you mean, the best player in the world, period?
Garcia-Navarro: Yeah, the best tennis player in the world. You know, why say female player?
McEnroe: Well because if she was in, if she played the men's circuit she'd be like 700 in the world.
Garcia-Navarro: You think so?
McEnroe: Yeah. That doesn't mean I don't think Serena is an incredible player. I do, but the reality of what would happen would be I think something that perhaps it'd be a little higher, perhaps it'd be a little lower. And on a given day, Serena could beat some players. I believe because she's so incredibly strong mentally that she could overcome some situations where players would choke 'cause she's been in it so many times, so many situations at Wimbledon, The U.S. Open, etc. But if she had to just play the circuit — the men's circuit — that would be an entirely different story.
McEnroe has seen and played and knows way more about tennis than myself or anyone reading this. Yes, "like 700" seems plenty low, but I'm not certain why we need to haggle over the number. Wasn't the dumber part of this interview the fact that Garcia-Navarro would be so willfully obtuse as to wonder why McEnroe did not consider Serena the greatest tennis player, period? Diana Taurasi may be the best women's basketball player of all time (or you can name someone else), but could she make an NBA club? Not on pure merit.
Music 101
Hello, Goodbye
The Beatles were so talented touched by God that they could just fart out pop song perfection. This tune is from, by most accounts (not mine), their second-best album of 1967, Magical Mystery Tour. If you only had one song to explain the genius and simplicity of John, Paul, George and Ringo, this would get my vote. Released in November of 1967, the song hit No. 1 in eight different countries, including the US, UK, Australia and Canada.
A Word, Please
Sagacity (noun)
Wisdom