https://mediumhappy.com/?p=7137
by John Walters
Starting Five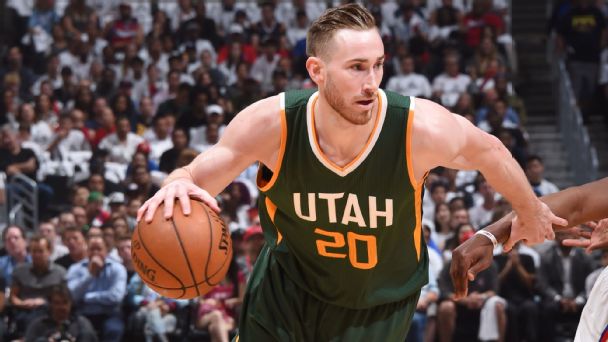 Declaration of Independence
Why Gordon Hayward is leaving Salt Lake City and is headed to Boston: A) His college coach at Butler, Brad Stevens; 2) He wants to advance at least to the NBA Finals in his career, and that wasn't about to happen any time soon in a Western Conference with the Dubs, Rockets, Russell Westbrook and Kawhi Leonard; 3) Similarly, Hayward (21.9 ppg, or 26th in the NBA in Scoring last season) can now start for his conference in the All-Star Game; 4) He wants to become the greatest player ever to wear the uniforms of the two whitest teams in NBA history, Utah and Boston.
The 6'8″ Hayward has increased his scoring average in each of his first six NBA seasons. He is 27 years old. The man who finished directly ahead of him in scoring last season, Devin Booker, is 6'6″ and 20 years old. He gonna GET PAID in a couple years.
Hayward wrote a "Thank You, Utah" ("Thank You Tah Tah," is what MH editors would have recommended) piece for The Players' Tribune in which he buried the lede in graf 6. Bad sportswriting there, Gordo.
2. Fly Girl
Breaking news suggests that Amelia Earhart's last days were sort of an Unbroken-type deal. This recently released photograph, taken in the Marshall Islands in 1937 on an atoll where Westerners were forbidden, appears to show Earhart's navigator, Fred Noonan, on the far left. That may be Earhart, seated with her back to the camera, in the center. She may be looking at a large object, presumably their downed Lockheed Electra aircraft, being towed by a barge.
Earhart took off from Papua New Guinea on July 2, 1937, in her quest to become the first female to circumnavigate the globe in an airplane (Wiley Post had become the first person to do it six years earlier). She never completed the journey, although she had only the Pacific remaining at the time she disappeared. This new evidence strongly suggests that the Japanese captured her and Noonan, considered them spies, and imprisoned them.
According to today's report, the man who took this photo was later executed.
In case you were wondering—and I was—the first female to accomplish the feat Earhart set out to perform was Geraldine Mock, who did so in 1964 aboard a Cessna. Curiously enough, another woman, Joan Merriam Smith, also set out to pursue this record two days earlier following the same flight path as Earhart. Mock, who started and finished in Columbus, Ohio, took off two days later (March 19) but finished first. Smith would be killed in a plane crash in the San Gabriel Mountains the following year; Mock died in 2014.
3. When In The Course of Human Events
When I work at the cookoutateria on the 4th, as I did yesterday, I ask tables who seem willing to give me the opening words of the Declaration of Independence. Everyone's first response is, "We the people…" which is incorrect. Take a few minutes to read the Declaration of Independence today. It's worth it.
Also happening on the 4th of July….
1911: Ed Walsh stops Ty Cobb's hitting streak at 40 games. Both will be inducted into the Baseball Hall of Fame, which is 25 years away from being.
1939: Lou Gehrig gives his famous speech as Yankees retire their first uniform number (4) and stage baseball's first Old Timers' Day.
1969: 140,000 attend Atlanta Pop Festival featuring Led Zeppelin, Janis Joplin, Chicago, Blood, Sweat and Tears, Joe Cocker, Grand Funk Railroad, Tommy James and the Shondells, and Creedence Clearwater Revival (How had I NEVER heard of this until just now????). Woodstock was just seven weeks out.
In literature, Nick Carroway, Jay Gatsby, Tom and Daisy Buchanan, and Jordan Baker go for martinis at The Plaza and things go awry (and a 'gin).
4. Cycling Is A Contact Sport
On the fourth day of the Tour de France, an elbowing incident less than 200 meters from the finish line leaves British cyclist Mark Cavendish with a broken shoulder and causes officials to disqualify Slovak Peter Sagan. Watch for yourself.
5. Our Annual Update Of America's Wildest Trail Race
Yesterday the Mount Marathon Race, an annual Fourth of July 5-K trail run up and down a hill/mountain in Seward, Alaska, was staged for what is believed to be the 90th time. It was first officially staged in 1915, though it may have been run as far back as 1907.
Anyway, the visually breathtaking and often bone-breaking ascent-and-descent was won by Scott Patterson (I was SO HOPING it was the same SP who played Luke on Gilmore Girls, but alas, he's an Alaskan cross-country skier) on the men's side and by MH fave Allie Ostrander on the women's.
As you may know, Ostrander is a local and also last month won the NCAA women's steeplechase national championship. Her time of 49:19 was the FASTEST EVER for a female in this event. "This race it was for Alaska," said Ostrander. "I'm just happy with this be apart of this tradition, and finally being able to get a win."
Music 101
Tin Man
Oz never did give nothing to the Tin Man/That he didn't, didn't already have… In early 1974 Dewey Bunnell, one of the three members of America, wrote a song about his favorite childhood movie and then begged his bandmates not to put it on their upcoming album. Perhaps Bunnell was using reverse psychology. It not only appeared on Holiday, but hit No. 4 on the charts later that year. Despite this tune, A Horse With No Name, Ventura Highway, and Sister Golden Hair, four of the most heavily played and iconic radio tunes of the early 70s, America still is not in the Rock & Roll Hall of Fame.
A Word, Please
Effete (adj)
Ineffectual, over-affected. In a word, weak.