https://mediumhappy.com/?p=7142
by John Walters
Starting Five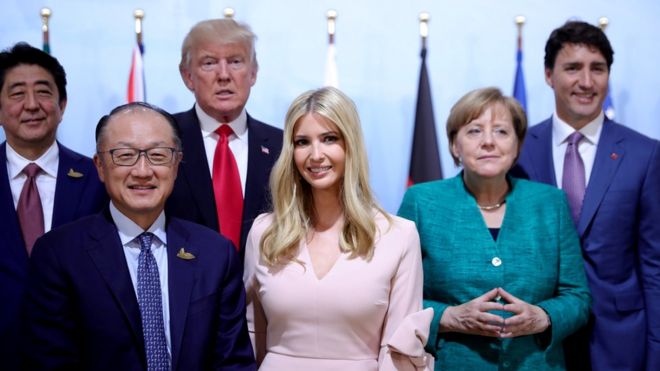 The Kids Are All Reich
That's Ivanka Trump, whom you may recall tries "to stay out of politics," posing for a pic at the G20 summit with her dad and, oh, the leaders of China, Japan, Germany and Canada. Ivanka, 35 and formerly someone who provided counsel to her pop when he had to decided whether or not to "fire" Joan Rivers, also sat in as a replacement for her dad in  a few meetings.
When some people criticized her presence, America's deftest touch, Donald Trump, Jr., took to dad's favorite medium:
If the left is so "outraged" about Ivanka sitting in for a few minutes, maybe they'd be happier if I sub in for a while??? LMK 🇺🇸 #MAGA https://t.co/Tfr1u8HSF3

— Donald Trump Jr. (@DonaldJTrumpJr) July 8, 2017
Also during the weekend, Donald, Jr., admitted to the New York Times that on June 9, 2016, two weeks after pop secured the GOP nomination, he met with a Russian lawyer who promised damaging info on Hillary Clinton. Paul Manafort and Jared Kushner also attended. But the Russians, you know, never meddled in the election.
Meanwhile, the editors of The National Review, a self-described "leading conservative publication," penned an editorial this morning titled "It's Time To Get Real About Russia." It was basically a "Child, Please" about Putin to the Trump administration.
2. Pastime Halftime Report
As baseball takes its midseason breather, here's a look at who'd be in the playoffs if they started today:
American League Wildcard: Yankees vs. Rays (both AL East)
National League Wildcard: Diamondbacks vs. Rockies (both NL West)
A.L. Playoffs: Astros vs. Wildcard winner; Red Sox vs. Indians
N.L. Playoffs: Dodgers vs. Wildcard winner: Nationals vs. Brewers
AL MVP: Aaron Judge, Yankees (and Rookie of the Year)
AL Cy Young: Chris Sale, Boston (narrowly over Chris Vargas, K.C.)
NL MVP & Cy Young: Clayton Kershaw (14-2, 2.18 ERA)
3. Summer Heat In Vegas
July in Las Vegas, and I once spent two weeks there during this month, used to mean temps in the 110s and the World Series of Poker. On Saturday night, however, a new threshold was crossed as an NBA Summer League contest between the Celtics and Lakers had a sellout of 17,500 fans at the Thomas & Mack. This was the first meeting between Lonzo Ball (No. 2 pick) and Jayson Tatum (No. 3 pick) and that recent ESPN "30 for 30" The Best Of Enemies didn't hurt.
The Celtics won, 86-81. Tatum had 27 points and 11 boards. Ball, 11 points and 11 assists.
Breakout star? Kyle Kuzma, a 6'9″ forward out of Utah, scored 31 points and was 5 of 10 from beyond the arc. The Lakers selected him with the 27th pick overall last month.
4. Are Movie Theaters The New Bookstore?
We're halfway into the year and I have only gone to the movies once, to see a film titled Get Out, which is what theater owners seem to be suggesting we do. Why would you go to the movies? They mostly suck, they're way overpriced, you can stay home and watch better fare on HBO Now or Netflix or maybe you have a relative who knows how to hack into some service that shows first-run stuff.
Again, I don't have small kids, but the only theaters that interest me somewhat are indie types that also show classic or cult films and are run by film nerds. Kind of like the best small bookstores that still survive, that are run not for profit but due to passion. I think the multiplex will be dead within 10 years. You?
5. Freak Out!
Our good friend Bruce Feldman lost his job at Fox Sports two weeks back and quickly landed at Sports Illustrated, who will wisely try to mold him (I believe) into the Tom Verducci of college football. Bruce is a GREAT guy, as everyone who knows him can tell you.
He's already put out his Freaks list for SI (why don't they brand it 'Feldman's Freaks?'), and at the top of his list is a leading Heisman candidate from Penn State: running back Saquon Barkley (have you already forgotten how awesome last January's Rose Bowl was?).
Music 101
Ice Cream Man
No rock star lead singer was more good-humored than David Lee Roth of Van Halen, so it's only natural that he handles the vocals on this 1978 tune that appeared on their eponymous debut album. The song was originally written by bluesman John Brim in 1953 and was a favorite of Diamond Dave's. That's him on acoustic guitar at the beginning.
A Word, Please
Abstemious (adj)
Not self-indulgent, particularly in food or drink