https://mediumhappy.com/?p=7154
by John Walters
The Starting Five
Glioblastoma
"Glioblastoma is the most aggressive form of brain cancer," says a physician on CBS This Morning. "The normal expected life span is 14 months."
Senator John McCain (R-Arizona), 80, was diagnosed with this form of brain cancer after having a blood clot removed above his eye last week. Best of luck to McCain, who as you know was a P.O.W. in Vietnam for five years. Our good friend Katie has a great dad who wrote a book all about Vietnam POWs and much of it was the result of interviews with Senator McCain. I've read it and I highly recommend it.
Make no mistake about the grimness of this cancer. As I read earlier today, " The 2-year survival rate is approximately 17 percent for patients between 40 and 65 years old."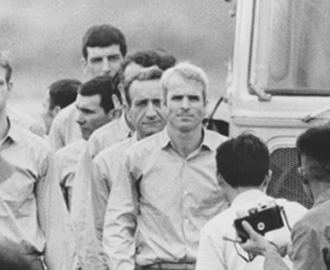 2. Can We Talk?
Next Wednesday Donald Trump, Jr., (arguably the third favorite son of the president right now) and Paul Manafort (former campaign chairman) are scheduled to testify publicly before Congress as part of a prolix hearing titled "Oversight of the Foreign Agents Registration Act and Attempts to Influence US Elections: Lessons Learned from Current and Prior Administrations." Whatevs.
What makes this fun? Yesterday The New York Times reported that Manafort owed about $17 million to pro-Russia interests before he joined the Trump campaign last year. Rule No. 1 is Never fight a land war in Asia and Rule No. 2 is Never be deep in debt to Russian oligarchs.
Meanwhile, yesterday a source close to the grown-up Trump bros told People mag that Don, Jr., is "miserable" and he "can't wait for these four years to be over." As a friend on Twitter quipped, "Join the club."
3. If Nolan Arenado Hits Three Home Runs and Collects Seven RBI In An Untelevised Game Against The Padres, Did It Really Happen?
What a fantastic microcosm of the under-appreciated Colorado Rockies third baseman's career: yesterday afternoon, in a game that the franchise's broadcast partner, AT&T SportsNet Rocky Mountain, did not televise, Nolan Arenado blasted three homers, had two more hits, 14 total bases, and seven RBI. The Rockies slapped around the Padres, 18-4.
Arenado, whom we've mentioned frequently in this space before, led the National League both in home runs AND RBI the previous two years and was unable to finish better than fifth in MVP voting. He currently leads the NL in RBI and is second in WAR and will likely be looking up at Bryce Harper (or Clayton Kershaw) in this year's MVP voting.
4. Napoleon, Hitler and Trump
In an entertaining 50-minute interview with The New York Times, we learned that President Trump's six year-old granddaughter speaks a little Chinese (Manchurian Candidate alert!), that Trump never would have appointed Jeff Sessions as AG if he knew he was gonna wuss out, and that the prez thinks French counterpart Emmanuel Macron "loves holding my hand (probably more so than Reince Priebus and Steve Bannon do). Then there was this interesting discussion on failed European imperialists that bears reprinting here:
TRUMP: Well, Napoleon finished a little bit bad. But I asked that. So I asked the president, so what about Napoleon? He said: "No, no, no. What he did was incredible. He designed Paris." [garbled] The street grid, the way they work, you know, the spokes. He did so many things even beyond. And his one problem is he didn't go to Russia that night because he had extracurricular activities, and they froze to death. How many times has Russia been saved by the weather? [garbled]
[crosstalk/unintelligible]
TRUMP: Same thing happened to Hitler. Not for that reason, though. Hitler wanted to consolidate. He was all set to walk in. But he wanted to consolidate, and it went and dropped to 35 degrees below zero, and that was the end of that army.
[crosstalk]
But the Russians have great fighters in the cold. They use the cold to their advantage. I mean, they've won five wars where the armies that went against them froze to death. [crosstalk] It's pretty amazing.
So, we're having a good time. The economy is doing great.
5. Are You Part of The 1%?
The minimum salary for an NFL player is $465,000.
The minimum salary for a Major League Baseball player is $535,000.
The minimum salary for an NBA player is $815,000.
On Wall Street, the AVERAGE salary is $526,000.
What do all of those salaries (except the NFL in certain states) have in common? They put those earners in the TOP 1% of American wage earners. The curious thing is that those four groups of people, most of whom are extremely talented, spend the majority of their time in the company of their co-workers (as most of us do). So, to use an analogy, if you're 6'4″ everyone else sees you as tall. But if you're 6'4″ in an NBA locker room, you're slightly undersized.
In 46 of the 50 states, you don't need to earn $500K to be in the Top 1%. In 38 of the 50 states, you don't even need to earn $400K to be in the Top 1%. Highest income state? Connecticut ($659,979 to be in top 1%); Lowest? New Mexico ($231K; no wonder Walter White was doing so well relatively). Most surprising, at least to me: North Dakota, where you need to earn $481K to be in top 1% (GAS/ENERGY).
The point is this: most people who are in the Top 1% don't think of themselves that way because in the immediate company of their peers, they're just average. But if you were to tell them that there was, for example, a tidal wave that knocked out 99 of 100 people in a village and that THEY happened to be the lone survivor, they would consider themselves extremely, almost miraculously, lucky, no?
Reserves
Are you wondering what I am wondering? Why don't college football writers have to sit out a year upon transferring? An incomplete list of recent transfers:
Pete Thamel…..Sports Illustrated to Yahoo! Sports
Bruce Feldman…..Fox Sports to Sports Illustrated
Stewart Mandel…..Fox Sports to The Athletic
Brett McMurphy….ESPN to undecided (Brett's the Malik Zaire of this class)
Brian Hamilton….SI to undecided
Music 101
Midnight Confessions
Was this 1968 single by The Grass Roots (a Top 5 tune, the band's highest charting single ever) a musical dramatization of Rev. Arthur Dimmesdale's pining for Hester Prynne from the 1850 novel The Scarlet Letter? Some have suggested as much. The Grass Roots did not write this song; it was originally penned by Lou T. Josie and performed by the Ever-Green Blues (get it?).
Remote Patrol
The Open Championship
6 a.m.-Noon The Golf Channel
In the last nine years, nine different men have won The Open. Last year's champion? Henrik Stenson of Sweden. This year's links course is at Royal Birkdale.
A Word, Please
prolix (adj.)
tediously wordy; using too many words; employing lots and lots and lots of unnecessary words to explain something; are you getting it?