https://mediumhappy.com/?p=7194
by John Walters
Starting Five
1. Let Them Eat Sheet Cake
Above, that's Louise Linton, 36, wife of Secretary of the Treasury Steve Mnuchin, 54 (if you don't have the looks, boys, then for god's sake you better be filthy rich). Yesterday the stay-at-home actress got into an Instagram battle with a peasant from Oregon, calling her "adorably out of touch." This from a woman who hashtags #HermesScarf #TomFord and #Valentinorockstudheels (three of the four words were high school nicknames for your author).
Anyway, it was yesterday's Kerfuffle of the Day and the jump from Linton to Marie Antoinette is pretty easy to make. In fact, the commoner from Oregon, one Jenni Miller, a 45 year-old mother of three, dared to make it. A reminder that Ms. Antoinette, a true historical figure who infamously said, "Let them eat cake" as to the plight of starving peasants, lost her head.
Tom Ford sunglasses: $200
Rouland Mouret pants: $950#HermesScarf: $400
Valentino heels: $1,000
=More than most American's entire paycheck. https://t.co/RLYWFupwNH

— Jessica Huseman (@JessicaHuseman) August 22, 2017
Here's the deets on yesterday's social media fracas.
2. Be Leave Land
In short (no offense, Isaiah), the two best teams in the Eastern Conference traded All-Star guards last night. The Cavs sent 6'3″ Kyrie Irving (25.2 ppg last season) to the Boston Celtics in exchange for NBA leading scorer Isaiah Thomas, who is listed at 5'9″ (28.9) but may be shorter.
Irving is 25 and has three years left on his deal. Thomas is 28 and can walk after this season with LeBron James, who will probably do the same. It's Last Hurrah time in Cleveland, and it'll be interesting to see how The King responds to a new teammate who is even more of a chucker than Irving was. The thing is, though, no one not in a Warriors uniform is a better clutch shooter than Thomas is. The heat is off LeBron in that regard.
If you're a Celtics fan, you have to like the young nucleus of Irving, Gordon Hayward and now Markelle Fultz Jayson Tatum, all of whom will be joining the Celtics anew for their October 17 season debut against…the Cleveland Cavaliers.
3. Fight of the Phoenix
President Donald Trump made his eighth campaign stop since BECOMING president in Phoenix, Arizona last night. He harangued the media (calling us "very dishonest"; remember, Rule No. 1 of Trump is to believe the opposite of everything he says; Rule No. 2 is that whenever he slanders anyone, he's calling them exactly what he himself is) and threatened to shut down the federal government  (or hold his breath) if the border wall is not funded and then implied that he might pardon Sheriff Joe Arpaio by asking, "Was Sheriff Joe convicted for doing his job?" He then said, "I think Sheriff Joe will be just fine," intimating that he will pardon him, but on a day when the news can be buried more easily.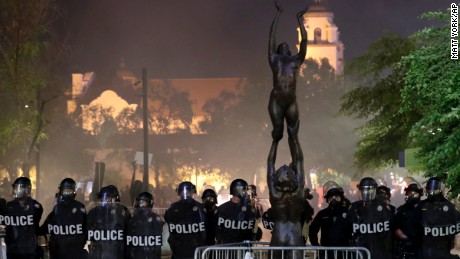 Then there was mayhem in the streets, which is hard to find in August in the Valley of the Sun, when anyone with any sense is inside with the AC blasting or at a pool party.
Protester kicks smoke bomb at police, gets hit in the gonads with non-lethal round (bean bag not rubber bullet) #azfamily #TrumpRallyPhoenix pic.twitter.com/x8BS1g4TQS

— Derek Staahl (@DerekStaahl) August 23, 2017
4. All They Do Is Win, Win, Win
While the ESPN (and other outlets, both TV and online) salivate about the prospects of NBA trades in August, the Los Angeles Dodgers trudge forward toward what may be the best regular-season record in baseball history. If only they were a big-market franchise or had some sort of history….
Anyway, the blue bloods won again last night in Pittsburgh to push their record to 89-35 (.718) and they're now 54-10 since D-Day. The winningest regular-season baseball team was the 1954 Cleveland Indians, who went 111-43 in the 154-game season for a .721 win percentage. The Tribe, alas, were swept in the World Series by the New York Giants, 4-0 (Willie Mays' absurd catch versus Vic Wertz is your freeze-frame moment).
The best record for a 162-game season belongs to the 2001 Seattle Mariners, who finished 116-46 (.716) and lost in the ALCS to the New York Yankees (who lost in the World Series to the D-Backs).
The point is, for the second time in two years a California-based team is threatening to post the best regular-season record in its major sport's history, but notice the difference in hype between the 2015-16 Golden State Warriors' run to 73-9 and the Dodgers' journey toward 117-45, which would break the Indians' record.
L.A. needs to go 28-10 the rest of the way to break the mark.
Curiosity: L.A.'s top two hitters by batting average, 3B Justin Turner and SS Corey Seager, have yet to hit a triple this season (as has MLB's leading home run hitter, Giancarlo Stanton of the Miami Marlins)
5. Daily Harrumph: Lee Genes
Take a breather, editors of The Onion. The real world has you covered this morning. Yes, ESPN actually pulled announcer Robert Lee (left) off a Virginia broadcast because of the weird "coincidence" that he shares a name, if not a genetic pool, with former Confederate commander Robert E. Lee.
You see what happened was, ESPN's Archduke of BLM, Rob King, decreed (as Kings often do) that Lee switch broadcasts out of the William & Mary-UVA game  to avoid an awkward moment. Then someone at the WWL snitched to Outclick The Coverage founder and chief ESPN gadfly Clay Travis, who probably at first thought he was being punched (this was too good to be true), then checked facts and broke the story. What a disaster.
The WWL, like the White House, has leakers.
Reserves
CFB Predictions To Clip And Save
Here's the AP Top 25
Here's the Coaches Poll  Top 25
Here's The Big Lead Top 25
Here's SI's bowl and national champion predictions.
We'll post ours later this week, we mean, now that everyone else has and our preseason pick of Wyoming at No. 1 would've looked a tad, well, risky.
Music 101
Hush
That's Ritchie Blackmore (guitar legend) of the band Deep Purple giving Hugh Hefner a guitar lesson during a short-lived late-night show called Playboy After Dark (and you wondered where the Pac-12 got that title). This tune, a cover of a song that peaked at No. 45 a year earlier in 1967 that was written by Joe South and recorded by Billy Joe Royal, was a No. 4 hit for the band in 1968.
This is a certified vintage MH clip. P.S. I have those pants.
A Word, Please
insouciant (adj.)
showing a casual lack of concern; indifference