https://mediumhappy.com/?p=7196
by John Walters
Starting Five
Harvey SeaWall Banger*
*The judges will also accept "Path Of Totality, Hurricane Edition"
Begin the week with a total solar eclipse and end it with Hurricane Harvey and its 110 mph winds, which is basically a Category 3 hurricane. We're looking at 20-plus inches to three feet of rain in the Houston area. And that means plenty of floating copperheads in the water, among other problems.
This should be the worst hurricane to make landfall in the continental U.S. since Katrina in 2005.
2. The Old Brawl Game
An otherwise innocent Thursday afternoon getaway game between the Yankees and Tigers morphed into an ejection fest, as eight dudes in uniforms, two of them managers, were given the hook.
The Tigers plunked Jacoby Ellsbury, then the Yanks threw behind Miguel Caruso Cabrera (CNBC fans, that's for you) and had their pitcher ejected, and then it was on like Donkey Kong between Cabrera and Yankee catcher Austin Romine, whose brother Andrew plays for Detroit (awkwaarrrrd).
Tigers won, 10-6. Gary Sanchez hit his 27th home run, or his 22nd in less than two full Augusts (10 last August, 12 this month) in the big leagues.
3. Mavis!
The Powerball winner, Mavis Wanczyk of Chicopee, Mass., did not even wait a full day to step forward and claim her prize ($336 million after taxes and having taken the lump sum). She's 53 and the mother of two and guess what? She's not returning to her job at a local hospital. Mavis, as anyone who bought a single ticket, had a one-in-292 million chance of winning the lottery.
4. RIP, Jay Thomas
Most of us first met good-natured comic Jay Thomas, who died yesterday at the age of 69, as a recurring character on Cheers! who played Carla's husband. He would later win two Emmys for his work on Murphy Brown. What endeared him to many more (and endeared Dave Letterman even more to the MH staff, if that is even possible), is that in his later years Thomas would make an annual appearance on Late Show to retell the same story about the Lone Ranger that had obviously beguiled the show's host, who called it "the greatest talk show story of all time."
He also, during those appearances (24 of them) would throw a football and knock the meatball off the top of the Late Show Christmas tree.
Thomas really was, for a B-list celeb, one of the most entertaining guests ever to appear on Letterman.
Above, his final appearance on Letterman….
5. Trump Returns!
This was Alec Baldwin lampooning Donald Trump yesterday….
And this was Donald Trump lampooning himself…
He RT'ed this meme yesterday. It's a good joke, but you'd think the dude who has failed to have any of his major proposals passed in Congress would not have time for this.
He also misspelled "there" on a tweet and then deleted it (hardly the first time).
Reserves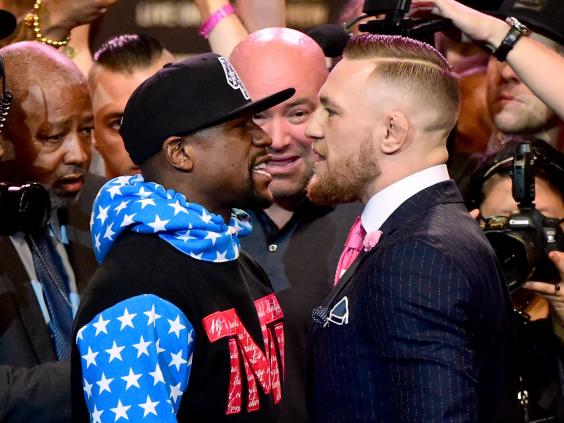 Down For The Count Floyd
We haven't written much (correction: anything) about tomorrow night's Floyd Mayweather-Conor McGregor bout in Las Vegas. For good reason. It's nothing more than a money grab. Mayweather is 40. McGregor is an MMA hype monkey who won't be allowed to take full advantage of his pugilistic skills. This is like watching Bob Hayes race a thoroughbred more than it is a PPV-worthy bout.
People will pay and watch out of curiosity, of course, and bully for the promoters. The only way Mayweather loses is if he actually wants a return pay day out of this. But my guess is that his ego is far too large to allow that to happen. As for McGregor, he'll be seriously outclassed here.
Music 101
Blinded By The Light
Madmen, drummers, bummers, Indians in the summer with a teenage diplomat…
Bruce Springsteen wrote the original Dylanesque lyrics (the song appeared on his 1973 debut album, Greetings From Asbury Park) but even this Bruceophile admits that Manfred Mann and his Earth Band improved upon it. The public agreed, as this tune shot to No. 1 on the Billboard chart (Bruce has never recorded a No. 1 hit…Dancing in the Dark peaked at No. 2) in 1977. This song depicting life on the Asbury Park boardwalk should've been Bruce's anthem; Mann instead made it his. s
A Word, Please
taciturn (adj)
reserved or uncommunicative in speech; saying little