https://mediumhappy.com/?p=7198
by John Walters
Starting Five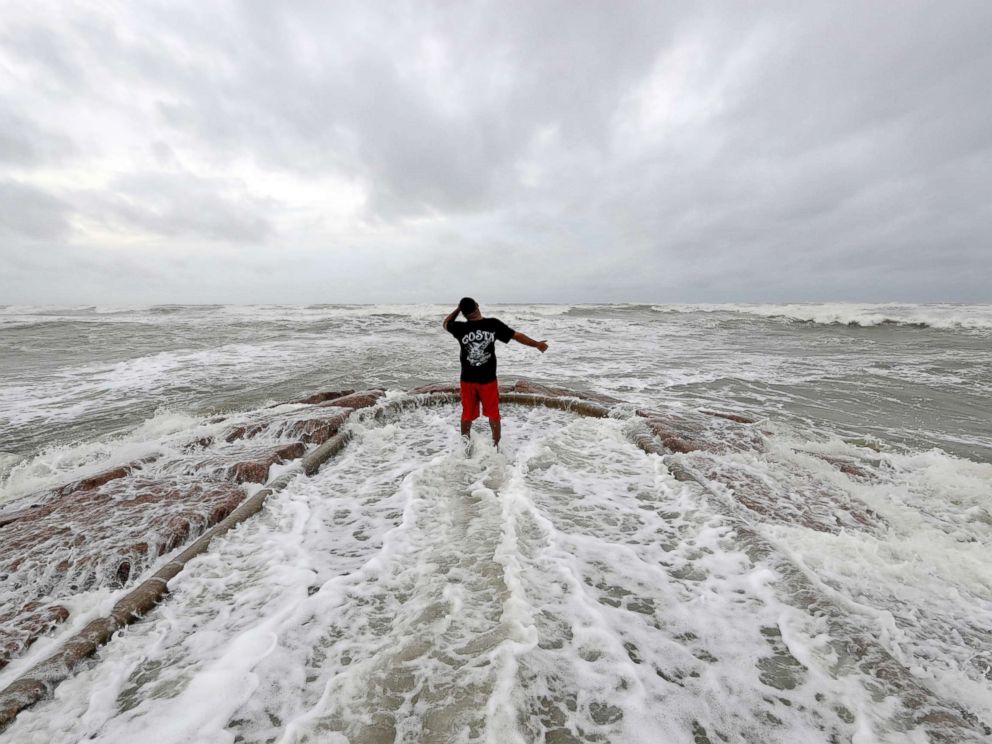 Saturation Saturday*
*The judges are apparently big fans of ESPN's branding of college football Saturdays
As much as 50 inches of rain fell on parts of the south coast of Texas and Houston, the nation's fourth-largest metropolitan area, this weekend. Harvey arrived as a Category 4 hurricane on Friday evening and dropped unprecedented amounts of precipitation on this region. At least five are dead.
Meanwhile, the Little League team from Lufkin, Texas, which is about 125 miles north of Houston and is being pounded by rain today, lost the Little League World Series to Japan, 12-2.
Intersection along San Houston Pkwy. Water about 17 feet deep. @BrandiKHOU and photog Mario only thing on KHOU. Studio evacuated. pic.twitter.com/TeF6hc1ebu

— Kevin Selle (@kevinselle) August 27, 2017
So my question is this: If you don't believe in science, i.e. climate change, then the likelihood is that you're more of a God-fearing Christian. So could it be argued that God sent this biblical storm to south Texas because he wanted to wipe out oil refineries? Or send a message to a state that builds $72 million football stadiums while passing laws that women who want access to abortions need rape insurance? I'm just wondering…
2. The Petyr Principle
Season 7 finale of Game of Thrones: Littlefinger, a.k.a. Lord Petyr Baelish outmaneuvers himself—we all should have seen this coming as soon as Bran hit him with "Chaos is a ladder" earlier this season; a mass reunion in the dragon pits puts some of the series' biggest stars in the same scene for the first time (Cersei, meet Jon Snow and Daenerys); Euron Greyjoy discovers White Walkers can't swim, announces he's heading home to the Iron Islands, a.k.a. "Euron Your Own"; You know nothing, Jon Snow, including the fact that the woman you're making love to is your aunt and also that you are the rightful heir to the Iron Throne (anyone else notice his knee was bent during that love scene?); Jaime Lannister finally sees his sister/lover for whom she is, and chooses integrity over the family name (Cersei's only two remaining friends are a creepy maester and a Frankenstein-like bodyguard); Theon's redemption tour at long last begins—you have to know better than to knee a man in the nuts who has no nuts—and the White Walkers, with the aid of their newest super weapon, burst a hole through the wall. Winter has come to King's Landing.
Question: Who will eventually marry Sansa Stark, or will she just reunite with Tyrion at some point?
By the way, when Jon Snow gave his little speech about honesty in the dragon pits, did anyone else think, Wow, I wonder if the president is watching?
3. The Fighting Irish Lose On Saturday*
*The judges ask, "What else is new?"* (Thanks to @okerland for that)
Missed the Mayweather-McGregor bout ("Well, I wouldn't say I missed it") but Floyd goes out on top, winning by TKO in the 10th round after Conor took two of the opening three rounds. He retires (if the 40 year-old remain retired) with a 50-0 record, topping Rocky Marciano's 49-0 mark and he may earn as much as $350 million for Saturday night's work. Take that, Mavis Wanczyk!
Mayweather apparently tried to place a $400,000 bet on himself prior to the fight, and was denied. He'll never be inducted into the Baseball Hall of Fame now.
4. Sheriff Joe Gets His Pardon
Donald Trump pardons former Maricopa County sheriff Joe Arpaio, who had been found guilty of criminal contempt for defying a court order to stop detaining immigrants based solely on the suspicion that they were in the country illegally. He was facing up to six months in jail. The 45th president was legally within his rights to grant the pardon, but it's quite the bizarre spot on which to take a stand. Then again, this is the guy who launched his presidential campaign by denouncing illegal immigrants from Mexico as drug dealers and rapists. He knows what hits to play for his fans.
Wow. "Hold the line until our country gets back to understanding & respecting each other…" Jim Mattis to US troops pic.twitter.com/VMAAXjBWyg

— Richard Chambers (@newschambers) August 26, 2017
Meanwhile, here's what Trump's Secretary of Defense said while addressing troops over the weekend.
5. Mo-Mentum
Like Floyd Mayweather, British middle-distance runner Mo Farah also retired after his final event this weekend, but Mo's curtain drop was far more dramatic. Farah, a Somalian native who owns four Olympic gold medals and six World Championships, held off four younger competitors in the final 100 meters to win the 5000 at the Diamond League meet in Zurich. One of the better finishes you'll ever see in a track event.
"They throw themselves at his feet, figuratively and literally!" Outstanding.
Music 101
We're Not Going To Take It
The final song from The Who's audacious rock opera Tommy contains within it the anthem that most of us are more familiar with: "See Me, Feel Me." A rock-and-roll classic from 1969 that merits a listen, and this live recording from later that summer took place at Woodstock.
Remote Patrol
progeny (noun)
a descendant or the descendants of a person; offspring