https://mediumhappy.com/?p=7231
by John Walters
Starting Five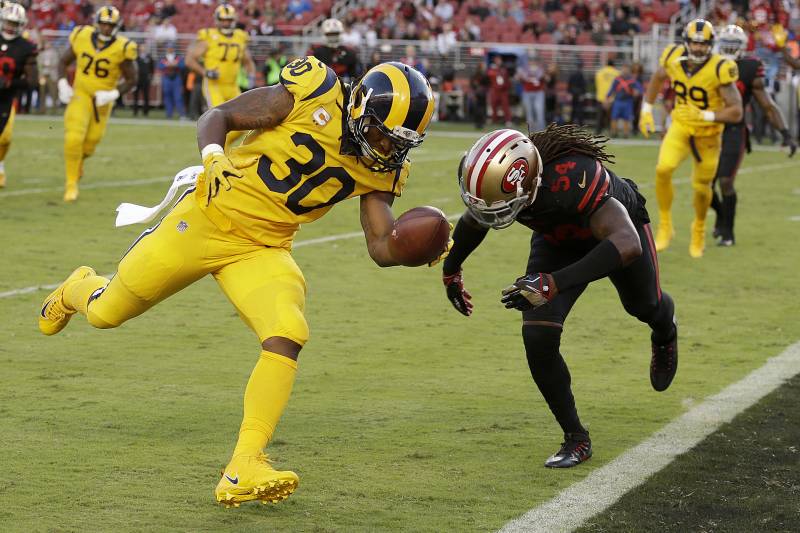 Mellow Yellow Fellows
The Los Angeles Rams overcame those color-rush yellow unis to beat the San Francisco 49ers 41 -39 ("39ers, amirite? Hello?") last night on "Thursday Night Football" (slogan: "When it's on, it's on"). Under first-year coach Sean McVay, AGE 30, the Rams are 2-1 and have the NFL's most potent offense.
No, seriously. The Rams are averaging 35. 7 ppg (No. 1), Jared Goff is No. 2 in the league in passing yards per attempt and Todd Gurley (above), a.k.a. The Gurley Man, is No. 1 in rushing touchdowns.
Up next for L.A. on October 1th? At Dallas. That should be interesting.
Meanwhile, sure it's not the wisest thing to kick off a game at 5 p.m. local time in a stadium next to a major freeway at the southern tip of San Francisco Bay, but does the NFL really expect us to believe Levi's Stadium was filled, as they say, to 100% of capacity last night? Or is it just a matter of scores of secondary-market tix going unsold?
2.Mad Men*
*The judges apologize to all the good—and bad—folks at Sterling, Cooper, Draper, Pryce
Tuesday: Donald Trump calls Kim Jong Un "Rocket Man" and threatens to "totally destroy" North Korea in a speech at the United Nations general assembly.
Thursday: Kim releases a statement in which he promises to "definitely tame the mentally deranged U.S. dotard [senile old person] with fire." Ooooooooh. So Khaleesi of you.
Kim Jong Un of North Korea, who is obviously a madman who doesn't mind starving or killing his people, will be tested like never before!

— Donald J. Trump (@realDonaldTrump) September 22, 2017
Friday: Trump tweets that Kim is "definitely a mad man."
Small blessings, but at least they're only lobbing insults at one another compared to what both have in their arsenal. Meanwhile, can someone put out an alert to Dr. Phil?
3. Another Kelly At 9 A.M.
The New York Times story is titled "Megyn Kelly Is Ready For Her Closeup," to which we ask, "Is she?" The former BFF (Blonde Fox Female) steps into the 9 a.m. hour of NBC's Today on Monday, instantly becoming the second-most popular Kelly (Ripa) at that  hour on TV.
Kelly is smart and pretty and all, but we kind of feel NBC paid for the Megyn Kelly of five to seven years ago as to the MK of 2017. It's like that insane deal (at the time) Sony gave Michael Jackson in the 1980s after Off The Wall and Thriller had been released. The time to have gone into business with The King of Pop was before then.
4. "We haven't seen this many people come forward to speak out against a bill since Cosby." 
It's extremely satisfying to watch Jimmy Kimmel, to borrow a term used by a famous orange-haired men earlier this week, "totally destroy" Senator Bill Cassidy this week. Of the many terrific points he made, Kimmel wondered aloud why so many congressmen and Fox flunkies go directly to ad hominem attacks about his qualifications to discuss health care when the man in the Oval Office's main qualification to be there was that he once said, "Meatloaf, you're fired."
Later in the show Senator Al Franken appeared, and the Democrat from Minnesota and erstwhile Saturday Night Live writer quipped, "You know, I usually don't like it when comedians get involved in politics…"
5. Bye Bye, Bettencourt
Liliane Bettencourt, the heiress of French cosmetics company L'Oreal, has died. Bettencourt was 94. Why should you care? With a projected worth of $44 billion, Bettencourt had been the world's richest woman (now the mantle belongs either to Baby Ruth candy bar heiress Sue Ellen Mitschke or to Oprah; probably Oprah).
Music 101
Archie, Marry Me
Can a band whose members originate from the eastern Canadian islands of Cape Breton and Prince Edward make it big? Alvvays' (pronounced "Always") self-titled 2014 debut album hit No. 1 on the U.S. college charts. The band, led by lead singer-songwriter Molly Rankin, released its second album earlier this month.