https://mediumhappy.com/?p=7235
by John Walters
Starting Five
Bomb Blasts, Not Bombast
On a sultry autumn Monday afternoon in the Bronx, Aaron Judge connected twice to the bleachers (as he had done the day before in Toronto). The silent slugger's two homers gave him 50 for the season, eclipsing Mark McGwire's record for rookies. ROY? How about MVP?
2. Begin The Megyn
Unless her personality radically changes in the next few weeks—and it won't—Megyn Kelly may go down as the SuperTrain of morning talk show hosts. Like the long ago ambitious NBC prime-time show that quickly crashed and burned, Kelly seems to be not just awkward to watch, but a tire fire. It was only one show yesterday, sure, but she had more than nine months to prepare for it. And it was cringe-worthy.
First Jamie Horowitz and now this. Why are NBC execs so, SO bad at their jobs?
3. Oy Vey!
On one hand 2-0 Miami at 4-0 Duke on Friday night at 7:30 p.m. gives the game marquee status. On the other, both student bodies (if not so much their football teams) are heavily Jewish, and Friday is Yom Kippur, the holiest day on the Jewish calendar. What up with that?
Later Friday night, 4-0 USC visits 4-0 Washington State. College GameDay should have been there. And yes, USC is also a Yom Kippur-aware campus
4. The Art of the Kneel*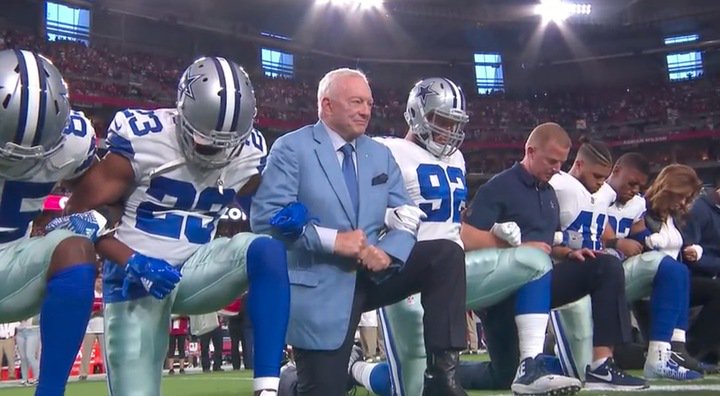 It's ironic, isn't it (at least for us Game Of Thrones fans) that the Tywin Lannister wannabe occupying the White House is admonishing NFL players to "bend the knee" by not bending the knee. Last night Jerry Jones, owner of the Dallas Cowboys, knelt in solidarity with his players (as Shannon Sharpe said on FS1's "Undisputed" yesterday, billionaires do not appreciate being told what to do, not even by the racist facilitator they voted for).
Trevor Noah on last night's The Daily Show: "I don't know if Trump is racist, but I do know he definitely prefers white people to black people. I can say that with confidence."
*Thanks, The Daily Show
5. Mean Tweets # 11
The Jim Parsons and Gwyneth Paltrow tweets are the funniest, but Kumail Nanjiani's comeback at the final tweet is gold. Stay tuned to the end.
Music 101
River
Never released as a single, Joni Mitchell's 1971 Christmas classic has nevertheless been recorded 432 times by various artists. She's quite the Canadian. And yes, the piano accompaniment borrows heavily from "Jingle Bells."
Remote Patrol
The Vietnam War (April 1969-May 1970)
PBS 8 p.m.
It's curious to watch the story of a nation coming apart nearly 50 years ago and then tune to cable news and hear the president call peaceful protesters "sons of bitches." In last night's episode, we heard how Richard Nixon clandestinely contacted the president of South Vietnam weeks before the 1968 election to ask him not to attend peace talks so that he could get a better deal from the U.S. once Nixon was elected. LBJ knew about it, via wiretapping, but he opted not to influence the election by revealing it. Nixon won. The rest is history.
Sound familiar?