https://mediumhappy.com/?p=7271
by John Walters
Starting Five
Carry Off Our Hayward Son
A rude welcome to the Eastern Conference for Gordon Hayward, who fractured his tibia and dislocated his ankle minutes into his Boston Celtics debut. The 7th-year forward and All-Star is probably undergoing surgery right now and his return date is unknown. Hayward incurred the injury after colliding with LeBron James as he went up for an alley oop.
The Cavs won 102-99 as LeBron finished with a game-high 29.
At least Hayward wasn't injured by his own teammate by a punch in the face. That's what happened in Chicago as 6'11" Bobby Portis Geno-Smith'ed fellow 6'10″er Nikola Mirotic.
2. Points To Ponder
Channeling her inner Tom Petty ("I won't back down"), ESPN's Sam Ponder "welcomes" the WWL's new partner, Barstool Sports, by reminding them that their president, David Portnoy, once called her a See You Next Tuesday.
Welcome to the ESPN family @BarstoolBigCat (& welcome to all ur minions who will respond to this so kindly) pic.twitter.com/AzgfdDx2FK

— Sam Ponder (@sam_ponder) October 16, 2017
and then…
I was wrong in thinking @BarstoolBigCat wrote that article & called me a slut repeatedly. He just continuously laughed along. It was the PRESIDENT of @barstoolsports who said these things. Happy to clarify.

— Sam Ponder (@sam_ponder) October 17, 2017
As soon as John Skipper saw these tweets, we imagine he suspended Jemele Hill another two weeks…
3. Relief Belief
In their last four games, the Los Angeles Dodgers bullpen has allowed 2 hits and no runs in 14 2/3 innings. L.A. shushed the Cubs back at Wrigley last night 6-1, and they didn't even need Justin Turner's heroics. When your Cy Young-level starters are being backed up by a bullpen that throws goose egg after goose egg, well, good luck. The Dodgers are back to resembling the "Best. Team. Ever?"
4. Vintage Bronx Tale
It felt like 1996 in the Bronx last night. A 5 p.m start, a gorgeous October evening, and a resilient Yankee squad that overcame a 4-0 deficit in the final three innings. Aaron Judge (22 strikeouts in 45 plate appearances) got it started with a solo homer in the 7th inning.
Then in the eighth, Gary Sanchez, 0-for-13 to that point in this series, smacked a two-run double to the right-center gap to plate the winning runs. Yankees win, 6-4. They're 5-0 in the Bronx in the postseason.
Meanwhile, the sad ballad of Sonny Gray continues. Despite leaving the game in the sixth inning having not surrendered a run, he would've been on the hook for the loss. Gray has now tossed 21 1/3 postseason innings in his career without a SINGLE RUN of support. Not one.
5. Say What?

The latest installment of The Worst Wing has Donald Trump reportedly phoning the widow of one of the four Green Berets slain in the Niger ambush (and where are the Benghazi-like screams for justice on this one?) and saying, "He knew what he signed up for, but I guess it still hurts." This news comes from Florida congresswoman Frederica Wilson (Dem), who was in a car with the widow at the time of the phone call, which she says was on speakerphone.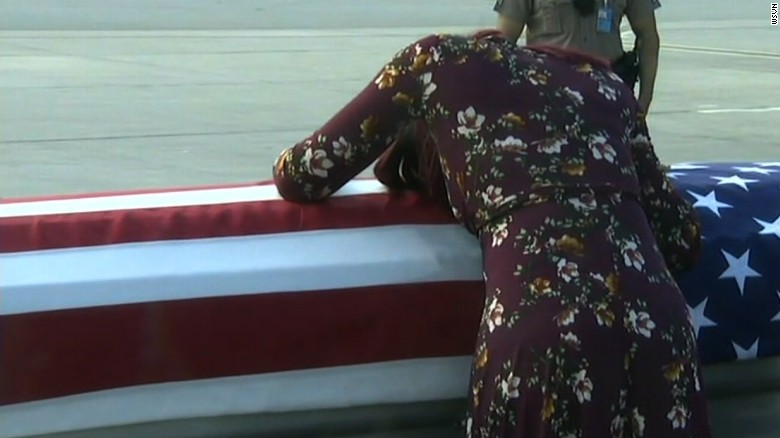 Wilson also claims Trump did not even know the fallen soldier's name (Sgt. La David Johnson). Trump is denying all of this, adding, "Sad!"
Meanwhile, Trump also claimed that his predecessor "did not call" his Chief of Staff, John Kelly, when Kelly's son was killed in Afghanistan six years earlier. Technically, that is true. What is also true is that Kelly sat next to the president and First Lady at a breakfast for Gold Star families back then.
Reserves
 Golden State Loses, World Yawns
Just like last year, the Golden State Warriors opened the season A) at home and B) by losing to a team from Texas. The Dubs fell 122-121 to the Houston Rockets. Big surprise? Newcomer Nick Young was the Dubs' top scorer with 23 points and went 6 of 7 from beyond the arc. You go, Swaggy P!
Music 101
Mr. Big
At the Isle of Wight Festival in 1970, the London-based blues rock band Free performed in front of 600,000 people and lead singer Paul Rodgers established himself as the smokiest white singer on either side of the Atlantic. The group broke up three years later and Rodgers went on to become lead singer of Bad Company.
Remote Patrol
Baseball Doubleheader Deja Vu
Game 5: Astros at Yankees
FS1 5 p.m.
Game 4: Dodgers at Cubs
TBS 8 p.m.
Re-play ball! The Yanks and 'stros are squared at 2 apiece, while the Dodgers are now 6-0 in the post season.