https://mediumhappy.com/?p=7313
by John Walters
Breaking: It's About Time
Charles Manson, who directed a murdering spree that left nine people dead (one was a drug dealer associate, before the Tate-LaBianca murders) in Los Angeles in August of 1969, dies at the age of 83. A monster is gone.
Starting Five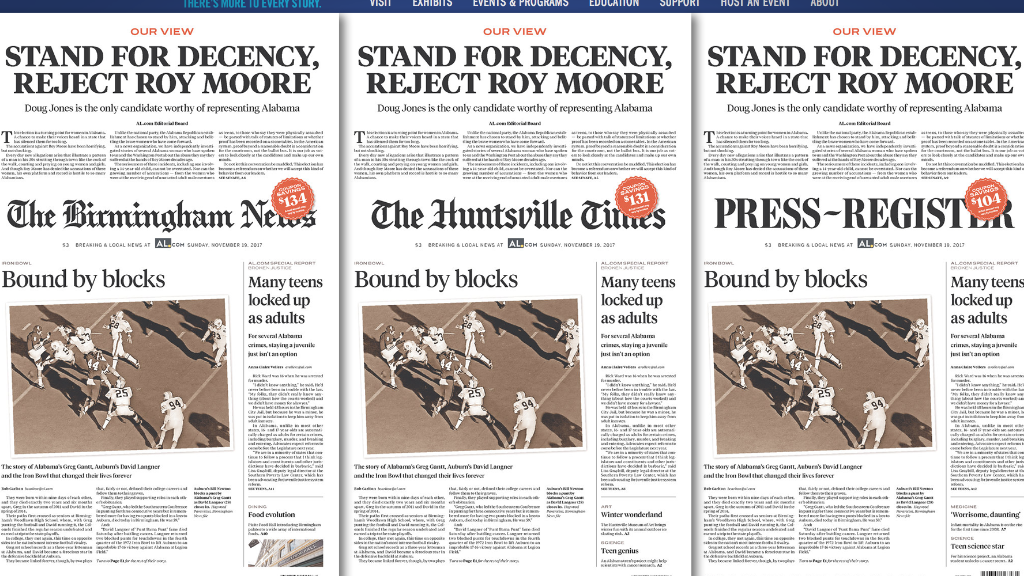 Crazy in Alabama
That's about as Alabama a front page as you can get: an above-the-fold editorial urging readers to reject alleged pedophile (even though a lot of their moms urged them to date him) Roy Moore's senate candidacy, and just below that, a story on the Iron Bowl.
This is great. Roy Moore threatened to sue https://t.co/cFCatxrBVq for accurate reporting. Its publisher responded by putting Moore's campaign and legal team on notice https://t.co/YuI0I6puuP pic.twitter.com/qQBpTWJOT4

— Spencer Woodman (@spencerwoodman) November 19, 2017
Later on Sunday, Moore threatened to sue the newspapers and they came right back on him with a sleeper hold. Bluff, called.
2. Mister Peterman!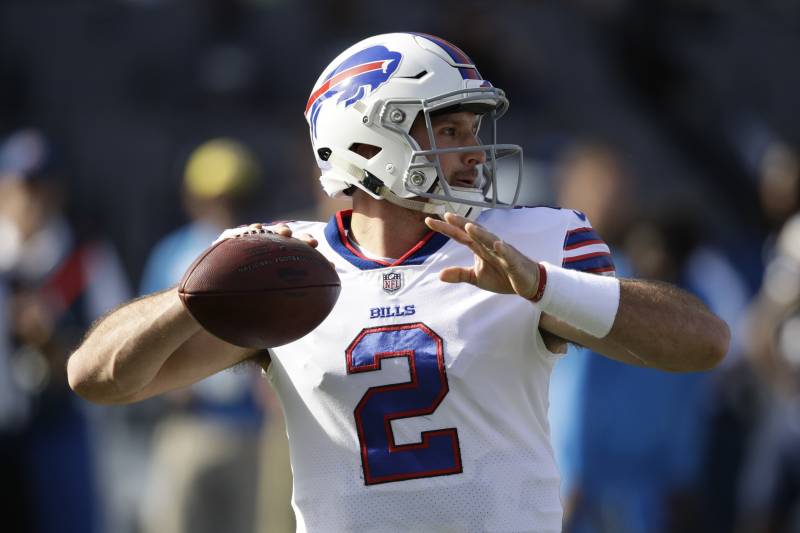 In his first NFL start, Buffalo Bills rookie Nathan Peterman, who was promoted earlier in the week over veteran Tyrod Taylor, throws five interceptions—in the first half. If striking out four times in one game is called a golden sombrero, we propose throwing five interceptions in one game be denoted as an urban sombrero.
The Bills trailed 37-7 at the half (Peterman was 6 of 14, with 5 picks) and Buffalo, who is still in playoff contention with a 5-5 record, put Taylor back in. How low does the bar need to be placed before someone phones Colin Kaepernick and invites him to try out? At this stage, just letting passers such as Peterman take the field and perform seems like damning proof of collusion, no?
UPDATE: I'm told three of the five picks were not Peterman's fault. Elaine!
3. The New Heisman Pose?
It was a pretty weird move by Kansas' three captains, refusing to shake Oklahoma quarterback Baker Mayfield's hand before their game on Saturday. Mayfield, who also took a cheap shot in the second half, responded by throwing three touchdown passes in the Sooners' 41-3 rout of the Jayhawks, then he grabbed his junk.
Because it's 2017 and you either flip off fans or grab your junk. The entire year deserves to be flagged for unsportsmanlike conduct at this stage.
4. No Mora Jim Mora
On his 56th birthday UCLA football coach Jim Mora woke up with a 5-6 record following his Bruins' 28-23 loss to crosstown rival USC. Then at some point before brunch, Mora was relieved of his duties. Fired on his birthday. That's cold.
Mora departs Westwood with a 44-30 record in six seasons and having coached one of our favorite college players these past five years, Myles Jack. The folks in Westwood are pining for Chip Kelly. If only Josh RosenRosen would stick around one more season.
The Bruins host Cal on Friday and need to win to become bowl-eligible.
5. For Pete's Sake
On SNL's "Weekend Update," there's comedy as entertainment (Kate McKinnon and what Bill Hader used to do) and there's comedy as therapy (Leslie Jones or Pete Davidson talking about their issues). We're not usually big fans of the latter, but on Saturday Davidson had one of his funniest bits yet, contrasting the images of himself and fellow Staten Islander Colin Jost. Go to the 4:30 mark here.
Reserves
That's What's Up
Chance The Rapper just won this season of SNL pic.twitter.com/F3XLDf4PSa

— Steve Perrault (@Steve_Perrault) November 19, 2017
Chance the Rapper was a musical guest on SNL last year, but he's too talented and likable not to be a guest host. Here he is as a black sports reporter forced to cover hockey.
Music 101 
You Shook Me All Night Long
There are few rock songs that without question capture the form's essence: Energy, abandon, freedom, danger, sex and VOLUME. It's all here in AC/DC's 1980 classic. Because of this song, my mom confiscated my copy of Back In Black (after my sister told her what it was about). I was 13 and honestly, I had no idea what the song was about. I wasn't paying attention to the lyrics. I was just rocking out. Rest in peace, Malcolm Young. For those about to rock, we salute you.
Remote Patrol
David Letterman: The Mark Twain Prize
8 p.m. PBS
(Just go to 2:07 on this clip if nothing else)
Last month Dave was honored at the Kennedy Center. Guest include Jimmy Kimmel, Norm Macdonald, Steve Martin, John Mulaney, Bill Murray, Amy Schumer, Paul Shaffer, Martin Short, Eddie Vedder, Jimmie Walker and, oh yeah. Senator Al Franken.