https://mediumhappy.com/?p=7327
by John Walters
CFB Playoff Rankings:
Clemson, Auburn, Oklahoma, Wisconsin, Alabama, Georgia, Turnover Chain. Everyone but the Tide are IN if they WIN on Saturday. Bama's going to need some help and even then, may get jumped by Ohio State, TCU or even USC. But no, wait, not USC.
BROKEN NEWS
Unwelcome Matt
NBC News fires its a.m. bellwether, Matt Lauer, for inappropriate workplace conduct. As long as nine years ago I had staffers telling me about Lauer's "tom-catting" ways, but no one ever said he was anything more than a 21st century Don Draper: great at his job, bad at his marriage, but not someone who harassed co-workers. It looks as if he took it up a notch.
If only Donald Trump were still a private citizen: What an intriguing season of The Apprentice we could have, casting it with nothing but celebrity miscreants who prey on female co-workers or employees.
Starting Five
1. LeaveBron*
*The judges will also accept "Susie B. Fumin'" and "King James Abdicates"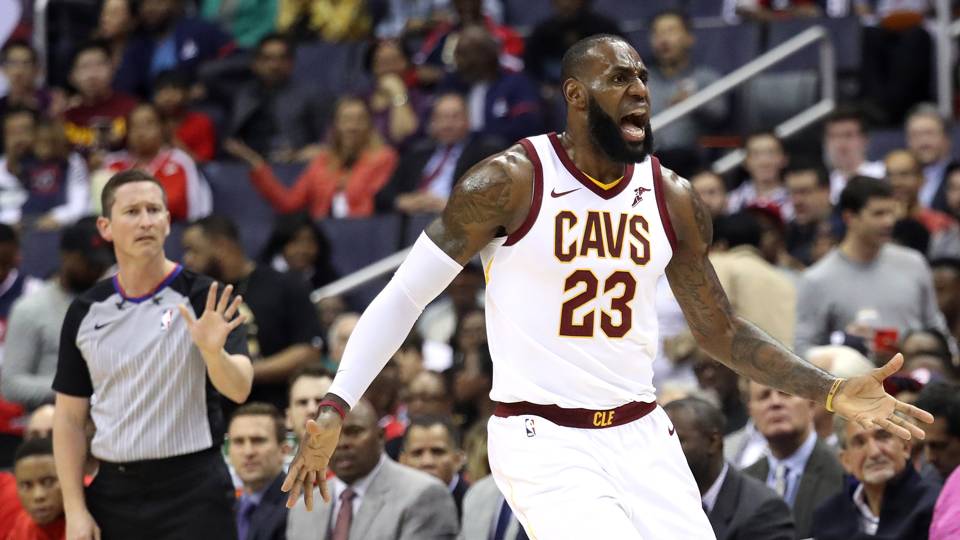 So LeBron James, who took three steps on a layup a night or two earlier without being whistled, drove to the lane with the Cavs up 23 against the Miami Heat last night and took some contact. There was no call and as the Heat grabbed the rebound, James approached referee Kane Fitzgerald to whine complain bitch discuss the previous play. Apparently Fitz felt that James was failing to observe Robert's Rules of Order and tossed him.
LeBron just got ejected for the first time in his career… 😳 pic.twitter.com/EFVTv3nMbc

— NBA on TNT (@NBAonTNT) November 29, 2017
That's James' first ejection in 1,298 games and 14-plus NBA seasons. It didn't look as if LeBron made contact with Fitz, but then again it didn't look as if the Heat defender made contact with Snit Pea, either. I'm reminded that Cleveland's colors are Whine and Gold.
Meanwhile, this is our favorite moment of the NBA season so far….
So we're just gonna pretend like the mascot wasn't carrying a kid on his shoulder? 😂 pic.twitter.com/JK57zGDD8M

— NBA on ESPN (@ESPNNBA) November 29, 2017
2. Baker Mayfield: Heisman Poseur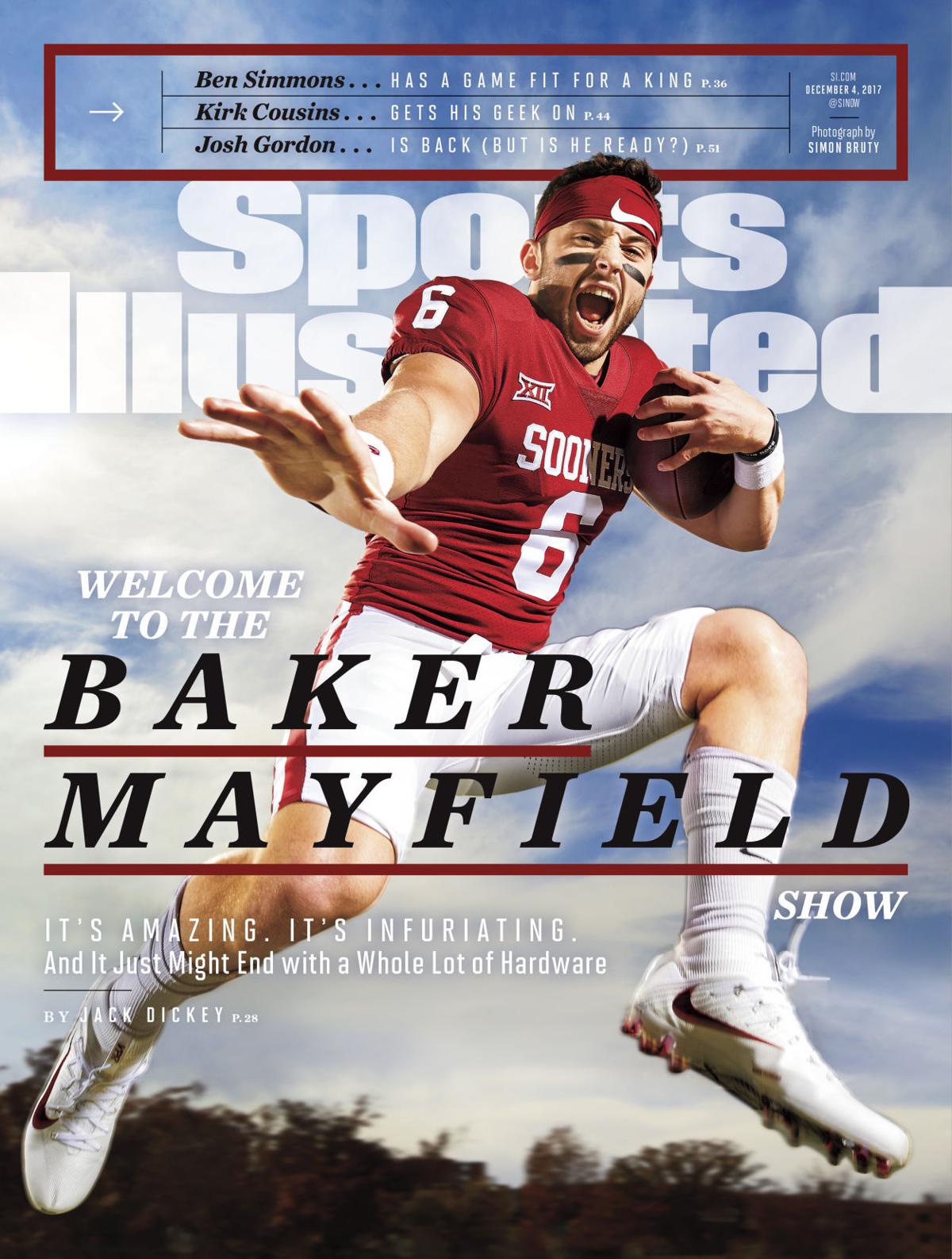 If we still had a Heisman ballot, we'd vote for the Oklahoma quarterback (and former Texas Tech walk-on), but we're curious as to why Baker Mayfield's Heisman pose for the SI cover fails to mirror Jay Berwanger's. Judge for yourself:
Berwanger, the inaugural winner of the trophy (which should be renamed the Red Grange Award), also posed for the bust:
3. Block Chain
We know we're late to the Michael Crabtree-Aqib Talib kerfuffle, but there's just so much to love: Crabtree tapes his necklace to his chest, aware that Talib intends to thieve it during one of their frequent one-on-one confrontations. Still, as you can see above, Talib snatches it. A fracas ensues. Both former Big 12 studs are ejected and suspended one game. Imagine how many chains you can buy with one-16th of ether player's salary ($600,00 for Talib, $390,000 for Crabtree; hope it was worth it).
4. The Hook Of Eli
We really don't care about the NFL until late December unless there's an on-field bling burgling or an irresistible headline. Apparently the Giants are benching two-time Super Bowl champion quarterback Eli Manning, a 14-year veteran who is still 29 interceptions shy of tying his brother's career total of 251.
The G-men are 2-9 and apparently they don't want to win again this season because they've named Geno Smith the starter. Met-Life Stadium is a wasteland this season, but what else is new?
5. Bitcoin Crosses 10K 11K
As the price of a single Bitcoin surged past $10,000 last night (by comparison, it surged past $1,000 on January 1 of this year), the battle rages on as to whether cryptocurrency is a gigantic house of cards, or worse, a scam, or whether it's a full-fledged global revolution in currency. Doubters, take note of noted Wall Street skeptic Downtown Josh Brown, one of our five favorite follows on Twitter, who spoke at a cryptocurrency conference yesterday and said the following:
Yeah I said it. https://t.co/stjGWdVl78

— Downtown Josh Brown (@ReformedBroker) November 29, 2017
Meanwhile, our friend Josh (we don't actually know him; it's more of an aspirational thing) also posted this pic, so we've at last solved the mystery of who invented Bitcoin:
This hero, who should be president, was standing outside the crypto conference in Times Square. My man. pic.twitter.com/2tvDneQTiG

— Downtown Josh Brown (@ReformedBroker) November 28, 2017
Music 101
Come Talk To Me
There used to be a much better YouTube video of this Peter Gabriel song that opened his ethereal 1993 "Secret World Live" tour, but the audio is still fantastic. That's Paula Cole accompanying Gabriel, age 43 at the time, was at the height of his mastery on this tour. There are rock stars and then there are artists who happen to play rock and roll.
Remote Patrol
No. 1 Duke at Indiana
9:30 p.m. ESPN
Freshman Marvin Bagley III (22.3 and 11.3 per game) is the real deal, and Grayson Allen, well you already know him.
CHRISTMAS SALE

What happens when you put three future hoops Hall of Famers (and potentially four, five or even six) on the same team and then allow a scribe whose bosses will soon shitcan him  to cover them for the season? It's The Same River Twice, the ideal holiday gift. Available in your grocer's freezer or on-line or by emailing us at trumansparks88@hotmail.com ($12 per book, includes shipping and fondling).