https://mediumhappy.com/?p=7369
by John Walters
Starting Five
White (Collar) Christmas
The overwhelmingly popular (51 to 48 in the Senate and a 2:1 disapproval rating in polls) gets passed, and President Tee Time gets his first major win in office. Great news if you're a millionaire or above or in the board room of a publicly traded company. We'll see what happens to the rest of us.
This Fox Business host, yes FOX, pulled out all the receipts on the GOP tax plan pic.twitter.com/Trcpk95X1V

— NowThis (@nowthisnews) December 21, 2017
Meanwhile, Trish Regan over at FOX BUSINESS NEWS (yes, really!) did some actual reporting and showed how a man like Blackstone CEO Steve Schwartzman will actually pay less in taxes than a New York City cop because he calls the $400 million he earned this year "an investment."
2. Fellatio Hornblowers
The GOP members who've often sparred with Trump used yesterday as an occasion to give him the one Christmas present he desires above all else: an ego-stroking. Orrin Hatch suggested that if things keep moving at this rate Trump could go down as the greatest president in the history of America, while Mitch McConnell said, "This has been a year of extraordinary accomplishment for the Trump administration."
Well, except for health care, Matthew Petersen, firing at least half his staff and being under investigation by the FBI. CNN ranked all 11 "over-the-top" speeches in which Republican legislators hailed the tyrant yesterday. The funny thing is, he's so needy that he actually believes them. Or he doesn't care that it's not true, he's just that insecure. How's it feel to wake up in a Third World nation, peeps?
3. Down Go The Heels
Fletcher Magee (above)—who is not a character in a William Faulkner novel—scores 27 points as Wofford defeats defending national champion North Carolina in Chapel Hill, 79-75. Wofford, which entered 0-25 versus ranked opponents, was 4-4 before the contest.
It's a nice story for December, but Wofford's going to have to win its conference tournament to make the NCAAs and the Tar Heels (10-2) are going to need to lose at least half of their remaining games not to. As if this was the first item in today's blog to broach the topic of class privilege.
Meanwhile, Duke beat Evansville by 64.
4. Legends of the Fall
On this first day of winter, let's remember all the miscreant males who had jobs and fame and public adoration (they still have money) when the autumnal equinox arrived but no longer do: Harvey Weinstein (still the worst), Louis C.K., Garrison Keillor, Charlie Rose, Matt Lauer, Kevin Spacey, Morgan Spurlock, Mario Batali, Warren Moon, Russell Simmons, Al Franken, Jeffrey Tambor, Matthew Wiener, Roy Moore, Dustin Hoffman, Brett Ratner and Mark Halperin.
Still outstanding, in more ways than one: Donald Trump.
5. Whoa, Christmas Tree*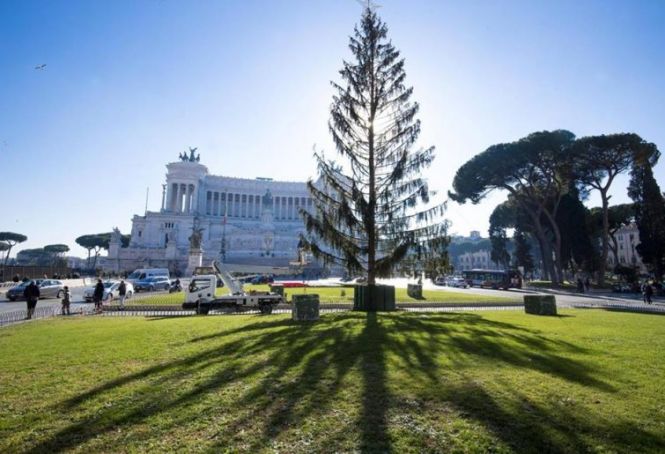 *The judges will also accept "Panic in Needle Park"
Whoever supplied the Christmas tree to Rome (Charlie Brown?) may not have his contract renewed yesterday. It's odd to see a southern Italian that revels in being thin.
The tree's needles are also falling at an alarming rate, and I don't know if there's enough propecia in Italy….
Reserves
Picture This
A holiday treat. Enjoy. The New York Times' Year in Photos.
Holidelic
This Christmas, get funked up!
Music 101
Last Christmas
Last Christmas was spoiled when the artist (okay, technically it was Wham!) who brought us this song, George Michael, died far too early at age 53. As our last entry until after December 25, we thought it would only be proper to pay tribute to the man born Georgios Kyriacos Panayiotou. The only superior British male vocalist? Freddie Mercury, who also was not of Anglo-Saxon birth.
Remote Patrol
Miracle on 34th Street
8 p.m. AMC
Is the Macy's department store Santa koo koo or is he actually Kris Kringle? This 1947 film was a Best Picture nominee.
A Charlie Brown Christmas
8 p.m. ABC
A classic. Linus gets the big soliloquy at the end.