https://mediumhappy.com/?p=7409
by John Walters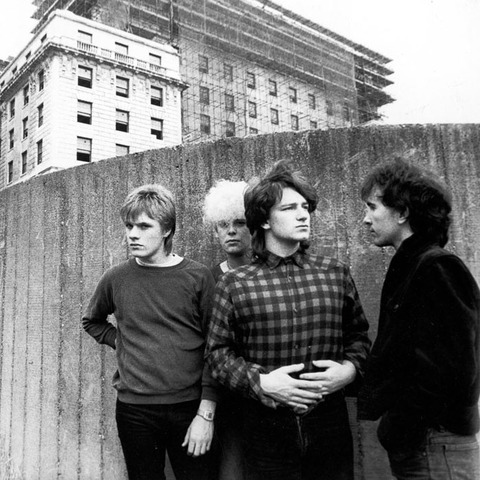 Before we begin Part III, songs 11-20 (now it's getting serious), here are links to the first two installments:
For our third installment, we're breaching the areas of all-time favorites. In the first two installments, there may have only been a couple tunes ("One," "I Still Haven't Found What I'm Looking For") where you thought I was bonkers not to have them in the top ten. There will be even more today.
Again, I'm going on how these songs have personally touched me, not how much airplay or adulation they've earned. And what I'd really love to see after today is for you to take a stab at what 10 songs will appear on Monday's list in today's comments. Either that or your own personal Top 10. I don't need your money, but consider that the payment I'm requesting. Am I buggin' ya? I didn't mean to bug ya. Edge, play the blues (no, that song did not make the list).
And now on to today's list, Songs 11-20:
New Year's Day
War, 1983
In his recent Rolling Stone cover story interview, Bono asks, "In the end, what is rock & roll?" He immediately answers his own question: "Rage is at the heart of it." There's only one U2 song that is angrier than this one (and we'll get to it tomorrow). There's a tendency to drop this song lower because we've all just heard it SO DAMN MANY TIMES, but let's be clear: If you were a teenager or older in the early Eighties, you know that THIS is the song where U2 broke through, to use Bono's words, "into the arms of America."
At the time of its release, you were either New Wave (Duran Duran), American RAWK (Van Halen) or pure pop (Madonna, Michael Jackson, Phil Collins, Lionel Ritchie, etc.). No one quite knew what to do with U2, though they were originally and incorrectly placed in the New Wave bin. This song and this album demonstrated they were onto something entirely revolutionary, unless you wanted to call them Christian rock.
The song is a primal scream. It's also got one of the more memorable Bono lyrical images ("Under a blood-red sky") and it shows off The Edge's versatility, as he plays piano and guitar nearly simultaneously. It's a verifiable classic, and if it's in your Top 5, I'm all for it.
All I Want Is You
Rattle and Hum, 1988
The first of two tunes on today's list whose title begins with "All" and end with "You." If the next song is the perfect album opener, this is the ideal album closer. This is U2's far less schmaltzy "I Love You Just The Way You Are," (Billy Joel), "Beth" (Kiss) or "Babe" (Styx). Plus, "But all the promises we make/From the cradle to the grave/When all I want is you" is one of the best lyrics Bono has ever jotted down.
Where The Streets Have No Name
The Joshua Tree, 1987
Yeah, this may be in your top ten. Or top five. This is where it fits for me. I love what the band had to say about it in Rolling Stone a few years back. They were going to leave it off The Joshua Tree because as much as they loved The Edge's shimmering opening, they always thought of it is as nothing more than a song fragment, not an actual song. And that's probably true. But it's one of the great album openers of the rock era, and it let everyone listening to this album for the first time that the band was shooting for all-timer status.
The Unforgettable Fire
The Unforgettable Fire, 1984
No band I can think of, with the exception of Pink Floyd, is consistently better at making their sound evoke a desired visual atmosphere (I'm thinking "Comfortably Numb" for Floyd). This song is, for me, the best example of U2 doing that. We're in some northern Irish wilderness, maybe the Yorkshire moors. Someone's lost. Or in trouble. But there's hope. As I wrote a couple days ago, I've always wondered why they didn't make this title track the lead track as well.
Miracle Drug
How To Dismantle An Atomic Bomb, 2004
Simply put, the band's loveliest, most ethereal song of this century. Bono is an avid reader of Old Testament psalms, and I think he took a stab at writing his own. Also love how the band takes it up to a crescendo near the end instead of just letting it drift away. Note how much fun The Edge is having: not only does he get to show off the chops a little, he even gets a vocal part. He's the most underrated vocal sidekick this side of REM's Mike Mills.
All Because Of You
How To Dismantle An Atomic Bomb, 2004
A Sunday morning, December, 2004, in Tucson. I'm in the car and turn on the radio and hear this song for the first time, but I catch it midway through. Initial thought: that guitar sounds like The Edge but the voice is too young to be Bono. This is a U2 wannabe band, but damn, they're pretty good. Once again: What do I know?
Along with "Vertigo," "Beautiful Day" and "Magnificent," this is one of the band's four post-millennium kickass rockers. That piercing opening from The Edge? Next time you're riding a subway in New York, as the train comes to a screeching stop, notice how it's basically the same sound.  We'll even forgive Bono for attempting to rhyme "your voice" with "tortoise."
In God's Country
The Joshua Tree, 1987
The band is not as fond of this song as I am. Bono: "[My] lyric was really good, the tune is pretty good, and the hook is pretty average – thanks to the Edge." Ouch, babe.
What's not to like here? The song rattles along at a steady pace and, as I've stated before, few bands are able to evoke an atmosphere or mood or even sense of place better with their sound than U2 can. This song puts me on a long drive between Phoenix and Santa Fe with a wide open blue sky above. It just feels right.
Gloria
October, 1981
I've often wanted to see the thought bubbles above Adam Clayton's head while Bono performs as if the Holy Trinity itself is in the audience (Aw geez, here we go again). Here in an early indulgence and display of the band's overt Catholicism, he segues into Latin (No, not "Unus, duo, tres, quattuordecim!") to invoke part of the liturgical "Gloria, in excelsis deo." Hey, Mr. Mister would come along just a few years later and have a monster hit with "Kyrie," so why not?
There are two must-save anthems from the band's first two albums, and this is one of them.
Red Hill Mining Town
The Joshua Tree, 1987
By far the band's most homoerotic video (I was waiting for Iceman and Maverick to appear in the background) and also worth noting the use of canaries (in a coal mine! Get it?) while The Police did not actually use any canaries in their video for "Canary In A Coalmine." They used camels.
This song was inspired by a real miners' strike in Great Britain and once again it's incredible to ascertain how "woke" these guys were, writing and performing these tunes in their mid-twenties. Bono's lyrics have always been weighted with imagery ("scorched the earth/Set fire to the sky"), and here it works well. As does that plaintive wail. If only the video had been less sweaty. This is both inspirational and perspirational.
Walk On
All That You Can't Leave Behind, 2000
This relatively hidden gem from All That You Can't Leave Behind slips subtly through the door, the soft tamborine, Bono's spoken word almost a whisper, and then suddenly we get that signature Edge riff and we know we're headed down the spiral slide into another classic U2 crusade tune. Bono, who knows his Old and New Testaments better than most seminary students, is deft at writing prayers. This is another one. It is the band's prayer for the faithful. It's also a souped-up version of Gerry & The Pacemakers' "You'll Never Walk Alone."
I'm still not sure what "A place that has to be believed/To be seen" means, but we'll let it go.
*****
There are many people reading these rankings who have attended more U2 shows than your faithful scribe, but allow me the indulgence of listing my U2 shows:
Indianapolis Hoosierdome, November 1, 1987: The notorious Dalton Brothers show. Warmup act Los Lobos was delayed, so Larry, Adam, The Edge and Bono took the stage in disguise (beards, cowboy hats, dusters) as a country-and-western outfit. They played two songs, even though it was the same song ("Lucille"). Most fans had no idea it was them until during U2's encore they played the song yet again.
December 20, 1987, Sun Devil Stadium, Tempe: The last date of the band's exhausting and exhaustive 110-date tour across two continents took place literally a few yards away from the site of the first date (the ASU Activity Center). Tickets for the two final shows in Tempe were $5 apiece, as the band wanted to fill up the then 70,000-plus seat stadium because it was filming the show for an upcoming concert film that would become Rattle and Hum.
March 20, 1992, Madison Square Garden, NYC: The Zoo TV tour show, which was maybe the best one of all of them. Later that night my two Sports Illustrated friends with whom I attended the show, Tim Crothers and Steve Hymon, the three of us went to a now-defunct Lower East Side basement joint called Candy Be One, where an all-Korean live band was there to back you as you sang (that's right: karaoke but with a live band). Tim and I did "Crazy Little Thing Called Love" as a duet, mainly so that we could say we performed live in NYC the same night U2 did.
May 6, 1997, Autzen Stadium, Eugene: The PopMart Tour. Craziest set to date, and a killer opening band in Rage Against the Machine, but the worst set list, as it was heavy on Pop!
July 20, 2011, MetLife Stadium, NJ:  Not much to report here other than that it was an excellent show.
July 19, 2015, Madison Square Garden, NYC: The most creative stage design I've ever seen at any show, and check out the first four songs on the setlist: "The Miracle (of Joey Ramone}," "Gloria," "Vertigo," and "I Will Follow."
I'll see you down the road at the next show….