https://mediumhappy.com/?p=7476
by John Walters
Tweet Du Jour
We should change the names of AR-15s to "Marco Rubio" because they are so easy to buy.

— Sarah Chadwick// #NEVERAGAIN (@sarahchad_) February 23, 2018
Starting Five
 It's Zagitova Time
Like matryoshka dolls, Russian skating phenoms pop out one after the other—and as they age, they become German citizens to retain Olympic status. Last night 15 year-old Alina Zagitova skated to gold in ladies' free skate for (Olympic Athletes from) Russia while her 17 year-old training partner, two-time defending world champ Yevgenia Medvedeva, earned silver. Last week Aliona Savchenko, originally of Ukraine, was half of the figure skating pairs gold medal duo that won gold in their event.
Zagitova grabbed OAR's first gold of the Games.
Zagitova and Medvedeva each scored 156.65 in the free skate. The tie was broken because Zagitova scored 1.31 points higher in component scores, which may be the same thing as we used to call "compulsory figures," which the MH staff is too lazy to look up because, let's face it, it's going to be four years before most of us care about this again (which is our way of saying Susie B. will clear it up in the Comments).
What's left in the Pyeongchang Olympics? Men's hockey gold medal game, four-man bobsled and the women's 30 km mass start cross-country ski race. We've got an idea for an event that could be added to the Winter Olympics final weekend: an arctic ultra event, sort of like the existing Yukon Arctic Ultra. Racers would begin on Friday morning and need to traverse 100 miles using only themselves as locomotion. No stages. No skis or snowshoes. You tote your own gear. It would be like the Summer Olympics marathon, only with a greater likelihood of frostbite.
2. Bloodbath And Beyond*
*The judges acknowledge that we pilfered this from an episode of The Simpsons
It occurred to the MH staff that maybe we should start measuring time in terms of mass shootings: "Why, I haven't seen you since before Sandy Hook" or "We got married shortly after Columbine." Anyway, here's what happened in the world of gun nuttery yesterday:
—otherwise sane "legacy media" such as CNN and MSNBC had on guests to honestly debate whether or not we should arm teachers (excuse us, ADEPT teachers), which is like debating whether or not McDonald's cashiers should also perform appendectomies.
This notion of arming teachers in schools is absolute insanity. @CNN @MSNBC @ABC @CBSNews @NBCNews shouldn't dignify the idea by introducing it into debate as a possible option. It is madness and to give it oxygen is to willinging contribute to our mass cultural psychosis.

— Tony (@TonyAtamanuik) February 23, 2018
—The dude who was armed and whose job it was to provide security at Douglas High resigned. Turns out he wanted no part of confronting an assailant with an AR-15 with his puny service revolver and thus never proceeded toward the shots. Honestly, can you blame him (okay, just a little; it was his job…but it was also a suicide mission). Anyway, that seems to be an answer to the aforementioned debate.
Video of the shooting at a Florida high school that killed 17 people showed the deputy on duty at the school never went inside to engage the shooter https://t.co/U73bLITx71

— WSMV-TV, Nashville (@WSMV) February 22, 2018
—at CPAC, NRA CEO (that's a lot of capitalized letters in a row, sorry) Wayne LaPierre, whose salary runs north of $5 million per year, blasted the "elites" of the nation who want to take away your guns. LaPierre, it should be noted, receives numerous deferments to avoid service in Vietnam due to a "nervous condition," which afflicts anyone who heads into a jungle to face the Vietcong, but whatevs.
i'm thinking train every kid and teacher to memorize the locations of buried mines across the schoolyard. perpetrator enter, perpetrator die after being led through maze of explosives on foot by randy the militarily trained computer science teacher who also does theatre group. https://t.co/I9BdJZhBcm

— el-p (@therealelp) February 23, 2018
—In presidential tweets, the same person who had scribbled in his notes a reminder of "I hear you" accused CNN of scripting questions in its Tuesday night town hall, but then this guy never accuses people of something without all the facts to back up such accusations, so we should probably totally believe him.
"5. I hear you." https://t.co/oXMC1E6C8w

— David Waldman, LLC (@KagroX) February 23, 2018
—This article in The Atlantic by Heather Sher, a radiologist who was working triage after the Douglas High shooting, on how the AR-15 causes relatively catastrophic wounds, is essential reading.
There's so much more, so much more, but let's move on (Susie B., you can put addenda in the Comments).
3. Making Fascism Fashionable
In an email sent to staff members Thursday, U.S. Citizenship and Immigration Services Director L. Francis Cissna announced the agency's new mission statement. The notable difference between the old and new mission statements is that the phrase "a nation of immigrants" has been deleted.
4.
Jen's Back! (Auggghhh!!!!)
Last week in our essay on clickbait, we used Jennifer Aniston on the cover of magazines to demonstrate that before there was internet clickbait, the hardcopy version of that was putting hot mess celebs with good figures on magazine covers. As if to to affirm our assertion, the editors of both US Weekly and People have Ms Aniston on the covers of their mags this week. Reason: She split with hubby Justin Theroux and hey, isn't Brad Pitt available again?
Meanwhile, we dare you to Google Image "Jennifer Aniston magazine covers." You'd think she was the best actress in ever just by the volume.
5.  Drexel Comes Back!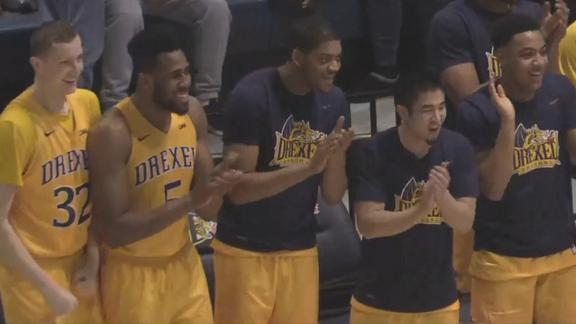 In the largest comeback in Division I men's history, the Drexel Dragons overcame a 34-point deficit to defeat Delaware, 85-83. The Blue Hens led 53-19 in the first half, but then apparently let Drexel charge forward as if they were Washington crossing the Delaware Turnpike ("we all have places to go!").
For what it's worth, both teams are now 12-18.
Reserves
The most popular company in terms of hedge fund ownership of its stocks? Amazon. No surprise.
Goldman's list of top hedge-fund holdings is out

(via @sallyshin @CNBC) pic.twitter.com/2Y3xq6vFWK

— Carl Quintanilla (@carlquintanilla) February 23, 2018
***
We recommend this New York Times piece on Trump and empathy. A Douglas High shooting victim whom he visited in Florida said, "I've never been so unimpressed with a person in my life."
****
If, like us, you enjoyed School Ties and Bedazzled, here's a Where Have You Been? piece on Brendan Fraser in GQ that you might enjoy.
Music 101
Have You Seen Me Lately
Counting Crows: The Berkeley band's sophomore effort, Recovering The Satellites, dropped when they were America's band you-most-wanted-to-punch-in-the-face: white lead singer with dreds, America wasn't ready for that yet, and then he had to be so pretentious with how he changed the phrasings of the song live (that's why we're using the album version here; it's the best version) and also committing the cardinal sin of dating Courteney Cox. Anyway, Adam Duritz can be a little much, a little affected, but he's got a stupendously good voice and writes wonderful lyrics. Van Morrison-wannabe? Maybe. There are worse things.
Remote Patrol
Winter Olympics
8 p.m. NBC
The final weekend night of the Games. Enjoy your four-man bobsled and if you have enough to drink and are out with friends, try to replicate four bros jumping into a tight space in your nearest booth.