https://mediumhappy.com/?p=7518
by John Walters
A look back at the weekend that was…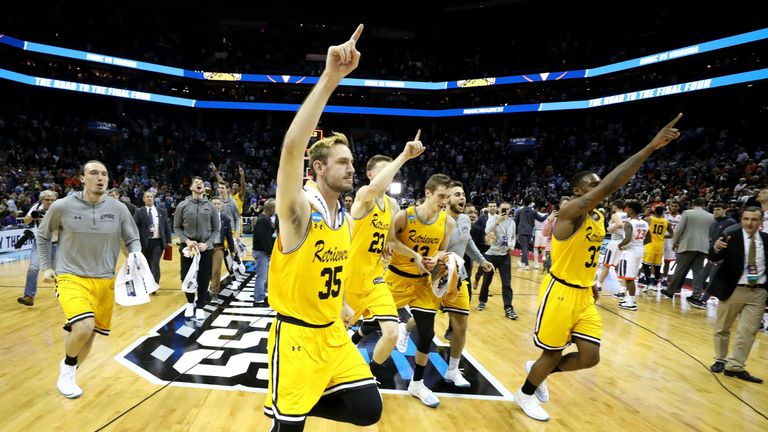 UMBC
–U Must Be Cinderella? U Make Brackets Cry? Unlikely Mutts Beat Cavs? Or how about "Wonderdogs?" "Historic Pupset?" So what if Stringer Bell's alma mater lost in the second round of the tourney? The 16-seed Retrievers already won March Madness.
P.S. We wanted to screengrab Seth Davis' infamous "Sharpie" tweet but he blocked us five years ago. We're doing fine, thanks or asking.
I'd read 3,000 words on the thought that was put in to assembling these 5 humans on TNT studio show. Looks like a mini episode of "Lost."

— Medium Happy (@jdubs88) March 19, 2018
Flipping The Script
Underdogs UMBC, Loyola and Marshall all won their first-round games and all have old-school script lettering on the front of their jerseys.
PURDUDES
"This one's for you!" pic.twitter.com/OQOi02bikp

— College Sports Now (@CSNowTweets) March 18, 2018
Why, oh why/Lemon fire brigade am I….
You Stunned
For the second time in tournament history, Houston missed free throws that would've secured victory in the final seconds and then were beaten by a prayer shot that will live in tournament immortality. Earlier, the TNT/TBS cameras lingered a little longer than usual as the announcers discussed Elvin Hayes (foreground). Wonder why…
Elvin Hayes single-handedly causing a spike in searches for Lainie Fritz. @KPRC2Lainie #GoCoogs #ForTheCity #MarchMadness #GoBlue pic.twitter.com/RCvqbrGgFG

— Shaqs Tear (@ShaqsTear) March 18, 2018
In the same month that Jordan Peele wins an Oscar (Best Original Screenplay), Jordan Poole wins a 2nd-round game (Best Original Shot Off A Screen Play).
It's bad enough that Michigan sunk a prayer three to beat Houston. Then the Wolverines' Mo Wagner had to go and make us like them?!?
I really enjoyed watching Houston's Corey Davis compete. And then he suffered this.
Man.
But then a classy move from Mo Wagner.
What a way to finish in Wichita. pic.twitter.com/CHZqeq7lWp

— Jeffrey Parson (@JeffreyParson) March 18, 2018
Cincinnati, WRIP
The Bearcats, a 2-seed, blew a 22-point second-half lead to Nevada and lost. Later, 1-seed Xavier squandered a 14-point second-half lead and lost to Florida State. I have no idea why Chris Mack's defense fouled with 8 seconds left on the shot clock (and about :20 to play) while only down one point. I wonder if Mack has any idea, either.
All in all, six of the 12 teams seeded 1st, 2nd or 3rd in their regions lost. Two of four 1-seeds lost. There are four ACC teams left in the tourney (25%), and none of them played in the ACC Championship Game less than two weeks ago.
Looking ahead, we like Duke, Gonzaga, Kentucky and Villanova to advance to San Antonio. But what do we know: we picked Arizona to win it all.